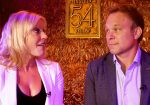 Audiences seem to enjoy theatrical "back-stagers" featuring estranged couples in the entertainment world who squabble their way to a happy denouement. Think of the scrumptious love-hate relationship between Lilli Vanessi and Fred Graham in Kiss Me, Kate or the similarly tasty one between Lili Garland and Oscar Jaffee in On the Twentieth Century.
Now, performers Sherie Rene Scott and Norbert Leo Butz offer a deeply felt yet often scorchingly funny look at their own tempestuous real-life relationship over a couple of decades in showbiz. Twohander, at Feinstein's/54 Below, was written by Scott and has the same sort of soul-searching depth as her Tony-nominated musical memoir from a decade ago, Everyday Rapture, which she co-wrote with Dick Scanlan.
Something of a theatrical documentary, the new show is studded with excruciatingly honest confessional moments, as it focuses on the duo's on-again, off-again intimate friendship. Twohander brims with exceptional musical performances. And, while it seems spontaneous and raw, it has been beautifully directed by Scanlan, with rousing arrangements by music director Todd Almond (who, besides leading the small band, is also a very visible and audible onstage presence, occasionally chiming in with his own vibrant vocals). This show is unlike any other two-person cabaret show you'll have seen. And it's terrific—full stop.
The show begins with the two performers coming to the stage vowing repeatedly to themselves (or, perhaps, to the audience) that they'll never work with each other ever again. The driving opening number, the English Beat's "Save It for Later," sets the tone for the turbulent content to come.
We next learn about how the duo first met, when both were supporting players in Broadway's Rent. Butz had the career edge on Scott then, as he would play the leading role of Roger every Sunday evening. We see their reciprocal sizing up—each wary, yet cognizant of the other's abundant talents. There is also a mutual physical attraction at play that will continue to flare up in the years that follow. Two of Jonathan Larson's songs from the musical ("La Vie Bohème" and "One Song Glory") are heard in this sequence, but—as with many of the songs in the show—we don't hear them performed through to the end. In only a few cases, in fact, are songs presented whole. They're nearly always interrupted somehow by spoken text. That might seem to be a frustration for audiences, but strangely it's not. The story of the pair's relationship is so fraught with shifting emotions that carrying songs through to their resolution would somehow seem too tidy a proposition.
The first really major production that Scott and Butz appeared in together was Off-Broadway's The Last Five Years. That unconventionally structured two-person musical, with a score by Jason Robert Brown, told of the birth and death of the ill-fated marriage between a musical-theatre actress and a novelist. At the time of that production, Butz's own marriage was foundering. We find him here confiding in Scott about his pain—that is, when he isn't quarrelling with her about elements of the show. Not for the last time, the pair find themselves confusing the dramaturgy of the project they're working on with their own personal difficulties. Plus, the sexual tension between them has heated up, though their fluctuating passions for the other seem fated never to be in sync. To add to the anguish of this period of their lives, The Last Five Years was performed in lower Manhattan in the weeks following the 9/11 terrorist attacks. We experience the anxiety surrounding the endeavor, with performances (nearly intact, this time) of Brown's "If I Didn't Believe in You" and "The Next Ten Minutes."
Whatever Scott and Butz were feeling about one another from day to day, they had nonetheless begun to be perceived professionally as a "package deal." Twohander gives us glimpses of a couple of projects the two hoped to appear in together—one an early iteration of what would become Next to Normal, the other a musical version of TV's All in the Family. Finally, the pair wind up together on Broadway in Dirty Rotten Scoundrels. But by now their relationship has become frayed, seemingly beyond repair, partly because each is warring against his or her own personal demons. Scott remarks at one point that she never sings music from Scoundrels—but she does an about-face to give us part of one of its most glorious numbers, "Nothing Is Too Wonderful to Be True" (David Yazbek). Midway through, she halts, letting Almond continue singing the tenderly optimistic song.
The last part of the show deals with the ways in which Scott and Butz's full-tilt post-Scoundrels estrangement came to an end. The sequence artfully skirts sentimentality, partly by introducing some transforming touches of comedy.
The two stars get a real workout on the Feinstein's/54 Below stage—but they are indefatigable, and their singing is gorgeously robust throughout. Plus, they exhibit exquisite comic timing—particularly in a bit in which they impersonate George Burns and Gracie Allen.
Twohander's engagement is lengthier than most at the club, but I imagine it could pack the house for an even longer run—as well it should. It's truly something special.
Twohander
Feinstein's/54 Below – July 9 – 28
Category: Reviews