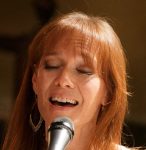 At Pangea recently, singer-instrumentalist Hannah Reimann reveled in her love of all things Joni in her show, Both Sides Now – The Music of Joni Mitchell 1966-1974. As the title indicates, she focused on the songwriter's first six albums; this was a wise choice since those recordings contain most of her "hits" and her most accessible, crowd-pleasing songs. She interspersed the songs with quotes and stories from David Yaffe's book Reckless Daughter: A Portrait of Joni Mitchell. She related these with a sense of import that was not borne out by the content of the quotes; fortunately, however, both vocally and instrumentally, Reimann was rarely less than impressive. Accompanying on a variety of guitars, vocals, and occasionally the dulcimer, Michele Temple provided beautiful support at every turn.
The two women went so deep into Mitchell's music that they recreated her uniquely personal, original tunings for the instruments. The show opened with a beautifully realized "Court and Spark" and followed with "Cactus Tree," a personal favorite of mine nicely delivered. Well-known material followed, with the occasional foray into album tracks that never made it to the radio. "For Free" (a sad dissection of commercial vs. artistic success) and "Cold Blue Steel and Sweet Fire" (a harrowing evocation of heroin addiction) were especially satisfying surprises. The musicianship and the vocals could not be faulted, except for her encore, "Help Me," which seemed under-rehearsed. Perhaps it actually was that rarest of animals, an unplanned encore!
In spite of all the pluses, there were some minuses. Reimann was so slavish in her recreation of Mitchell's work that she never really let herself create anything of her own. She mastered Mitchell's original delivery of the songs, but lost the storytelling. When she sang, the effect was that of a very talented fan mimicking songs she loved, rather than that of an artist using the art of another to reveal herself to the audience. It ended up being a treatise and not a personal statement. As a long-time Mitchell follower, I was pleased to experience the songs again, but as an audience member wanting to discover more about the singer on the stage (and just maybe more about songs with which I was already familiar), I was left unsatisfied.
As someone who has probably spent most of her stage time seated at a piano, Reimann seemed uncomfortable when up on her feet, moving non-stop in a kind of awkward dance whenever a number showed the slightest sign of an up-tick in tempo and closing her eyes too often and for too long, especially when maneuvering from her chest voice to her head voice. Even the programming of the material was awkward, with piano number followed by guitar number followed by piano number, etc, etc., requiring a long pause to reposition herself after almost every song. When seated on a stool to play the dulcimer, she was so focused on the playing that her singing came in a distant second.
There was so much promise evident in this show, that with some serious work on the stagecraft and song interpretation, it could become every bit as successful as its musicianship already is. To take a phrase from Joni Mitchell, I want to see both sides of Hannah Reimann—the presentational and the personal. It would enrich both her performance and the wonderful material she's chosen to celebrate.
Both Sides Now – The Music of Joni Mitchell 1966-1974
Pangea – July 24
Category: Reviews