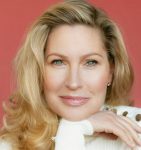 Although, by her own reckoning, she's been a professional singer since 1987, Luba Mason postponed performing her first fully autobiographical cabaret show until Luba Mason – 5'10", her recent outing at The Green Room 42. From an audience point of view, it was well worth the wait. Apart from the expected (and delivered) powerful and wide-ranging vocals (over a three-octave span) from this 2019 Bistro Award winner, we were treated to an engaging telling of her personal and professional life story between the songs. She was born Lubica (pronounced Lubitza) Anna Gregusova to Slovakian immigrants in Queens, but once she had determined on a Broadway career, she changed her name several times, in part to escape "an ethnic straitjacket."
Being five-foot-ten and twenty pounds overweight didn't help her achieve her aspiration right away. Shedding those "two suitcases full of fat" and changing her name to Kim Freshwater provided a somewhat shaky start, but despite "changing my name a few more times," it took a while for Mason to land "On Broadway" (Cynthia Mann & Barry Weill, Leiber & Stoller), as her opening song had it. Deftly alternating a few bars of that old Drifters number—such as "They say that I won't last too long on Broadway"—with a few sentences of narration, she amusingly recounted her ongoing struggle to make it in show business.
Mason's rousing second number, Irving Berlin's "I Love a Piano," did double- or even triple duty as an underpinning of her early piano lessons, her trademark piano playing for most of her own shows, and an introduction to her sole accompanist this time out, music director (and vocalist) Billy Stritch. From then on, it was, with one exception, a solidly apropos bill of show tunes that she had either sung in musicals or auditioned with, or that came from shows she admired and hoped to get but didn't, ranging from 1934's "I Only Have Eyes for You" (Harry Warren, Al Dubin) to "Haled's Song About Love" (David Yazbek, from The Band's Visit, 2016-17). The exception was a ravishing version of the 1976 Carpenters hit "I Need to Be in Love" (Richard Carpenter, John Bettis, Albert Hammond).
Recalling an unsuccessful audition song she had once sung, Mason offered a heartfelt "When I First Saw You" (Henry Krieger, from Dreamgirls). Like all the numbers in her set, it underscored events and feelings in her life. She scored with knockout selections from shows she did get to play on Broadway. She soared on"Someone Like You" (Frank Wildhorn, Leslie Bricusse, from Jekyll & Hyde, in which she had played Lucy). On "Love from a Heart of Gold" (Frank Loesser, from How to Succeed in Business Without Really Trying, in which she'd played sexpot Hedy LaRue in the 1995 Broadway revival), she duetted with Stritch, who seemed to be channeling his inner Rudy Vallee from the original Broadway production.
The show was almost completely chronological. Mason's sole out-of-sequence narrative was her recounting of torment she'd been subjected to in childhood, which she doesn't tell us about until later in the show, when she couples it with her story of having endured similar suffering later in life. It might have been even more powerful to cover each of these episodes in its place in her timeline and draw the connection between the two at the second instance.
Her next outing of this show is scheduled for December 3 (at Feinstein's/54 Below). Before then, she might consider slightly rethinking her chat and, maybe, tightening it. As for her song selections and her delivery of them, I wouldn't have her change a thing—except, perhaps, to add a couple of numbers, even if it meant lengthening the show.
Those of us who look forward to her unique symbiosis with vibraphonists will have to wait a bit longer. An album called Triangle, featuring her vocals, a vibraphone, and a bass, will come out in early 2020.
Luba Mason – 5'10"
The Green Room 42 – July 10
Category: Reviews