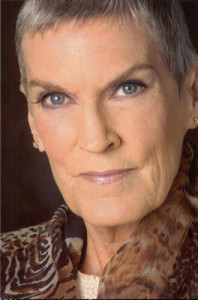 Imagine finding a vintage 78 rpm record in a thrift store, taking it home and discovering it to be remarkably free of hissing sounds, crackling noises or skips. That may help to explain what you get with Sally Darling. You don't hear a sound like hers often these days, but it's as welcome as the sharp whiff of hyacinth on a cold winter's day. Though especially suited to classic melodies by Rodgers & Hart, Noël Coward, and Cole Porter, Darling's shimmering-tinsel sound works equally well on songs associated with the likes of Patsy Cline and Toni Tenille.
In her recent Don't Tell Mama show "The Way We Are," Darling opened with a pairing of "Day In, Day Out" (Rube Bloom, Johnny Mercer) and "It's Time for a Love Song" (Burton Lane, Alan Jay Lerner). Elegant yet avid, she kept her carriage erect as she sang the insistent, almost driving music. At moments she flashed sly little conspiratorial smiles at the audience as she performed.
After telling us that 2013 contained, for her, a birthday ending in either a "5" or a zero, she launched into a gentle, introspective take on Arthur Johnston and Sam Coslow's "My Old Flame." She told a bittersweet anecdote about seeing a past love on the street during a visit to her hometown—a setup for a heartfelt take on "Come In From the Rain" (Melissa Manchester, Carole Bayer Sager). Following that came a slow, deep-voiced rendition of Rodgers and Hart's "Falling in Love with Love" featuring a complicated, somewhat dissonant arrangement by Darling's pianist and musical director, Matthew Martin Ward. (Ward proved to be an excellent collaborator throughout the hour's show, singing along on several numbers.)
Darling is aptly named. She came across as a kindly soul with a lively sense of humor. When she led a sing-along version of Michael Flanders and Donald Swann's "The Hippopotamus," there was none of that anxiety that sometimes comes when an artist requests audience participation. It was as though you were in the hands of an amiable, protective camp counselor. Throughout the show she repeatedly imparted words of wisdom—offering up aphorisms from everyone from Oscar Wilde to Claudette Colbert to Janis Joplin. Her eclecticism became a sort of sweet running gag. One began to wonder whom would she cite next? Maimonides? Helen Gurley Brown?
One comic highlight of Darling's show was her take on "Nina," Noël Coward's spoof of Hollywood paeans to things "south of the border." On the phrase "wriggling their guts," she clutched her belly. Then, citing a Venezuelan sailor, she screwed up her face like Popeye, the Sailor Man. After finishing the word-packed number, she quipped winningly, "I think that even beyond the grave, [Coward] keeps adding lyrics to that."
On the more serious side was Darling's fervent version of Willie Nelson's "Crazy." Ward's arrangement gave a nod to the song's country-music pedigree, without running the audience through the rodeo grounds.
Toward the end of the show, Darling noted that the birthday milestone she'd previously teased us with was the big "8-0." Demonstrating that she is still in the game and forward-looking, she sang Billy Joel's "My Life"—her body bouncing as though she were an idling convertible. This was not the brightest spot in the evening. She didn't embarrass herself, but the selection seemed out of character with the rest of the show. Besides, are Billy Joel songs really all that new-fangled in the waning days of 2013? Joel's been in the business of making music for more than half of Darling's eight decades.
When you're ageless, you don't need to work at being hip. And—octogenarian status notwithstanding— there is a kind of agelessness about Sally Darling.
"The Way We Are"
Don't Tell Mama  –  November 8, 16, December 8
Category: Reviews