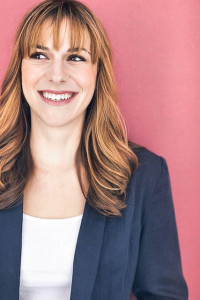 If Chelsea Handler (TV's Chelsea Lately) sang and decided to do a cabaret act, she might well turn out to be like Katie Bland, a blonde, vivacious, take-no-prisoners singer and comic storyteller who bulldozes her way through her dating life in her one-woman show "They're in Love, Where Am I?" at the Duplex. The downtown hotspot is the perfect place for Bland's edgy, downtown personality—which is anything but bland.
Bland let her audience know what kind of evening it would be with her first two-song mash-up, "Expectations of a Man"/"Moving On" (Jonathan Reid Galt/Andrew Sotomayor), bridging the songs with a monologue about guidelines to improving her love life, which included "no drug addicts, songwriters, gays, Catholics…" The territory of New York dating has certainly been covered countless times before in cabaret, but seldom with as much bold and hilarious self-revelation and observation.
This boldness was brought to the fore even more effectively with her second number, "TMI" (Sam Carner, Derek Gregor), which seemed tailor-made for Bland's central dating issue: she can't keep her mouth shut, not knowing the difference between "opening up" and revealing too much. The song and patter that preceded it managed to be cringe-worthy and laugh-inducing at the same time, and somehow made Bland more ingratiating—we love her candid confessions, even if we might hesitate to ask her out on a date. At one point, she looked at the exit and said, "I can almost see a man-shaped hole in the door back there."
In truth, of course, Bland knows exactly who she is, and it takes confidence and being comfortable in one's own skin to present such a show in a way that has us laughing with her rather than pitying her.
Not all of it, however, was played for laughs, but she wisely let the songs take us to her more serious moments. Bland, who I would guess to be a mezzo-soprano with strong mid-range tones, switched to a delicate, folky soprano for the lovely "Waiting for My Real Life to Begin" (Colin Hay). She also showed unexpected vulnerability with "Hiding My Heart" (Brandi Carlile).
Even so, comedy is Bland's forte. She pattered like a pro, never faltering in her delivery and showing great physical and emotional expression with both her speaking and singing. "All of My Friends" (Drew Fornarola) is a caustically funny lament about how "everyone cheats on everyone" and "all of my friends are whores." Another highlight was "Sleep Song" (Sam Carner, Derek Gregor), a duet with guest artist Chris Behmke, about the thoughts that go through each lover's mind after their first sexual encounter.
Bland's set list consisted of new or little-known songs and songwriters. That can sometimes be a challenge, but because they often had engaging wordplay or an emotional arc, and she brought such energy to them, she was able to keep the show percolating from start to finish. Still, it was a bonus when she ended with "Love is Bland Medley", a stringing together of several pop love songs spanning forty years. By overemphasizing the melodrama, she made classics such as "The Rose" (Amanda McBroom) and "My Heart Will Go On" (Will Jennings, James Horner) studies in overkill, to uproarious effect.
Musical director Andrew Sotomayor added good, professional accompaniment and backup vocals. (A more showy musician paired with Bland would perhaps have tipped the scales toward excess.) Director Lisa Moss succeeded in what would seem a tricky balance between letting Bland fly and keeping her in check.
Katie Bland came on strong in this reprise of her debut solo show. As terrific as she was, in future outings I'd like to see her broaden her palette with different themes and even more emotional colors. She's got the goods.

"They're in Love, Where Am I?"
The Duplex  –  December 14, 19
Category: Reviews