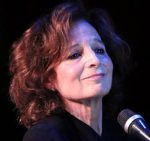 Watching Michele Brourman play to a packed house in a recent one-nighter at Birdland Theater, I felt that I gained a deeper understanding of the work of singer-pianists in cabaret and how their art differs from that of vocalists who don't accompany themselves.
Some of what struck me is rather obvious. Singer-pianists seem to have more control onstage than their singing-only counterparts as well as more responsibility. A singer like Brourman, who—in this setting, anyway—performs without support from other players, is the whole show. Her audience can't look away from her to see what the drummer is up to, or shift focus while the bassist has a big solo turn.
I think there is also a spirit of egalitarianism at play in singer-pianists' shows, along with a sort of built-in intimacy. They may be performing on an elevated stage, but—like their listeners—they're seated. Their performances have the same basic configuration you find in a piano bar. Even if the performer is playing in a large auditorium, there's still a sense that everyone has just gathered around the piano to enjoy some music together.
Early in her show, which she called Love Notes, Brourman suggested that her program was a collection of songs she had put together rather quickly—some recently retrieved from her filing cabinets and allowed a chance to breathe and flourish. But this show was certainly not a hodgepodge. It was beautifully sequenced, with careful consideration given to shifting moods and sounds. Her vocals veered from tender to naughtily amusing to dreamy to impassioned. Most of her selections were songs that she wrote or co-wrote, and they demonstrated her wide-ranging talents as a performer, composer, and sometimes lyricist—in genres spanning from pop to rock to country. (Unless otherwise noted, the songs mentioned here are hers.)
She began with "Eggs" (lyrics by Amanda McBroom), a light and funny song about food and sex, in which the character wonders whether the stranger she's ogling is a sunny-side-up kind of guy or a scrambler. (Brourman closed the show with a similarly themed song, "Love and Take Out"; she noted that the food/sex mashup has been a recurring theme in her repertoire.)
Next up was a lovely, if eerie, song, "Midnight in the Garden" (also with McBroom lyrics), which was written for—but not used in—the 1997 film Midnight in the Garden of Good and Evil. Brourman reminded us in advance to think of the song taking place in a cemetery. Her voice was strong and steady on this poetic ballad that evoked danger, decay, and other Southern Gothic elements. "Love is the waltz of Venus and Mars," one lyric observed.
Changing directions again, she gave us a ribald political song—directly after telling us that she studiously avoided politics. The tango-ish "Voter's Prayer" (McBroom lyrics yet again), was not a Red versus Blue song at all, but a nonpartisan call for candidates to rein in their rampant libidos if they hope to be elected.
The program ran its course in this eclectic fashion. After telling of her love of musical theatre and a childhood remembrance of seeing Ethel Merman in Gypsy on Broadway, she sang a sweet version of one of Merman's most low-key numbers: Annie Get Your Gun's "Moonshine Lullaby" (Irving Berlin).
Brourman did share the spotlight with others at two points in the show. Early on, elegant Maude Maggart was her duet partner on the yearning ballad "It's Never Perfect" (lyrics by Sheilah Rae). And toward the end of the show, Sally Mayes came aboard to solo on the pop-ish "And I You," which she and Brourman co-wrote. It describes a marriage that seems an eternal honeymoon. I found it reminiscent of Cynthia Weill and Barry Mann's "Just a Little Lovin'."
Among theaudience favorites were the witty "You're Only Old Once" (lyrics by McBroom) and "My Favorite Year" (lyrics by Karen Gottlieb), Brourman's best-known song. The one selection she might reconsider in future outings is "Be Who You Wanna Be," taken from one of the many animated feature films she has helped score. As with "Midnight in the Garden" this song was not used in its project's final cut. It's a cute piece with boogie-woogie liveliness, but it seemed a bit of a throwaway.
The show had a good balance of patter and music, and the chat was charming and clever. It added to my impression that Brourman is a consummate entertainer with a director's sense of just what makes an act work.
Love Notes
Birdland Theater – October 20
Category: Reviews