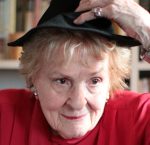 If there's such a thing as a carefully crafted stream-of-consciousness approach to cabaret, Elizabeth Parrish is surely the queen of it. In her recent show at Pangea, Every Soul's a Cabaret (directed by Paola Styron), "Betsy," as she was introduced, made a most convincing case for her own life as a cabaret and a largely joyous one at that. A diminutive blonde of a certain age, she began by sashaying her way through the audience in a faux white fur wrap, but loaded for real bear, energetically sharing her spoken and sung philosophies of life and of performance—which would seem to be largely one and the same. In the barely hour-long set that followed, to bolster her thesis she employed the wisdom of a disparate cast of musicians, from Bach and Mozart to Bette Midler and Barbara Streisand, and writers, from Shakespeare to Emily Dickinson and T.S. Eliot.
Parrish appeared to begin prosaically enough, with a clever mashup of lines from Stephen Sondheim, Cole Porter, and Irving Berlin Broadway showbiz anthems. Starting with brief samples of Sondheim's "Some People" (music by Jule Styne), proceeding through pieces of Porter's "Another Op'nin', Another Show," on to Berlin's "There's No Business Like Show Business," she paused only briefly when she came to the Berlin line "Still you wouldn't change it for a sack of gold." But, clearly, no, she wouldn't. Throughout this Main Stem overture, the lovely piano underpinnings of Bach and Mozart by accompanist and musical director Mark Fifer, Parrish's subtle but profound collaborator for the show, portended the seriousness of the other expert witnesses to come.
In her long and widely varied showbiz career, Parrish has been a teacher (of Meryl Streep, no less) at Yale's Drama School, and at the Stella Adler Studio, but clearly she has also been quite the student. Citing Shakespeare's "All the world's a stage" was a natural choice here, but alluding to Virginia Woolf's "behind the cotton wool" went beyond the obvious. Having begun her life's education and aspiration in dance class, Parrish learned that dance was "the extension of the soul through the body." However, her first full song of the evening "Ballerina" (Carl Sigman, Sidney Keith "Bob" Russell, and commonly known as "Dance, Ballerina, Dance") turned out to be a beautifully sung metaphor for pressing on in life in general. She joked after the song that she really couldn't dance.
What she did do instead, uniquely, was dart about the Pangea stage, forcefully delivering the relevant wisdom of Émile Zola, Margaret Rutherford, and Arthur Schwartz and Dorothy Fields ("It's Not Where You Start, It's Where You Finish"). But just when it seemed we'd had enough of the aphorisms, Parrish proved again that she is a singer of uncommon depth and strength, delivering a devastating medley of "Where Have All the Flowers Gone?" (Pete Seeger) and "Blowin' in the Wind" (Bob Dylan), leading to a full-on "The Sounds of Silence" (Paul Simon).
As her final song had it, "Hallelujah" (Leonard Cohen). No encore was necessary.
Every Soul's a Cabaret
Pangea – October 2, 9
Category: Reviews