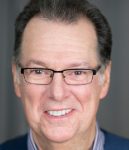 With his new offering, Stop This Train, recently at the Laurie Beechman Theatre, Eric Michael Gillett returned to the cabaret stage as a phoenix rising. Beginning the show in an unusual way, he meandered about the audience introducing himself to newcomers and cajoling with friends. After a while, he made his way to the stage and proceeded to function as his own "warm-up" act, before "officially" beginning the show.
This opening (not to be attempted by everyone) was disarming. At first, I was not sure of its efficacy, but upon reflection I found this "introduction" to Eric Michael Gillett 2.0 to be a charming and subtle way of getting his point across: "I'm back. You think you know me. But look again. There's more here than meets the eye." And there certainly was.
There is no disputing Gillett's talent and longstanding pedigree within the Broadway and Cabaret industries. A veteran of several Broadway shows and an esteemed voice teacher and performance coach, Gillett has earned his stripes. And, at an age when many performers are considering retirement, Gillett's voice and charisma have never been stronger.
Looking trim, fit, and healthy, and sounding like a man half his age, he regaled the audience with story and song that justified his comparison to a phoenix rising from the ashes—quite literally: the ashes of his apartment, which burned down completely a few years ago. This was in addition to a fall down a flight of stairs, a double knee replacement, and an unceremonious dismissal by his long-time agent. This survival story was punctuated with songs that were both heartfelt and rousing.
In several numbers Gillet was able to create big theatrical moments, while fully respecting the conventions of cabaret, keeping eye contact with his audience, singing to us not over us—in essence creating theatre without a fourth wall. The immediacy and specificity of his delivery were palpable, and in these big moments his voice and personality really shone. Of particular note were his renditions of "Hades" (Stephen Sondheim) and "At the Fountain" (Craig Carnelia, Marvin Hamlisch). "Everything I Used to Be with You," written by music director Mike Pettry, was stunning.
Slightly less successful were those instances in which the song, or character, required a bit of delicacy or naiveté, as with "Waving Through a Window" (Pasek & Paul) coupled with "Answer Me" (David Yazbek). While this was an interesting song pairing, Gillett's innate intensity worked against him, as did his use of voice, which was, in this case, too big for the lyric; a smaller/gentler approach would have served both the song and the singer much better. By contrast, his spoken and understated delivery of Craig Carnelia's "Blood on the Moon" worked beautifully.
He ended strong with Paul Gordon's "The Secret of Happiness," which was given a fully realized performance in the best of cabaret traditions, direct, to the audience, and from the heart. The train, it seems, is unstoppable, and so, too, is Eric Michael Gillett.
Stop This Train
Laurie Beechman Theatre – September 24, October 20
Category: Reviews