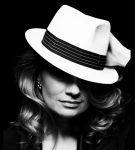 The title of Lianne Marie Dobbs's recent show at The Green Room 42—Why Can't a Woman Be More Like a Man…?—is a loaded question. Rather than tackling the question head-on, Dobbs left it open, approaching a few possible angles as she considered female identity, offering a few of her own thoughts along with those of a handful of prominent women writers.
Throughout her range, Dobbs is a wonderful singer who knows how to shape a song with specific acting choices. This clarity in her acting was especially effective when, because she always sang the original pronouns—gender-be-damned!—the relationship or situation sung about was reoriented. She repositioned a Lerner & Loewe pairing of "I've Grown Accustomed to Her Face" and "Gigi" as dialogues between mothers and daughters, which worked well. "She Likes Basketball" (Burt Bacharach, Hal David) and "She Touched Me" (Ira Levin, Milton Schafer) were sung beautifully, with the sparkle of anticipation of a crush and the very beginning of a romance. (When Barbra Streisand recorded the latter song in 1965, she changed the pronoun to "he.")
Some other choices were lighter, showing Dobbs's deft comic timing—as in "In These Shoes" (Kirsty MacColl, Pete Glenister), in which she employed a little method acting to evoke the memory of blisters, and "Married I Can Always Get" (Gordon Jenkins), a great toe-tapper that was an especially good showcase of pianist and musical director Ron Abel's rhythm. Guest artists included Ken Ard, who did polished song-and-dance duets with Dobbs on "I Like to Lead When I Dance" (Sammy Cahn, Jimmy Van Heusen) and "The Way You Look Tonight" (Jerome Kern, Dorothy Fields)—both of which featured Fred-and-Ginger-inspired choreography by Luis Villabon. Actor and composer Travis Poelle sat in on guitar to accompany Dobbs on a thoughtful "If I Ruled the World" (Leslie Bricusse, Cyril Ornadel).
Overall, the talents of Dobbs and her collaborators outshone the structure of the show, in which at various point in the evening, she read quotes from noted authors to lay the groundwork for the song that followed; this broke the rhythm of the show. While the visual of her reading selections from a stack of books on the piano was quite agreeable and I liked the overall intent of this device, I think a director could have helped smooth the flow.
It really is a pleasure to hear someone whose work on stage you can have total confidence in. Dobbs's last number, "You're Gonna Hear from Me" (André & Dory Previn), delivered with an easy, confident swing and a smooth-as-silk key change, left me looking forward to hearing more from her.
Why Can't a Woman Be More Like a Man…?
The Green Room 42 – February 1
Category: Reviews