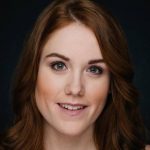 Why do we hold on to souvenirs of childhood and adolescence, even when these artifacts are highly embarrassing? Pictures from the junior prom that look like Clearasil commercials, notebooks crammed with first attempts at becoming a haiku master, macaroni sculptures created in day camp that appear to have traveled through a world war or two—these things can make you cringe. So, what's stopping you from tossing them out?
Add to these the journals you kept as a kid: time capsules that preserve you in all your pretentious, angst-riddled, hormone-infused glory. Broadway performer Emily Koch kept such a journal in middle school. But instead of confiding to her "dear diary," the musical-theatre–obsessed young Emily wrote to the protagonist of Broadway's Wicked: "Dear Elphaba." Not so incidentally, Koch would eventually go on to play that role on Broadway (and on tour) herself.
Recently, the singer-actor teamed up with director Colton Pometta to turn her childhood journal into a delightful and frequently insightful mini musical, eMulbOy5, that encouraged audiences to think back on their own mortifying journeys through pubescence. All journal entries heard in the show were taken verbatim from Koch's scribbled confessions to Elphaba; the songs were by the likes of Stephen Sondheim, Frank Loesser, and Kander & Ebb. With steady support from music director and pianist Evan Rees and a small group of performer friends and colleagues in cameo roles, she created a charming and funny story with some moments of true poignancy. The trappings of adolescence may have changed over the decades, but some things stay the same, whether you were a kid who played to death the 2002 cast album of Thoroughly Modern Millie or one who wore out the 1967 movie soundtrack.
When we meet Emily, she is in mourning because her best friend, Sarah, has moved away. She's dressed in a sports jersey and shorts; her hair is pulled back with a band. In order to combat her despair, she has taken on a male persona named Emul. This alter ego also has an online presence on AOL Instant Messenger under the screen name eMulbOy5. Emul begins to spend time with a boy named Quinn (Nick Rehberger). They celebrate their masculine cameraderie with a rousing rendition of Roger Miller's "We Are the Boys" from Big River. But then Quinn goes and spoils it all by high-fiving his friend. Suddenly, Emul melts away and there's Emily, singing a funny yet touching version of Ira Levin and Milton Schafer's anthem of romantic awakening, "He Touched Me."
If bringing an erotic charge to a high-five was one of Koch and Pometta's cleverest moves, an even better one followed. Our protagonist momentarily fantasizes about becoming a stripper and launches into "It's All the Same" (Mitch Leigh, Joe Darion), Aldonza's song from Man of La Mancha. Hearing the defiant, sick-of-sex lament of a 17th century Spanish prostitute sung by a rather tomboyish 21st century middle-schooler was, in its own nutty way, perfect.
Later, Emily writes excitedly to Elphaba about her school's upcoming musical: a production of Guys and Dolls. She becomes determined to land the starring role of Sarah Brown. A bonus perk to getting this part would be the multiple kissing scenes in the show—a prospect both enticing and frightening, considering that a cool and slightly mysterious kid named Kelsey (Jake Boyle) is sure to play Sky Masterson. And if there's Kelsey, what about Quinn?
Koch has a lovely, pliable sound, and she ran the gamut here from lilt to belt, yet made it sound all of a piece. There's a silvery quality in her voice, and when she sang Loesser's "If I Were a Bell," it seemed as though she wasn't so far from becoming one.
Joining Koch in the production—along with Rehberger and Boyle—were Emma Stratton and Jim Hogan as Emily's loving parents and Tess Soltau and Arica Jackson as her snide and otherwise nasty classmates, whom Emily/Emul dubs "The Clunks." The musical talents of these guest performers added to the enjoyment of the presentation, but this was Koch's occasion, and there was no eclipsing her.
I hope more audiences will get a chance to see this likable show. I also hope it gets a new name. Practically anything would be better than eMulbOy5. But when a cumbersome title is a show's biggest liability, you've got a pretty good thing going.
eMulbOy5
The Triad  –  January 20, February 3
Category: Reviews