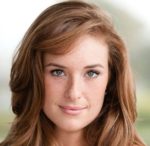 Fresh from Nashville, Kayley Hill is an heir to the Dolly Parton sound, with a sweet, clear, cut-through voice and a whole lot of power. Her country and rockabilly sensibilities are contemporary: she's equally at home throwing in a very complex soul melisma as she is working that break between registers or occasionally yodeling as if she were born to it. She plays her own acoustic guitar and wrote most of the songs in her recent show at The Green Room 42.
She's young—and so is her band, and although all are clearly talented, some of them are greener than others. Hill is a powerhouse on vocals, and Stephen Hanner on harmonica and dobro is a very good player who appeared to be trying to lift the energy of the band as a whole with dynamic solos and attention to the tempo. Very much missing from the lineup was a bass or any kind of low-end sound; it sounded as though the drum kit wasn't miked, and drummer Jerry Lowe, who had a great engaged presence on stage and kept good time, was a little too subtle on the backline and it was hard to hear the bass drum. Marcus Bagala on electric guitar started to join the party when he switched to mandolin, and Megan Dorn on background vocals was lovely, but often only faintly heard in the mix. Because Hill is star-quality talent, it would be interesting to hear her play with a band a generation or two ahead of her, one that would truly ground her huge sound, or to hear this group in five years with some touring and another album under their belts.
Having said that, the quality is definitely there, and there were some absolutely stand-out moments that made us wonder how and when Hill will get traction in the industry so that her current audiences will be able to say "we knew her when." Her songwriting is emerging into a sound of her own that will undoubtedly be blossoming as she works, and even the songs that may sound like other artists are good. "The Goodbye Song" is a heartbreaker with a 12/8 sway and an indie rock ballad influence, and the pretty "The Season" has a little Nora Jones in it. "Runs in My Blood," a song about her mom, is reminiscent of Dolly Parton's "Coat of Many Colors" and shows that Hill and Parton have loving, sacrificing parents from Tennessee in common.
A few of her original selections were written recently: the atmospheric "You're Her Man," the pretty melody of "More Than Enough," and "Shoes" with its story of the places one can go just seemed to be getting better and better, leaving us with the impression that her writing is starting to find its groove. Some of her covers were quite wonderful. The band put a country stomp in the soul of Aretha Franklin's rendition of "Rough Lover" (John Leslie McFarland) and Hill tore it up—absolutely the high point of the night. Tom Petty and Jeff Lynne's "Free Fallin'" was a good fit for her, and Parton's "Jolene" is an obvious choice for her voice, but they switched around the chords, and Hanner did a great New Orleans-inspired solo that they entertainingly called out as "swamp dobro." With its feeling of being on a journey, U2's "I Still Haven't Found What I'm Looking For" made an effective encore.
Introductions and stories could have used a little tightening-up: Hill's off-the-cuff patter was engaging and fun and occasionally endearingly weird, but a twenty-song set in a cabaret venue needs to keep moving. Hill may only be a few minutes out of the Musical Theatre Program at Boston Conservatory—her friendly home-team audience was beyond sweet with their generally amazed sounds, snaps of support, and wide eyes when she schooled us with a range-y note here, or a run there—but too many mentions of musical theatre school or student showcases just don't work for her brand. We want to hear more about road trips and broken guitar strings and mothers and grandmothers. Hill's sound and image work well as a professional country singer, so with this kind of show there's no need to distract from the bluegrass, even if musical theatre is part of the road that opened up the power of her voice and eventually brought her back to her roots.
From Nashville to New York
The Green Room 42  –  January 8
Category: Reviews