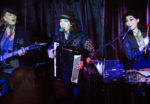 Rachelle Garniez, Amanda Homi, and Terry Radigan are accomplished singers, songwriters, and musicians with thriving solo careers. It was a shared love of the songs of reprobate troubadour Tom Waits that brought the women together to form the trio Vicki Kristina Barcelona. Recently on the intimate stage at Pangea, their show, Yesterday Is Here, proved eye-opening to both those new to the Waits repertoire and those who know his work well.
The performance was filled with strong solo vocals, gorgeous, soaring harmonies, and quirky, memorable arrangements utilizing a wide range of instruments, all at the service of a beautifully chosen set of songs, both rare and well known. Each of the women had moments to shine on her own, but it was the group that dominated the evening. The pre-show stage was literally strewn with musical instruments. Homi (wearing a toreador cap, which obviously makes her Barcelona, leaving it to the audience to decide which of the other two is Vicki and which Kristina) played drums, cymbals and harmonium; Radigan was on guitar and banjo; and Garniez dazzled on accordion, banjo, guitar, kazoo, and, at one point, blowing into pop bottles (only Mexican Coke would do because it uses real sugar and not fructose). Their totally unique sound was captivating from the first notes.
Hearing this material divorced from the raspy, male, and at times misogynist voice and character of the writer and embraced by the warm, wise, and inviting vocals of the trio gave an added luster to the repertoire. The respect, joy and passion with which the three approached the material was beautiful to behold. They not only paid homage but actually improved the songs on more than one occasion.
And the songs are worth it! "Hang On St. Christopher," the closest to an all-out rock number, was given an added twist with not one, but two banjos. "God's Away on Business" (written with Kathleen Brennan) is perhaps more pointed than ever in 2018 with the declaration "I'd sell your heart to the junkman baby, for a buck. If you're looking for someone to pull you out of that ditch you're out of luck…" The show's title song (with Brennan) beautifully captures the metaphor of life as a hobo riding the rails, and the melancholic snapshot that is "A Soldier's Things" has never been more poignant or desolate. It is not in the least surprising that one of Tom Waits's best songs, "Downtown Train," closed the show on a thrilling high that had been building through this enchanting show from beginning to end.
The breezily accomplished, practically laid-back energy of Vicki Kristina Barcelona and the warmth and pleasure derived from the singing and playing might, for some, mask just what a remarkable show this is. But rest assured, remarkable it is! (Note: On February 2, the trio will take this show uptown to the Lethe Lounge.)
Yesterday Is Here
Pangea – January 13
Lethe Lounge – February 2
Category: Reviews