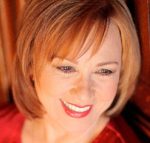 The "project" in the title of this show refers to jazz singer and music teacher Roseanna Vitro's efforts to generate smart and graceful lyrics for the late Charlie Parker's bebop compositions. Sing a Song of Bird: The Music of Charlie Parker—staged as a one-nighter at Jazz at Kitano—is clearly a work in progress. Some songs performed in the show have already been recorded for an upcoming album, but there is work yet to be done. After hearing the first of two sets on this evening, however, I can report, happily, that the project is off to a promising start. It didn't hurt that Vitro has enlisted for the project a pair of seasoned singers and songwriters—Sheila Jordan and Bob Dorough—artists who have been steeped in Parker's music since the Eisenhower years. These vocalese pros joined with Vitro in performing some of the newly retooled compositions; in addition, they sang some numbers associated with, though not written by, Parker.
Vitro had gathered for the gig a quartet of accomplished musicians to support herself and her fellow singers. Saxophonist Mark Gross, pianist Jason Teborek, bassist Dean Johnson, and drummer Bill Goodwin started the show with a purely instrumental take on "I'll Remember April" (Gene de Paul, Patricia Johnston, Don Raye). The number boasted an impressive solo by Gross, along with some downright athletic playing by Johnson.
The first vocalist up was Vitro, with "Grapple with the Apple" (based on Parker's "Scrapple from the Apple," with lyrics by Paul Wickliffe (Vitro's husband). The lyrics are about a city dweller's impatience with "living like a hamster" and the need for some R&R at a beach setting. Vitro performed the tropically tinged number assertively, allowing lyrics to morph seamlessly into scatting and then back into lyrics once again. Unfortunately, amplification problems made some phrases—especially those spat out in rapid fire—impossible to decipher. I wonder whether giving the number a slightly slower tempo might make these passages easier for the listener to process.
Next up was "Sheila, Jazz Child" (based on Parker's "Cheryl," with lyrics by Gary Brocks and Wickliffe), in which Vitro sang Jordan to the stage, introducing her as "a modern-day scat rapper." Jordan, a friend and pupil of Parker's in the 1950s, then sang her own lyrics on "Bird," set to the music of Parker's "Quasimodo." The number, which featured much scatting and lyrical improvisation, eventually segued, somehow, into the Gershwins' "Embraceable You." Throughout the set, Jordan was in a playful mood. At one point, she donned a sporty New Year's Eve hat. Her vocals were relaxed yet powerful—delivered with the ease of someone who's been singing in clubs for the better part of a century.
Dorough sang two numbers, including his wild and witty take on Parker's "Bluebird," which he has dubbed "Audubon's New Bluebird." I grasped only a fraction of the clever lyrics for this lengthy and intricate song, and I look forward to repeated listenings once the recording is released. The number includes Latin names for avian species, and at one point Dorough mimed looking out at the audience with binoculars, as if he were an intrepid birder scoping out the action at a wildlife sanctuary.
The singers and musicians saved the best for last with a pair of group numbers. First up was Jack Strachey and Eric Maschwitz's tender "These Foolish Things (Remind Me of You)." It was followed by Parker's lively "Barbados," featuring lyrics by Jordan. The amplification problems had continued throughout the evening, and by the time of these final selections, there was only one microphone working properly. The trio of vocalists passed it from one to the other as they took turns performing, turning a liability into an asset. The mic had become a baton in a musical relay race in which the aim was not to finish first but, rather, to prolong the event as long as possible, savoring the scenery and enjoying the camaraderie with fellow sprinters.
Sing a Song of Bird: The Music of Charlie Parker
Jazz at Kitano  –  January 16
Category: Reviews