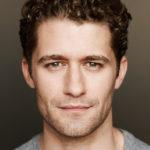 Sometimes a large following based on solid television and Broadway musical credits can be enough to assure a successful cabaret stint. No need to name your club show or to provide a thoughtful theme or through-line for it. As Matthew Morrison proved anew in his most recent run at Feinstein's/54 Below, you can simply name the gig for yourself and sing songs from your stage appearances and other songs you happen to like, and still fill every seat in the house and get standing ovations. Don't get me wrong. Morrison is a talented, engaging youthful singer (although at 39, perhaps not quite young enough for that shaved-sides Woody Woodpecker haircut he sported). He reads his core audience brilliantly, and knows they will not mind that too frequently he closed his eyes during ballads to convey romantic intensity.
As his opening number had it, Morrison made it all look "Nice and Easy" (Lew Spence, Alan & Marilyn Bergman), and he clearly understood that this approach "does it every time." When he sang the Cole Porter standard "It's All Right with Me" and the familiar Bill Withers song "Ain't No Sunshine" (when she's gone), there was little attempt at personalization or interpretation. Early on, he did cosmically alter Lerner and Loewe's "On the Street Where You Live" with a lickety-split, semi-jazzy arrangement accompanied by his energetic and startling clog-shuffle-tap dance. It was amusing, and it seemed to portend more forthcoming original approaches to familiar songs, but it was a promise that went largely unfulfilled. Morrison later explained that he usually did much more dancing while singing in his shows, but that the relatively small available stage space in this venue precluded much more of that. His only other dancing venture this time out was during an effective nine-minute medley from Hairspray (Marc Shaiman, Scott Whitman), one of Morrison's Broadway runs. He also delivered nice medleys from two others, South Pacific (Rodgers & Hammerstein) and Finding Neverland (Gary Barlow, Eliot Kennedy), and his operatic solo from The Light in the Piazza, "Il Mondo Era Vuoto" (Adam Guettel). He sang nothing from his six-season hit TV series Glee at the performance I saw (but he had when that show's co-star Jenna Ushkowitz appeared as his guest artist).
Morrison featured a different duetting guest star each night of his run, among them Kelli O'Hara from South Pacific and Victoria Clark from The Light in the Piazza. On my night it was young Alex Dreier, who had played two of the surrogate sons of Morrison's J.M. Barrie in Finding Neverland. The pair reprised their duet from that show, a moving "When Your Feet Don't Touch the Ground." Even more touching was Morrison's solo on Lionel Bart's "As Long As He Needs Me" from Oliver, a musical with which he had not been associated. This was introduced by the one truly personal anecdote of the evening, when Morrison spoke of the recent, life-changing birth of his first child, a son.
He related a couple of songs from the recent and more distant past to current events and issues. In introducing Rodgers and Hammerstein's "We Kiss in a Shadow" from 1951's The King and I, he equated the song's forbidden-love lyrics to the mid-20th-century-and-beyond homosexuals' need for romantic secrecy, and his rendition gave the number new relevance. And he contrasted John Mayer's "Waiting on the World to Change," from 2006, with 2017, "the year we stopped waiting for the world to change and did something about changing it." Nothing in his pro forma rendition of the song otherwise explained his reason for including it in his set.
His encore, a mashup of two Lennon/McCartney songs, "Let It Be" and "Hey Jude," had nothing to do with anything that had gone before, but quickly became a crowd-pleasing singalong.
Throughout this show, Morrison, who was seemingly self-directed and certainly self-choreographed, had great support from his backing quintet: musical director Brad Ellis on piano, Daniel Kalisher on guitar, Gary Wicks on bass, Pete Antunes on drums, and, especially, the versatile Jimmy Emerzian on saxophone, clarinet and flute.
Matthew Morrison
Feinstein's/54Below – January 6,7,9,10, 12,13
Category: Reviews