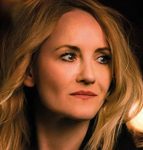 While it is a delicious thing to hear a real Berliner singing from the Weimar Cabaret tradition, Katharine Mehrling seems to have a soul that is equally inspired by the streets of Paris. Her trio of muses for Streets of Berlin, her recent offering at Joe's Pub, were Marlene Dietrich, Judy Garland, and Édith Piaf. These iconic women are common sources for cabaret material, but Mehrling, seemingly effortlessly, elevated what is often performed for fun and camp to vibrant and authentic art.
Mehrling is a very accomplished vocal technician, perhaps even more so than her diva references: her natural sound has a fine-grain sandpaper texture that microphones love, her range wass beautifully supported throughout with a strong high belt that she used sparingly and with great taste, and she seamlessly moved between power and subtlety. Although she is seasoned in musical theatre, with European credits in everything from Funny Girl to Cabaret to Next to Normal, her cabaret presence had the direct-address, intimacy, and crowd work of someone who understands the medium as having its own style.
Opening in German with "The Bilbao Song" (Kurt Weill, Bertolt Brecht), she then sang a Dietrich medley, including two songs in English: "Falling in Love Again" (Friedrich Hollaender, Sammy Lerner) and its B-side song from the 1931 78-rpm single record release, "Naughty Lola" (Hollaender, Robert Liebmann, Eng. lyric F. Conelly). Her delivery of lyrics was specific and articulate, designed for audiences to be able to engage with the story of the song regardless of our fluency in any given language. The opening established the evening's running theme of Berlin as a city of memories to which she would always return—especially encapsulated in the lyric and title "Ich hab noch einen Koffer in Berlin" (I still have a suitcase in Berlin, by Aldo von Pinelli, Ralph Maria Siegel). The evening included some greatest hits of the Weimar period, among them a dual-language, suitably-dark "Mack the Knife" (Weill, Brecht). An original, "Straßen von Berlin" (Streets of Berlin, by Mehrling, Paul Hankinson), was a melancholy waltz that gave the evening its title.
After establishing her German roots, Mehrling travelled to France. A rousing version of "Padam, Padam" (Norbert Glanzberg, Henri Contet), a Piaf song about a relentless melody and equally relentless memories of love, and "Milord" (Marguerite Monnot, Georges Moustaki), which tackles class difference in romance, were a couple of the classic Piaf songs. Mehrling has Piaf's small stature and big voice; she also has the French guttural "r" sound with the addition of Piaf's Parisian working-class trill, which adds to the air of authenticity. But what Mehrling really has that makes her equal to the challenge of La Môme's legacy is guts. The courage and passion in her singing were a cri de coeur, calling out the dignity of suffering for love, regardless of poverty and adversity.
Her embodiment of Judy Garland was also very compelling: without attempting impersonation, Mehrling offered some of Garland's specific flavor of bravado and referenced her signature vocal placement in "Rock-a-Bye Your Baby with a Dixie Melody" (Jean Schwartz, Sam Lewis, Joe Young). In "This Is My Life" (Antonio Amurri, Bruno Canfora, Eng. lyric Norman Newell), we heard a more contemporary pop/rock influence. The fact that she sounded equally at home here started to cement the idea that she can probably sing almost anything—yet without being merely a stylist; rather, Mehrling brought a sense of ownership to everything she sang. She was expertly accompanied throughout by music director Ferdinand von Seebach on piano and Niklass Lukassen on bass.
Next time Mehrling comes to New York, make sure you're there. It's a rare and beautiful thing to be in the presence of this kind of artist, who makes everything her own, channels but never imitates the greats, and is humble and strong enough to balance her formidable skill with great humanity and vulnerability on stage.
Streets of Berlin
Joe's Pub – October 5
Category: Reviews