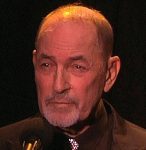 Bob Simonello performed a lively Rock/Blues/Jazz fusion show, Rollin' a 7, to a packed house at Don't Tell Mama recently, aided by music director Jeff Harris on piano, Scott Thornton, bass, and Steve Singer, drums. Simonello, possesses many qualities with which to entertain his audience, not the least of which is his personable and genuine nature. He proved himself to be a natural communicator, without affectation—which for an older Caucasian male singing blues and rock is not an easy task. In their presentation, his songs remained authentic to both the genre and his character, giving new insight to several of the lyrics. He also supplied additional lyrics for several of the selections, which kept the show personal and on message for his theme: the fortunate experiences of his life.
With an easy spoken delivery, he welcomed his audience with "Never Been Rocked Enough" (Delbert McClinton, Troy Seals, add'l lyrics Simonello). Craig Carnelia's "The Kid Inside" displayed a gentle phrasing that remained consistent throughout the show, and the pairing of "Hold On" (traditional spiritual) and "Soul Shadows" (Will Jennings, Joe Sample) was arranged and sung beautifully, making use of Simonello's upper range, which remained both spoken and round (also not an easy task).
A former illustrator for Sesame Street, Simonello added his own lyrics to "The Imagination Song" (Joe Raposo) and very effectively sang Raposo's "Bein' Green" with a lovely personal relevance that transcended Sesame Street (and Kermit) entirely. An ambitious choice, Jason Robert Brown's "Moving Too Fast" was performed with a personal connection, but possibly remains a little past his vocal prowess. With the rest of the show so completely within his technical ability, this song was the only instance in which he seemed not to be in control.
A relationship set, including "Bill"/"Every Time I Roll The Dice" (Jerome Kern, P.G. Wodehouse, Oscar Hammerstein II/Max D. Barnes, Troy Seals), "What a Difference a Day Made" (Maria Grever, Eng. lyric Stanley Adams), and culminating in "My Favorite Year" (Michele Brourman, Karen Gottlieb) was well connected and moving. Ending with a bit of fun, Simonello added new lyrics to Stephen Sondheim's "I'm Still Here"; though that's not something I would recommend anyone else doing, in this instance his lyric changes were appropriate and well received.
Kristine Zbornik deftly directed this show, which played to Simonello's strengths and artistry. Throughout the evening, Simonello surprised me by consistently making the difficult look easy, a credit to both him and Zbornik. As a vocalist, his tenor voice remains conversational until the upper passaggio, then it glides easily into a more polished "turn-over" (the preferred quality that prevents the sound from being screechy). And as a storyteller, his personality and wit always come through without the dreaded "desire to please" syndrome exhibited by even some seasoned performers.
Bob Simonello is charming, authentic, and artistic, which makes his appearances something to look forward to.
Rollin' a 7
Don't Tell Mama – October 13
Category: Reviews