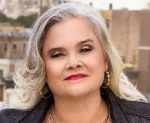 Julie Reyburn has been relatively inactive in the cabaret scene in recent years, but that doesn't mean that she has been otherwise idle. She's been busy raising children and working in the nonprofit sector. She now returns to her art with a new show at Don't Tell Mama called Anywhere We Are. It's a big, bold, and beautiful program that focuses on family, on political activism, and on the intersection of those two spheres. Directed by Billie Roe, with musical direction by Mark Janas, the program showcases not only Reyburn's talent but also her passion for and commitment to making the world a better place.
Her strong, clear voice, her elegant showmanship, and her welcoming presence are important factors in the show's success. But what makes this an especially memorable event is her teamwork, not just with Roe, but also with Janas (at piano) and the other musicians: bassist RItt Henn and flutist David Ballard. The piano, bass, and flute combination is one that's not heard too often in cabaret, but it works winningly here. I can't overstate the importance of Ballard's contributions, which give the proceedings graceful touches—sometimes bright and sometimes mellow. He and the other musicians contribute in ways that go beyond their playing. We're used to a pianist and/or other members of a combo chiming in occasionally to harmonize with a singer. But here that convention is taken to new levels, with the three men's voices frequently creating the sorts of soundscapes you'd associate with a chamber choir.
Her first two numbers comprise a sort of "I'm back in business" statement. The opener, Sondheim's "Putting It Together," draws heavily on the version Barbra Streisand performed on her 1985 Broadway album, which moved the Sunday in the Park with George song's focus away from visual art and into the realm of musical artistry. Perhaps coincidentally, Reyburn's second number is another song Streisand performed on the aforementioned album: Sondheim and Leonard Bernstein's "Something's Coming." Reyburn captures fully the song's sense of wonder. And there's a lovely touch at the very end when Ballard's flute quotes from a different West Side Story song, "Maria."
Reyburn then moves to her main themes, giving us Noël Coward's "Twentieth Century Blues," but reconfiguring it for the current century. In the course of the song, she stops to read a couple of Trump-oriented anecdotes that remind us of the blues-inducing headlines we've come to expect in the current era. It's only after this number that she stops the music and speaks to the audience.
What follows is a procession of songs that help shape a thoughtful narrative. Speaking of the importance of strong, "unconventional" women—generally, and in her own family—she performs what is certainly the best rendition of Coward's "Nina" I've heard. The musicians—decked out in flamenco hats—add pleasing vocal harmonies and a good share of humorous touches. It's a rousing comic set piece not soon to be forgotten. Maltby and Shire's "Stop Time"—about the bittersweet phenomenon of children growing up so quickly—is up next. It is performed wistfully but without sticky sentimentality.
Eventually things grow more serious, as Reyburn addresses the frightening realities of a planet and a culture in crisis. One of the biggest crowd favorites is Lennon and McCartney's "Blackbird," sung in a bold, quite audacious arrangement that would not be out of place in a concert hall. Janas and his colleagues present an otherworldly, multi-textured sound against which Reyburn sings the graceful melody. "Saturday in the Park" (Robert Lamm) is staged as a dramatic showdown between decency and incivility. It stubbornly insists on proclaiming the message "all is not lost."
The show reaches its apotheosis with Lynn Ahrens and Stephen Flaherty's "Back to Before," a rafter-rattling anthem. The problem is that an apotheosis can be a hard act to follow, and Reyburn winds up following it with four more numbers. Perhaps the ordering of the last few songs could be reconsidered and one or two of them dropped (the show is a tad on the long side). Some selections are indispensable, including the evening's title song, "Anywhere We Are" (Nichole Nordeman, Tommee Profitt) and the buoyant, gospel-tinged take on Helen Reddy and Ray Burton's "I Am Woman," which eventually speeds up and morphs into a rollicking country-ish gospel sound. If something has got to go, I'd vote for Sondheim's "Move On," although—not surprisingly—she sings it beautifully.
If you were trying to convince someone that club singing can be not just an entertainment but an art as well, this show might well serve as Exhibit "A." Having Julie Reyburn back on the beat enriches the cabaret community in a big way.
Anywhere We Are
Don't Tell Mama – October 5, 12, November 7, December 15, 17
Category: Reviews