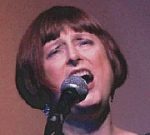 At Don't Tell Mama, Nicci Nicholas is currently offering a saloon show of sorts, directed by Lennie Watts and with music director Ian Herman at the piano. A saloon show, or saloon set, as it is often referred to, is a set of seemingly unconnected songs, each in its own right a classic of the American Songbook delivered with minimal or no connective patter, and with such great lyric connection from the artist that they create a completely satisfying experience for the listener, even without the presence of a "theme" tying the show or set together.
A saloon set is extremely difficult, and Nicholas has some impressive qualities in her favor. The voice, a dark contralto, is naturally pleasing. There is no affectation within the production of her sound, and each song feels as if it is being spoken. This is a big plus in both cabaret and the niche subset of saloon show.
Throughout the evening, what little patter there is nicely illuminates the next song, with a few intriguing surprises. Her set up for "The Other Side of the Tracks" (Cy Coleman, Carolyn Leigh) is charming, as is her vignette before "Brother, Can You Spare a Dime?" (Jay Gorney, E.Y. "Yip" Harburg). She pairs song to patter very well, artistically even, and she has an impressive command of her vocal instrument, even if the range is somewhat limited in size. In cabaret, it's not the size that matters; it's what you do with it that counts—and that's where I would like to see more from her.
This talented artist gives proficient readings of standard arrangements of well-known songs. And however good those readings are, they aren't good enough, especially when you've given your audience a glimmer of something more. During her pairing of "No One Ever Tells You" and "Left Alone" (Hub Atwood, Carroll Coates / Mal Waldron, Billie Holiday) Nicholas went up on a lyric—not a sin in cabaret—but that slip revealed a lightheartedness and connection to the moment that had previously been absent. In a beautiful arrangement (thank you, Ian Herman) of Sondheim's "Losing My Mind," Nicholas gives us a glimpse of what her artistry can rise to when she is fully connected to the lyric, inspired by a unique arrangement, and communicating in the first person. This is what the best of cabaret has to offer, and this is why it is so difficult to master.
At the performance I attended, Nicholas seemed present at times and distant at others. For the most part, each song within the evening is presented with a point of view that is appropriate to the song, but not always uniquely hers. Cabaret is an art of creation, not re-creation. Audiences have come to expect treatments of songs that express the artist's unique perspective; this aspect of Nicholas's performance was lacking.
My wish for Nicholas is that she will explore deeply the lyrics of each song, pair those lyrics with an arrangement as unique as her own gifts, and tell her own unique story. I look forward to that.
.…Nothin' Can Be Done
Don't Tell Mama – September 15, October 11, October 23, November 19
Category: Reviews