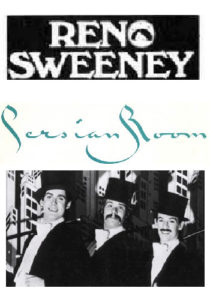 The article below was published in Back Stage on December 15, 2000. Here's how I came to write it. The newspaper was planning a special year-end 40th Anniversary issue, with articles surveying the performing arts scene over the first 40 years of the paper's life. Sherry Eaker, the Editor in Chief of Back Stage, asked me to do the piece on cabaret. At first I didn't want to take on the assignment because the previous year I had relinquished my cabaret writing duties in order to spend more time in Berlin, and had written what I foolishly thought would be my farewell column. Sherry pointed out that since I had been going to clubs since I was ten years old, I was the ideal person for the job. I couldn't come up with an argument to counter that (Sherry can be persuasive).
This is the article exactly as it appeared in 2000. Some of the clubs that are discussed in the present tense are no longer with us—and some of today's most vital cabarets aren't mentioned. Finally, though some of the specific references would have to be changed, I believe that the points I make in the final section of the article, Trends and observations, are fundamentally still valid today.
Cabaret 1960 – 2000
It's Thursday, December 31, 1959 in New York City. The eve of a new decade. How will you celebrate? You might opt to see the Will Mastin Trio starring Sammy Davis, Jr. at the Copacabana, Sarah Vaughan at the Empire Room in the Waldorf-Astoria, or Jane Froman at the Persian Room at the Plaza. The Pierre's Cotillion Room is offering Carol Bruce and Wilbur Evans, and Vicky Autier is singing at the Maisonette at the St. Regis.
If you're in the mood for a more intimate setting, how about Kaye Ballard at the Bon Soir, Gigi Durston at One Fifth Avenue, the Julius Monk revue "Pieces of Eight" at Upstairs at the Downstairs, or Rose Murphy at Downstairs at the Upstairs? Bobby Short and Barbara Carroll are both performing at Arpeggio, and Mabel Mercer is holding forth in the King Arthur Room at the Roundtable.
Jazz? Lionel Hampton is at Basin Street East, and the Count Basie Band, with vocalist Joe Williams, is at Birdland (don't head for West 44th Street—it's at 52nd and Broadway, you know). The Hickory House has the Billy Taylor Trio, and Lambert, Hendricks and Ross are at the Village Vanguard.
There's more. Lots more. You see, the calendar may be about to say 1960, but the scene is still very much the '50s, when New York experienced a burgeoning of niteries, and in many ways still the '40s, when the only way to see one's favorite artists perform was to go to a club. And that's exactly what people did—routinely and in large numbers. In addition to the independent rooms, nearly every hotel in town—from the posh Sheraton East (formerly the Ambassador) on Park Avenue to the less rarefied New Yorker on Eighth—offered live entertainment. Vincent Lopez and his orchestra were at the Taft, and you could swing and sway with Sammy Kaye at the Roosevelt Grill. The Hotel Lexington was famous for its Hawaiian revue, and the Drake gave two options: dinner, supper and dancing at Mon Plaisir, or relaxing with Cy Walter at the piano in the Drake Room. Indeed, when the Americana Hotel (now the Sheraton New York) opened in 1962, it naturally boasted a show room, the Royal Box, which, just as naturally, offered dinner, dancing, and headline acts.
The party's over
But this bounty was not to continue long. During the 1960s, the amount of live music in New York diminished greatly. Hotel orchestras became a thing of the past, and while a few of the bigger venues made it into the next decade, the smaller rooms were hit very hard.
The Blue Angel, perhaps the quintessential New York supper club of the period (they weren't commonly called cabarets back then), closed in 1964. Among the people who had begun their careers there prior to 1960 were Mike Nichols and Elaine May, Carol Burnett, Johnny Mathis, Pearl Bailey, and Harry Belafonte. In the '60s, you could catch return engagements of Dorothy Loudon, Kaye Ballard, and Phyllis Diller, as well as such newcomers as Dick Gregory, Barbra Streisand, Lenny Bruce, Stiller and Meara, and the Smothers Brothers.
The Showplace, which in 1958 had launched Jerry Herman's career with his revue "Nightcap," also shut its doors in 1964. Appearing there in its final few years were Linda Lavin, Mark Murphy, and the revue Stewed Prunes. John Wallowitch played the piano downstairs, as did Warren Beatty (that Warren Beatty); checking coats was Cass Elliot (yup, Mama Cass).
Another casualty of the mid-'60s was the Little Club, which had opened in the 1940s (its first solo act was Doris Day). Before it closed, you could enjoy Murray Grand at the piano and listen to singer Jane Harvey. Then in 1967, the Bon Soir left us after nearly twenty years, presenting in the '60s such talents as Barbra Streisand (who alternated between the Blue Angel and the Bon Soir), Woody Allen, Mabel Mercer, and Felicia Sanders.
In fact, seeing the handwriting on the wall, the Village Vanguard—which had previously hired acts like the Revuers (Judy Holliday, Betty Comden, and Adolph Green), Eartha Kitt, Pat Carroll, and Wally Cox—switched to an all-jazz policy as early as 1957. (Throughout this 40-year period, jazz has stayed relatively resistant to the vicissitudes affecting cabaret.)
How could it happen?
Two factors are usually cited to explain this decline: television and the change in musical tastes. The people that patronized clubs in the '40s and '50s could now see their kind of entertainment on TV, while younger audiences were interested in a different type of music. That's true enough, but to understand the depth and magnitude of the challenges facing cabaret—now as well as then—it is necessary to examine this second point more closely and grasp its fundamental nature—and the nature of cabaret.
The type of music embraced by much of the then younger generation reflected the central philosophical trend of the period: a rejection of reason. The flower-power/peace-and-love movement, while superficially appearing to have non-violence as its motive, was in fact an exhortation to suspend judgment and embrace nature uncritically. Reason was either totally discredited or deemed inferior to feelings.
This gave rise to various musical styles, most notably Motown, disco, soft rock, and hard rock—the first three benign but vapid; the fourth equally lacking in content but cynical and nihilistic, and often so cacophonous that its listeners were obliged to function on a sub-rational, pre-conceptual level. There was no room in any of it for songs that explored human experiences with intelligence, sensitivity, and wit. (This anti-reason trend was fueled by the same philosophical influences that decades earlier had made their mark on the more "serious" arts—examples include aleatory and atonal music, non-representational painting, and stream-of-consciousness literature.)
Some contemporary music lay well outside this mold and could have found a home in cabaret—for example, the songs of Joni Mitchell, Dory Previn, Jimmy Webb, Lennon and McCartney, and, later, Randy Newman. However, there was another aspect of the anti-reason syndrome that conspired against cabaret. Many young people (as well as the fashionable set, wannabes, and others with disposable income) were resolutely determined not to use their minds when they went out. The noise level at discos—which by the late '60s abounded—made contemplation and conversation nigh unto impossible. What's more, for many, getting stoned was the evening's prime objective.
This could not have been more inimical to cabaret. Even at its most emotionally intense or frivolously comical, cabaret demands focus: one must tune in in order to turn on. Its effectiveness rests on communication between the performer and the audience; this will not work if the audience has checked its collective brain at the door. Indeed, cabaret is a bastion of reason and a playground for the mind. That is the source of its power to move, enthrall, or delight us. Therein lies its glory.
A few rays of light
Some good things did happen in and to cabaret in the 1960s. Early in the decade, The Duplex earned an enviable record for discovering new talent and launching careers. Alumni of the period include Joanne Worley, Joan Rivers, Rodney Dangerfield, Dick Cavett, Claiborne Cary, and Woody Allen. Often, performers would try out material here before heading off to the Bon Soir or the Blue Angel.
Julius Monk continued his series of bright and bubbly musical revues, featuring original songs and sketches that commented wittily on the current scene. In 1962, he took them with him from Upstairs at the Downstairs to PLaza 9, located downstairs at the Plaza Hotel, where he continued for several years. William Roy was musical director and one of the contributors, and the casts included Mary Louise Wilson, Ronny Graham, Ellen Hanley, and Ruth Buzzi. (In the late '60s, Plaza 9 switched to jazz before becoming an Off-Broadway theatre, then a cinema.)
Meanwhile, Upstairs at the Downstairs and its sister room, Downstairs at the Upstairs, continued presenting revues in the Monk tradition, under the helm of various producer/directors. Though the success rate varied, the club stayed open until 1974; among the cast members were Madeline Kahn, Marian Mercer, Fannie Flagg, and Marcia Lewis. Non-revue entertainment, which pre-1960 had included Portia Nelson, the nightclub debut of Tammy Grimes, and the double act of Annie Ross and Blossom Dearie, continued with such names as Joan Rivers, twin pianists Paul Trueblood and Robert Colston, Mabel Mercer, Jackie Vernon, Dixie Carter, and Bette Midler. It was here that Midler first met Barry Manilow, who was entertaining at the piano between shows.
From the mid '60s into the '70s, the Rainbow Grill on the 65th Floor of the RCA Building (not to be confused with any other rooms bearing the name Rainbow) functioned as a jazz club, with artists like Jonah Jones, Red Norvo, Chris Connor, Stan Getz, Billy Eckstine, and Cleo Laine. The room went non-jazz on at least one occasion, when Jule Styne presented a program of his songs in the mid-'70s.
And in 1968, Bobby Short opened at the Café Carlyle. That must have been one hell of a contract.
The renaissance
Nonetheless, despite a few bright spots, the situation in the early '70s was pretty bleak. To emerge again, cabaret would have to rediscover and reinvent itself. And that's what happened. In the mid-'70s, four clubs opened that revitalized the New York nightlife scene.
These clubs were Reno Sweeney, Brothers & Sisters, Grand Finale, and the Ballroom, and their arrival was exhilarating. Compared with earlier ventures, these rooms were more informal, more democratic, and more lighthearted. They attracted a younger audience—an audience that exhibited none of the smug self-satisfaction that can come from doing something one knows has been labeled smart. "Isn't this fun" replaced "aren't we sophisticated?" And not many people bothered to stay in the closet. I believe that these clubs set the tone and laid the groundwork for the cabaret world we know today.
On West 13th Street, Reno Sweeney had it all. It was festive and slightly funky, but it operated very professionally. It could be packed, but the staff remained friendly and cheerful. Despite its medium-large size, few seats felt like Siberia, and from the active bar, you could get at least a sideways view of the show. The wildly eclectic lineup included Peter Allen, Maxene Andrews (of the Andrews Sisters), Barbara Cook, Ellen Greene, Michael Moriarty, Cybill Shepherd, Holly Woodlawn, Weeden, Finkle & Fay, Robby Benson, Nancy LaMott, Cissy Houston (Whitney's mom), Judy Kaye, Marta Sanders, Andre DeShields, and a radiant and very exciting Andrea Marcovicci.
The cabaret room at Brothers & Sisters, on 46th Street between 8th and 9th Avenues, was very small and very plain—although as I recall the plywood walls had been given a coat of dark paint and perhaps some cloth covering. It was also very wonderful. The club specialized in presenting great and legendary ladies—Hildegarde, Dolores Gray, Portia Nelson, Greta Keller, Penny Fuller, Karen Morrow. Julie Wilson appeared there several times, including one memorable engagement, "Julie Lets Her Hair Down," in which she forwent her signature chignon and gardenia. It is also where Barbara Cook began her cabaret and concert career. Carleton Carpenter and Larry Kert were among the handful of men represented.
The piano café upstairs was very popular with show "kids"—many of whom actually had jobs on Broadway! For one year, the room was presided over by Tom Babbitt, a singer-pianist whose simple but eloquent renditions still rank today, decades later, as models of the art of song interpretation. Among the people who took over after he left was the supremely entertaining Danny Apolinar.
Of the four clubs, the Grand Finale, on 71st near Broadway, was closest to what one thinks of as a nightclub. Its stage was large enough to accommodate choreography, and the tables were arranged in two tiers in a truncated "U". The bar, located immediately behind the last row of tables, afforded a great view of the show. The roster included Bernadette Peters, Wayland Flowers and Madame, Gotham (perhaps the first openly gay group to cross over to a more general audience), Dorothy Collins, Margaret Whiting, Ann Reinking, Chita Rivera, and Rita Moreno.
A small, cheerful, white restaurant with a stage not quite in the center of the room, the Ballroom—the original one, that is, on West Broadway in Soho—was the most innovative of the four, with an uncommonly perceptive eye for picking talent from among unknown as well as familiar names. Its lineup included Judith Cohen, Jane Olivor, Marilyn Sokol, Baby Jane Dexter, Monteith & Rand, Jo Sullivan Loesser, Margery Cohen, Betty Rhodes, Pamela Myers, Dean Pitchford, Alan Menken, Tim Cahill, David Little, Audrey Lavine, Estelle Parsons, Al Carmines, Martha Schlamme and Alvin Epstein, Liz Corrigan, Tony Azito, Lee Horwin, and Hildegarde, who closed the room in May 1979. In addition, the club ran a songwriter series, in which you could see Sheldon Harnick, Carolyn Leigh, and Harold Rome perform their own works, and you could have been there when Andrew Lloyd Webber and Tim Rice told their audience that they were hopeful of having "Evita" produced on the stage.
Meanwhile…
A number of other venues came on the scene around the same time. Throughout the '70s and into the '80s, the Cookery presented a roster of mainly—but not exclusively—jazz and blues artists, including Susannah McCorkle, Marlene VerPlanck, Adelaide Hall, Cryer & Ford, and Alberta Hunter in an extended engagement. Michael's Pub opened in 1973 and stayed for a long time on East 55th Street before making return appearances in other locations around town.
On 46th Street between 8th and 9th Avenues (the site is currently Swing 46), Barbarann had an active entertainment schedule in its main cabaret room, including the Off-Broadway production of the Maltby & Shire revue "Starting Here, Starting Now." Farther downtown and on the East side, Once Upon a Stove had its cabaret patrons walk through the restaurant, past the kitchen, up a metal staircase, and across a catwalk to get to the enchanting Valentine Room, where they could catch Anne Francine, Julie Wilson, Taina Elg, Denise Lor—or a revue put on by the staff.
There was Cleo's, on Broadway near Lincoln Center, where lucky audiences could see Mabel Mercer or Albert Hague & Renee Orrin. Before moving uptown a decade later, Jan Wallman's on Cornelia Street presented such artists as Judy Kreston, Barbara Lea, Daryl Sherman, Loria Parker, and Ronny Whyte in a warm and intimate setting. And don't forget Tramps, where you could see Pat Benatar, Cathy Chamberlain's Rock 'n' Roll Revue, and Stormin' Norman & Suzy; Yellow Brick Road on 10th Street (remember Desmond Child & Rouge?)—years later the site would become Eighty Eight's; and on West 73rd Street, the Bushes of CPW, which became Jason's at the Park Royal.
It would be wrong to leave out the cabaret series presented for several years by the Manhattan Theatre Club in its homey East 73rd Street facility. So many splendid offerings—Kander & Ebb, Charles Strouse, and Comden & Green revues; "songs of" evenings (Dorothy Fields, Arthur Schwartz, Harold Arlen, Martin Charnin); Victor Garber and Don Scardino's joint show; Margery Cohen and Jonathan Hadary; Craig Carnelia; Jim Wann; Dory Previn…the list goes on and on. And two of the revues made it big: "Theatre Songs of Maltby/Shire" became "Starting Here, Starting Now," and a little number called "Ain't Misbehavin'" transferred to Broadway and won the Tony as Best Musical.
Finally, though it was a restaurant, not a cabaret, Ted Hook's Backstage was such an important part of the city's nightlife during the second half of the '70s, that it must be included—even if only because it was here that Steve Ross, its principal pianist/singer, came to prominence. Stars from the past and celebrities of the present made it their home, and it was unpredictable when one of them might walk over to the piano and do a number or an hour. It was a special place.
The story goes on
In 1981, the Ballroom reopened in a much larger space in Chelsea, where for many years it continued to offer an impressive level and variety of talent. Although the three other seminal clubs were gone by then, the momentum they helped generate has continued through to the present day, with new clubs appearing all the time. Some of these ventures merely dabbled in live entertainment, while others made more serious commitments. Some came and went quickly, some made more lasting impressions, and several are still alive and well.
There have been so many, that an exhaustive list would be exhausting—and impossible. Besides, the more recent the establishment, the more likely it is that you know all about it. So, in very rough chronological order, following is a partial list of clubs and developments, arbitrarily limited to pre-1990 openings. You might enjoy playing "how many of these do you remember?"
For over two decades now, the West Bank Café (now the Laurie Beechman Theater) has been presenting a mix of cabaret, theatre, and comedy, including Marcia Lewis in 1979, Susannah McCorkle in 1982, and in 1987, a group of young Canadian upstarts called The Kids in the Hall. Shaped like a miniature 737, Mickey's, on West 54th Street, was Karen Akers's performing home base before she graduated to larger venues. For a few years, the King Cole Room in the St. Regis offered a high-profile series of musical revues, while for five years Blue Skies, a cozy Italian restaurant located in a cellar on 10th Street near 7th Avenue, presented an extraordinary lineup of singers. A couple of dance clubs tried their hand at cabaret: Hippopotamus (Julie Kurnitz, Juliette Koka, Karen Akers) and Les Mouches (Donna McKechnie, Patti LuPone, Terri Klausner, Liliane Montevecchi).
Ted Hook took over what had been Barbarann and created OnStage, an endearingly glitzy club with tables arranged in tiers and cigarette girls in uniform; it was a joy. In 1982, the club became Van Buren's, before metamorphosing into JoAnn's Silver Lining, then Red Blazer Too. Another classic supper club was Freddy's, on East 49th Street, which in the first half of the '80s presented the likes of Tammy Grimes, Phyllis Newman, Dixie Carter, Kay Starr, Keely Smith, Ronny Whyte, Carol Fredette, Daryl Sherman, Andrea McCardle, Maureen McGovern, and Margaret Whiting.
For the past two decades, Palsson's (later Steve McGraw's, now The Triad) has specialized in open-ended revues—most notably "Forbidden Broadway" and "Forever Plaid"—interspersed with a cornucopia of more limited-run cabaret offerings and special events. Spanning most of the 1980s were three incarnations of Panache, the last of which, Panache Encore, was located in the back room of Encore, Encore, one of the successors to Ted Hook's Backstage.
Early in the '80s, two events of enduring significance took place. Live music, in the person and talent of Steve Ross, was reintroduced to the Oak Room at the Algonquin, which rapidly became one of New York's premier venues. Today the Oak Room is distinguished not only for the stars that perform there, but also for its more creative programming, such as the Cavalcade of Cabaret, which gives less famous performers a chance to play the Algonquin, and the International Festival of Cabaret. And Don't Tell Mama opened. What can one say about a club that for two decades has been home to some of the freshest, brightest, most exciting talent anywhere, a club that sets no limits on the creative imagination of the artists who play there? It is the center and soul of New York cabaret.
In the mid-'80s we had Park Ten, at Park Avenue and 34th Street, where you could have seen Mel Tormé, Sylvia Syms, or Joshua Logan presenting a musical recollection of his career. There were Broadway Baby, which brought the spirit of the midtown cabaret scene to the upper West Side, and more upper and more West, the marvelous J's, which for many years offered jazz in a spacious, comfortable, and friendly setting.
A bit later, Jan Wallman's (subsequently to become Judys') moved to 44th Street, increasing its visibility and roster of performers. We also got Danny's Skylight Room, which happily is still with us, and Chez Beauvais, at 10th Avenue and 56th Street, which, alas, isn't.
The '80s ended with the opening of two clubs whose passing a decade later was deeply mourned by the cabaret world. In 1988, Eighty Eight's arrived and immediately established its special niche. Beautiful but informal, it nurtured and encouraged hundreds of newcomers and at the same time was home to stars as luminous as Sylvia Syms. When it closed, we lost a member of the family. 1989 saw the birth of Rainbow & Stars, a sparkling gem that proved that glamour and elegance need not exist only in movies. From brilliant headliners to exceptional musical revues, the club gave us some of the greatest evenings in cabaret history.
Trends and observations
The blossoming of cabaret has not stopped—though to be sure, the growth has not always taken an uninterrupted or straight course. Freddy's may be long gone, but we now have the lovely Arci's Place. If we can't go to the Ballroom anymore, we can head down to Joe's Pub. The Russian Tea Room no longer presents cabaret, but the FireBird Café does, and while we miss Rainbow & Stars, now there is Feinstein's at the Regency. The Duplex moved and expanded across the avenue, making room for Rose's Turn; Judy's relocated its apostrophe and itself and now resides in larger, sumptuous quarters in Chelsea; and Don't Tell Mama added a second cabaret room and broadened its schedule, becoming a veritable cabaret Disneyland.
But cabaret is clearly still not mainstream, and, so, wants nurturing. In the 1980s, two organizations were created to do just that. The Mabel Mercer Foundation has been working tirelessly to increase cabaret's visibility, most notably through the Cabaret Convention, the Foundation's hugely successful annual series of cabaret concerts. MAC, the Manhattan Association of Cabarets & Clubs, serves club owners and artists, alike, through its series of seminars and showcases, and with its annual awards ceremony, aims not only to recognize excellence but also to bring cabaret to the attention of a broader public.
Over the decades, the economics of cabaret have changed. In many rooms, instead of being hired for a salary, you are now booked and work for the cover charge; it is a lot easier to get booked than it was to get hired. Also, more often than not, performers are scheduled for scattered evenings, rather than for whole-week engagements. As a result, the cabaret door has been opened to many amateurs and people who are merely kidding or indulging themselves—people who may have a burning desire to perform but are blessed with less than persuasive talent. This is an inescapable fact. However, these same conditions have made it possible for artists to develop and grow over time; many fine talents have emerged as a result of this process.
Indeed, the array of talent that can be seen on today's cabaret stages is thrilling—not only in quality, but also in form and creativity. Partly because of the difficulties of working or producing in theatre, shows can be found in cabaret that would have been unthinkable years ago—from traditional book musicals to highly individual forms of expression, such as: a multi-media musical piece on the subject of voyeurism; a program of original songs and poems about the indignities of riding the New York transit system; a musical fantasia set in a fishing lodge in Finland in 1919; and an expanded anecdote with songs about one man's battle to reclaim money he overpaid his landlord.
Finally, even in cabaret's more traditional forms, artists today ask more of themselves than many did years ago. They understand that especially because cabaret is not in the mainstream, they must give audiences a reason for seeing their show instead of choosing a more conventional form of entertainment—or staying home listening to a CD. In recognition of this need, the Cabaret Symposium at the O'Neill Theater Center was formed in the late '80s to train people in the demanding art of cabaret performing. Many singers today enlist the services of a director—not only to assist in structuring their show, but also to help them bring greater dimension to their performance. Instead of being presented an "act," audiences are taken on a journey. As a result, cabaret today can deliver a uniquely rich experience.
So, cabaret is not what it was in 1960. In some ways, that's very good news.
Category: News / Reviews / Commentary