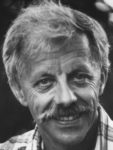 Back in the '70s, when Broadway began to embrace the sounds of rock and pop at the expense of more traditional legit scores, there were a number of composers, clearly enamored of the older styles, who began to see Off Broadway as an artistic and economical alternative for creating shows that celebrated the classic form. One of the earliest of those shows was Boy Meets Boy, which was also one of the first "above-ground" gay musicals (as its title clearly implies). A sort of all-male pastiche of The Boyfriend (which was itself a pastiche of the Broadway operettas of the early 20th century), this show was, to my mind and ears, one of the most successful of this type of musical. Its creator, Bill Solly, recently appeared at Don't Tell Mama in a celebration/ retrospective of his shows and songs called Fancy Meeting You 2, a sequel to an earlier revue I had not seen.
Solly is not a parodist. His songs and shows are based on a love for the form, which comes through in his quite-accomplished way with lyrics and his genial musical voice. Some of the material was dated in a way that Broadway shows themselves can be, but even that circumstance had a kind of charm that made it quite agreeable. His opening song was an ode to a seductress named Bebe ("All the boys are buzzin' like a bunch of buzzin' bees about Bebe…"). Another song with a distaff title, "Harriet," had as its refrain "I'll go and I'll fetch and I'll carry it for Harriet…" Sung in close proximity, unfortunately, his funny wordplay can blur, as in the awkwardly titled "I Got Buds" ("I got buds and I'm gonna bloom, so give me some bloomin' room…"
His lighter, comedic songs tend to be stronger than his ballads and more serious numbers, but some of the latter are quite lovely as well. I was particularly taken with a bittersweet reminiscence of a lost love, "Everytime It Rains." Interspersed with the songs were personal memories of his past associations with the likes of Brigitte Bardot, Serge Gainsbourg, Noël Coward, and the great British female impersonator, Danny La Rue, with whom he worked, wrote, and produced for an extended period of time in his younger years.
As in most evenings like this, there were guest stars present to give a varied presentation of some of the material. The best was a special appearance by Don't Tell Mama booking manager Sidney Myer, who was at the top of his game with "Does Anybody Love You?," the gentle ballad "hit" from Boy Meets Boy, sung elegantly, simply and movingly.
The elements were present for this to be an exemplary revue of Solly's life and career but the building blocks of the show were thrown on to the stage with so little thought or artistry, that it's a backhanded tribute to him that it worked as well as it did. The first handful of songs, sung by the writer as he stood at a mic stand center stage, were so similar in arrangement, presentation and attack that the individual pieces were diminished. Also, each song seemed truncated─there was a once-through, thank you ma'am, on to the next number rush that didn't allow for a full appreciation of the writer's talent.
Once the guests began to fill the stage, it was akin to a traffic jam, with apparently little thought given to movement, staging, or visual impact. It gave the whole thing a random, scattered, shoddy feel when a more cohesive, thoughtful shape and style would have lifted the show. There is still promise, but it needs a revamp; the songs would benefit greatly from being presented more theatrically (they are, in fact, theatre songs). We were allowed to marvel at Solly's lyric dexterity and way with a melody, but we got very little storytelling, so the overall effect was unsatisfying.
But, there were still those charming numbers and the obvious delight Solly took in his songs and tales. "Cookies," a country-ish song from his college days, found the writer singing, "I'd sooner have you, but instead I've got crumbs in my bed…" Bill Solly and his songs made me smile and chuckle often enough that I hope he works on this and gives it a full-blown production.
"Fancy Meeting You 2"
Don't Tell Mama  –  September 23, 28
Category: Reviews