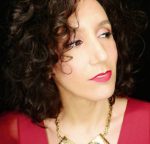 The Birdland release concert for Gabrielle Stravelli's fourth album, Pick Up My Pieces: Gabrielle Stravelli Sings Willie Nelson, was packed. 6:00 PM is basically a matinee in the jazz world, and not a time you would expect to see buzzing crowds spilling out onto midtown sidewalks.
The show more than delivered. Stravelli truly landed on the third song of the set, "Butterfly" (Sonny Throckmorton, Mark Sherrill), when most of the horns in her nine-piece band took a break and left her to settle into a ballad, accompanied by the rhythm section and Scott Robinson on alto flute. In the crowded room, it provided a much-needed moment to connect directly with the singer and contemplate the song's pensive lyrics. The opening number, a medley of "Lady Luck" (Willie Nelson, Buddy Cannon) and the strut of "If You've Got the Money, I've Got the Time" (Lefty Frizzell, Jim Beck), got the show off to a high-energy start and it was beautifully played, but there were moments in the live environment, especially at the beginning, when it was hard to hear Stravelli over the brass. Not because she doesn't have the power, but because her voice is often horn-like and blends.
In fact, her sound is all kinds of things: she has a vibrato and a storytelling quality that are usually heard in musical theatre singers, but that's not all. She has a great straight tone. Stravelli can run through a fast passage and make it sound effortless. She is a scatting machine with an Ella Fitzgerald-inspired joy and musicality, but she had the very good taste to not overuse it, and it was well into the set before we heard it for the first time. "Mamas Don't Let Your Babies Grow Up to Be Cowboys" (Ed & Patsy Bruce) had the most classic uptempo jazz arrangement, and it was here that that the full size of the band and the singer caught up to each other and let it fly. Stravelli's lightning-fast improvisation and her scatted "duet" with trombonist John Allred—all spurred on by how funny it was to hear a cowboy song getting the jazz treatment—were high points of the evening.
Nelson is famous for his versions of standards, which is one of many ways his work lends itself to jazz arrangements. "Stardust" (Hoagy Carmichael, Mitchell Parish), which Stravelli started a cappella with a hushed quality, showed us yet another voice coloration. Spirited arrangements throughout the evening by bass player Pat O'Leary were supported by excellent instrumentalists: Joshua Richman, piano; Art Hirahara, keyboards; Eric Halvonrson, drums; the above-mentioned Scott Robinson on tenor sax and flute; John Allred, also mentioned above, on trombone; Jay Rattman, baritone sax; Dave Pollack, alto sax; and Jon-Erik Kellso, trumpet. The band was especially featured in "Bright Lights, Big City" (Jimmy Reed)—which, incidentally, Nelson once recorded with Wynton Marsalis—with multiple solos featuring some tongue-in-cheek quotations of "Chicago," "New York, New York," and "I've Got a Gal in Kalamazoo."
Willie Nelson's body of work has a wealth of material to draw from. After sixty-eight studio albums, he's a role model in the music industry—not just for his genre-crossing songwriting and covers, but for his relative independence from the music industry machine, his activism, and his ability to re-invent creatively and recover from huge setbacks…and all of this presumably unencumbered by short-term memory. Stravelli's stories about Nelson's life and work were interesting and engaging, showing a sincere respect for his legacy as well as a lighthearted sense of humor. The song that gave the CD its title, "Somebody Pick Up My Pieces," was fittingly done as a medley with "Crazy" (both songs by Nelson), showing Stravelli's vocal power and emotional vulnerability at their best
Pick Up My Pieces: Gabrielle Stravelli Sings Willie Nelson
Birdland – April 7
Category: Reviews