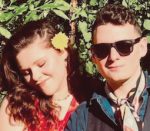 Jordan Wolfe and Michelle Dowdy are two very enthusiastic and charismatic performers who have a lot to offer, both vocally and energetically. And in '67: The Summer of Love Show, the two performers took every advantage to offer as much of this enthusiasm, and vocal volume, as possible.
Playing to a sold-out crowd of exuberant fans, the duo bounded about the stage and sang at the top of their lungs; their show resembled a rock concert more than it did a cabaret—and not just because of its theme. At first, I found this a disjointed experience, given the intimate setting of the Laurie Beechman Theatre. But once this distinction had been drawn, it was easier to process (if not enjoy) the rest of the evening.
These two very strong performers come from a theatrical background, Dowdy having appeared as Tracy Turnblad in Hairspray on Broadway, and Wolfe with several high-profile off-Broadway and regional credits. And to their credit, they know their way around a stage, and there was a lot of craft to their performance. The problem was that it just wasn't the right craft. In theatre, the composer and lyricist have something to say and they say it through the characters/singers. But in cabaret, it is the singer who has something to say, and says it through the lyric of the song. Unfortunately, this important distinction was missing from Jordan and Michelle's Performance.
We were, indeed, treated to some of the 1960s' greatest hits. But for the most part, the performances lacked the personal connection to the text that would have made this body of work jump out at the audience as a wholly new and revelatory experience. One of the most egregious examples of this was their rendition of John Denver's "Leaving on a Jet Plane." Not only did neither singer display a personal connection with the song, the pair also seemed unaware of the original stakes involved in the leaving, singing the song as if saying goodbye before summer break rather than going off to war.
This was my biggest problem with the show. Much of the music of the 1960s was filled with anti-war sentiment. Peace, love, and harmony were calls to action, a mantra against the war and the political establishment. Maybe because of their youth, the two singers seemed unaware of the backdrop against which these songs were written or of their historical relevance, thereby reducing them to "tunes" and singing them with 2019 vocal pyrotechnics that belied the era and often overtook their own voices. More than once, I was concerned about their vocal health as they strived to turn each of their songs into an American Idol show-stopper.
The arrangements and coupling of some of the songs were interesting, thanks to musical director-pianist William TN Hall and the wonderful efforts of the band: Megan Talay on guitar; Steve Marks on bass, and Terrence Bates on drums. "Happy Vibrations," a mash-up of "Good Vibrations" (Brian Wilson, Mike Love) and "Happy Together" (Garry Bonner, Alan Gordon), was particularly interesting and musically well executed.
As the evening progressed, the singers did have their moments of clarity. Dowdy connected well on Joni Michell's "Both Sides Now," and Wolfe was most in his wheelhouse when at the piano on "A Whiter Shade of Pale" (Keith Reid, Matthew Fisher, Gary Brooker). These standout moments showed that these performers are indeed capable of much more than we saw during most of '67: The Summer of Love Show. How much better the entire performance would have been if both singers had brought their own unique connection to each song. I would have been captivated by Wolfe if he'd sung his own interpretation of "Can't Take My Eyes Off You" (Bob Gaudio, Bob Crewe). And Dowdy's own, sweeter voice would have shone if she hadn't tried so much to sound like Janis Joplin—or Jimi Hendrix.
The performance was being videotaped for marketing purposes: to solicit work on cruise ships, a detail mentioned by Dowdy, which explained a lot of the evening to me. Both performers were trying so hard to be "marketable" and "likable," that "artistic" seemed to fall by the wayside. Which, considering that they both have so much to offer, was a real disappointment.
With re-thinking and re-tooling, this show could work in various types of venues across the country, not just cruise ships. I would encourage these two young performers not to be afraid to make their audience think. We don't need to hear the songs exactly as we have heard them before—but nor do the lyrics or sentiment warrant the gratuitous vocal melisma so in fashion in pop-music today. The authenticity of hearing performers sing in their own true voice, with their own unique interpretation of the lyric (which might be radically different from what we're used to) not only engages the audience in a very different way, but also elevates the performers' artistic creation. And ultimately, that is the most marketable and likable quality any performer should strive for.
'67: The Summer of Love Show
Laurie Beechman Theatre – April 9
Category: Reviews