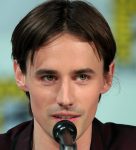 Reeve Carney has enjoyed a number of successes both on television (in the series Penny Dreadful and in Fox's remake of The Rocky Horror Picture Show) and on Broadway (with Spiderman: Turn Off the Dark and, currently, Hadestown). It is clear from his new show at The Green Room 42 that the first among his many talents is music. The cumulative effect of his rockstar voice, complex melodic inventiveness, thoughtful and literate lyrics, and the rich sonic mastery he achieves with complex guitar and piano sounds layered and looped and repeated electronically "live" in front of us was astonishing. As he quite literally transformed into a 2019 version of a one-man band, he used his feet to add drum and tambourine to the mix. I can imagine that the reactions engendered by the set were comparable to those of audiences who witnessed early Hendrix or Prince performances; I can attest to the latter because I was one of those in the audience at Prince's first New York appearances.
Concentrating primarily on original songs from his recordings, Carney confessed that he had no set list—that he wanted to wing it and let the repertoire for the evening reflect "the vibe of the room." This risky, stream-of-consciousness approach paid off in a big way, helped in no small part by the quality of the songs from which he could choose. It all could have come across as gimmicky and lame, but instead it added an air of excitement and adventure for both the singer and audience as he jumped from one number to the next, seeming at times to surprise himself with his choices.
Opening with "Intention," one of the best songs on his CD Youth Is Wasted, he drove home the refrain, "…there is no greater drug than intention." The throbbing slow-rock feel of "Love Me, Chase Me," from a recording session with the legendary Jimmy Iovine, solidified his hold on the audience. Not content with piano and guitar, on "Amelie" (a movie-inspired song based not on the film Amélie, but, rather, on a prostitute character in He Got Game) he performed the wildest, most musically valid kazoo solo I have ever witnessed. A blistering piece called "Resurrection" was a tour de force in which he used a bow on his electric guitar, creating a kind of mad violin solo as his voice slid up and down octaves in screams of passion and pain. And then he sat down at the piano and did a pop/theater confection called "There She Goes," inspired by "Big Spender." A bit later he was able to bring the room to hushed attention with a very personal cover of the Beatles' "In My Life" (Lennon & McCartney).
His quirky, funny, shy, totally winning way with patter further ingratiated him to the packed house as he related anecdotes about his life, his career thus far, and his songs. Throughout the evening there were echoes of both Tim Buckley and Jeff Buckley, of Joni Mitchell in her jazzier days, and (most impressive of all) of the screechy, raw but in control, soul-scratching wail of Robert Plant. It came as no surprise to learn that Carney presented a Led Zeppelin tribute in Los Angeles, and one can only hope that it, too, will make an appearance at The Green Room 42, perhaps along with his Queen show. He had booked another night in this engagement, but it turns out that he will be recording the cast album of Hadestown on the same date, so he's had to postpone his return to cabaret. Such are the problems of a wunderkind master of music, stage, and television.
The Green Room 42 – March 31
Category: Reviews