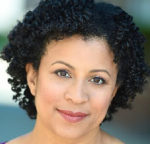 D'Vorah Bailey is a charming, talented singer who shines on stage when she doesn't get in her own way. Unfortunately, that happens only part of the time in her heavily autobiographical cabaret show Wishful Thinking, which recently had a return engagement at the Metropolitan Room.
If you attend New York cabaret at all, you have heard the basic story she tells before: the love of performing, at first in living rooms, then in school productions and local theater, and culminating in a move to NYC to make it on Broadway. In such a show, it's the specifics and the uniqueness of the voice telling the story that separates one from another, and regrettably the first half of this show felt more like a lecture at a library or a show at an out-of-town club. She seemed to be recreating songs rather than creating her own moments by investing them with a personal connection. Her patter spelled out those connections, but her performance did not. Both she and her music director, Phil Hall, stayed too close to the music on the page—the songs were not so much arranged as transcribed. And throughout the show, in addition to occasional pitch problems, her upper register appeared a bit shaky, not helped by some unfortunate key choices.
Most selections in the first half were introduced with descriptions of the shows from which they came, but since the shows included The Sound of Music, Peter Pan, and The King and I, that was hardly necessary—especially with a New York audience. Her opener was a parody of the title song from Sondheim's Into the Woods, reworked as Into the Biz. Unless the new lyrics are especially witty and surprising, it is rarely a good idea to parody Sondheim; this was a case in point.
The first real sense of personal connection, and our first glimpse of Bailey actually being herself and inhabiting a song, was Jerry Herman's "I Am What I Am." On this selection, she was not trying to put the song in the context of the musical from which it comes, but telling us something about herself and her struggle to succeed. It was moving in a way I have rarely heard. This sense of song ownership continued in a beautifully wistful "Somewhere That's Green" (Alan Mencken, Howard Ashman). But such successes were sporadic. A perhaps ill-advised affection for Audra McDonald and the keys in which she sings spoiled what could have been emotional highlights. For example, "I Won't Mind" (Jeff Blumenkrantz, Annie Kessler, Libby Saines) was set too high to allow for a conversational tone that would have underscored the bittersweet resignation of the song. Additionally, "Come Down from the Tree" (Stephen Flaherty, Lynn Ahrens) did not fit the story she was telling or the patter that introduced it.
With her closer, "Stardust" (Hoagy Carmichael, Mitchell Parish), and the encore, "This Little Light of Mine" (Harry Dixon Loes), the connection happily returned, but her delivery was a bit stifled. For some reason, she was reluctant to let go, musically or emotionally. When D'Vorah Bailey was good, she was very good, indeed; alas, that did not happen consistently throughout the evening.
Wishful Thinking
Metropolitan Room  –  April 29
Category: Reviews