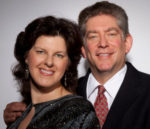 In their splendid new show, based on songs written for the movies and directed by Marilyn Maye, Rochelle and Paul Chamlin demonstrate not only a clear and contagious love for their chosen subject, but also a new polish in their paired performance style. The first thing to notice is that Paul and Rochelle at the Movies contains very little talk and much action. Over the course of the hour-long set, the Chamlins, separately and together, deliver worthy versions of no fewer than 25 songs in full, sometimes even including seldom-heard verses, and with only a single medley among the selections. That leaves precious little time for chat, which of necessity is pretty much limited to announcing the movies, the songs, and their composers. About the only details we learn about Paul and Rochelle, themselves, is that they met while performing and have been married for ten years.
As for the movie songs, they represent a nice mix of familiar and obscure, up-tempo numbers and ballads, and his, hers, and their performances. For every "I Got Out of Bed on the Right Side" (Arthur Schwartz, Johnny Mercer, from Dangerous When Wet), we get a "Singin' in the Rain" (Nacio Herb Brown, Arthur Freed, originally from Hollywood Revue of 1929) or a "The Trolley Song" (Hugh Martin, Ralph Blane, from Meet Me in St. Louis). Apart from the latter song and "The Boy Next Door," also strongly associated with Judy Garland and from the same movie and composers, the Chamlins largely avoid movie numbers indelibly associated with any performer. (Don't expect "Mona Lisa," "Secret Love," or "All the Way," let alone "White Christmas.") This absence of pre-conceived notions frees the Chamlins to apply their own strengths to the numbers. Paul's plusses include a warm baritone singing voice, lovely arrangements, and solid piano playing. (He stays seated throughout the set.) Rochelle's assets are a wide-ranging, standup vocal style (she sits on a stool for exactly one number) and fluid narrative. In duets, they exhibit a close-harmony style that is almost sibling-like, although on occasion it threatens to obscure the melody completely.
Some high-profile Oscar winners are included in the show, such as "Gigi" (Lerner & Loewe) and "Zip-a-Dee-Doo-Dah" (Allie Wrubel, Ray Gilbert, from Song of the South). Comic songs, drolly delivered, include "How Could You Believe Me When I Said I Love You When You Know I've Been a Liar All My Life" (Burton Lane, Alan Jay Lerner, from Royal Wedding) and "Zing a Little Zong" (Harry Warren, Leo Robin, from Just for You). Downright obscurities come from Agatha ("Close Enough for Love," by Johnny Mandel and Paul Willams) and State Fair ("Isn't it Kinda Fun?"—which proves that even Rodgers and Hammerstein could come a cropper in their one and only musical written directly for the big screen). The previously mentioned sole medley is a doozy of a mashup of the title song from Two for the Road (Henry Mancini, Leslie Bricusse) and "You and I" (Bricusse alone, from Goodbye Mr. Chips). Both songs get their full due here. My favorite Rochelle solo is the touching "Too Late Now" (Lane, Lerner, also from Royal Wedding), for which she appropriated the arrangement that Maye uses for her own rendition of the song. And why not? The arrangement is just about perfect.
Yet my favorite overall number is both an Oscar winner and overly associated with one performer—and a moving duet once more. To their everlasting credit, the Chamlins rescue "Thanks for the Memory" (Ralph Rainger, Leo Robin, from The Big Broadcast of 1938) from six decades as Bob Hope's theme song, and restore it to its rightful place as the touching story of two grownups who accidentally meet years after their divorce and choose to recall only the positive aspects of their time together.
Throughout the set, the Chamlins are beautifully backed by Tom Hubbard on bass and David Glass on percussion.
Okay, just this once, I'll allow the Chamlins one cliché selection to support their overall thesis, but only because it serves as their encore: "Hooray for Hollywood" (Richard A. Whiting, Johnny Mercer, from Hollywood Hotel). This would be unbearable as an opening number, but by show's end the duo has more than earned it as a coda. Hooray for the Chamlins.
Paul and Rochelle at the Movies
Metropolitan Room – April 17
Don't Tell Mama – June 17, 21
Category: Reviews