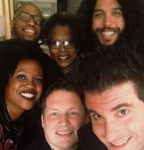 Politics and cabaret have been entwined since the beginning of the art form. Political and social commentary and criticism informed much of the early days of cabaret in Germany. In America, from the Depression and upheaval of the thirties and forties to the racial unrest and anti-war sentiment of the sixties, cabaret offered a soapbox and an outlet for anger, depression, satire and hope. Given the current climate and the current state of the government, it should come as no surprise that politics should once again begin to bubble to the surface.
Three performers, well-known to cabaret and piano bar audiences, have chosen to let their voices and concerns be heard in an exciting, thought-provoking revue called No Evil – A Cabaret of Resistance, currently enjoying a return engagement at the Duplex, after debuting there in February. Jerry Phelps, Elliot Roth, and Karen Thompson are remarkable singers, and this joining of talent is almost an embarrassment of riches as they trade center stage and backing vocals, and join together in thrilling harmonies. Roth is also music director, arranger, and pianist; his work in this show is spectacular. Working with Jeff Jeudy on guitar, Jamie Mohamdein on bass, and Bernice "Boom Boom" Brooks on drums, Roth gives new life and provocative re-invention to protest songs of all types.
The show, smoothly directed by Colette Robert, is filled with songs that seem even more relevant now than they were in decades past. The broad array of songs were originally specific in their targets, but now, gathered together and aimed at one central target, they gain in strength and substance. Anaïs Mitchell's stirring "Why We Build the Wall" (from Hadestown) might just as well have been written for this show. Buffalo Springfield's classic "For What It's Worth" (Stephen Stills) has always been a favorite of mine, but in this setting it resonates in new ways. The line, "What a field day for the heat…" takes on even more ominous overtones in 2017. Taking it to another level, the song is followed by a chilling montage of the voices of actual victims of police violence, and in turn leads to an understated, heart-rending "And When I Die" (Laura Nyro), the usual jaunty tempo replaced with a pained and pulsing energy, movingly sung by Thompson.
After raising the roof a bit with a medley of Neil Young's "Southern Man" and Lynyrd Skynyrd's "Sweet Home Alabama" (Ed King, Gary Rossington, Ronnie Van Zant)—the latter song was actually written in response to the Young song (another indication of how smart this show is)—Phelps switches gears with a heartfelt take on Patty Griffin's "Up to the Mountain." Roth, whether at the keyboard or up on his feet backed by the other musicians, is a riveting performer with a supple, expansive range. His fiery warning in Percy Mayfield's "Danger Zone" is given a delicate, elegiac counterpoint with Stephen Foster's "Hard Times."
While managing to tap into the fear, anger and disillusionment of our times, No Evil is wise and generous enough to leave us with a bit of hope. In these surroundings, the positive sentiments of the Judds' "Love Can Build a Bridge" (Naomi Judd, Paul Overstreet, John Barlow Jarvis) and the Pointer Sisters' "Yes We Can Can" (Allen Toussaint) gain in power and joy over their original versions, helped in no small measure by the glorious blending of these fantastic voices.
The music alone in No Evil – A Cabaret of Resistance warrants a visit, regardless of message. The political and social elements, presented with such passion and commitment, demand one.
The Duplex – April 15, May 6
Category: Reviews