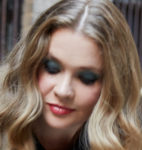 Though her label, Resonance Records, and her New York club of choice for this engagement, Iridium, are both bastions of mainstream jazz, her London home base, Ronnie Scott's, can be quite a bit broader in its booking charter than that. But even that fact and her wide touring schedule and home country following hadn't prepared this audience for a jazz singing style and vocal range that go well beyond eclectic and broad. Though young, Polly Gibbons, a farmer's daughter from a small market town in Suffolk England, has managed to plumb and interpret several largely American genres of music—often combining them in the same song—to forge her own musical way. Somehow, she has absorbed everything from gospel and the blues, through Depression/World War II era swing and Broadway/movie songs, right through to second-half-of-the-20th century pop, rhythm and blues, rock and roll, and soul.
"I like it all," Gibbons announced at the start of her set, "and I refuse to choose." For the next hour and fifteen minutes she proceeded to prove that assertion. Opening with the 1930s standard "Wrap Your Troubles in Dreams" (Harry Barris, Ted Koehler, Billy Moll), she managed to turn that ingenuous, pie-in-the-sky period anthem into a harder-driving antidote to the unsettling present day. Plenty of accomplished scatting here reinforced the disparate nature of current events—and subtly paid tribute to Ella Fitzgerald, whose actual 100th birthday was that day. As Gibbons noted, "Where would we be without Ella?" Where indeed? (In a more direct tribute to the Fitzgerald centenary, Gibbons sang Cole Porter's "Love for Sale.")
She reinvented a Broadway chestnut, Rodgers and Hammerstein's "Oh, What a Beautiful Mornin'," beginning almost as a country gospel song, neatly underpinned by Shedrick Mitchell on the Hammond organ, but progressing into an all-out raver, with (Janis) Joplinesque overtones. For what she termed "old blues," Gibbons rolled out "I Want a Little Sugar in My Bowl" (Bessie Smith, Nina Simone). "Don't Be on the Outside" (George Kelly, Mayme Watts, Sidney Wyche), a Sarah Vaughan/Shirley Horn staple, represented a jazz-pop swinger from the 1950s. As an ultimate victimless breakup song, Gibbons picked the pop-rock "Company" (Rickie Lee Jones, Alfred Johnson), whose lyrics are far more descriptive than that title: "I'll remember you too clearly, but I'll survive another day… I'll free you in my dreams."
Not the least of this set were three songs Gibbons co-wrote with James Pearson. "Is It Me?" was the title track of both this show and her newly released CD. This upbeat paean to self-assurance over self-doubt came closest to a straight-ahead, "trad jazz" number, and therefore stood out from the rest of the song list, with no embellishment necessary. "You Can't Just…" ("a phrase used so much in relationships," she said) employed a combination of R&B and swing, almost in Dr. John fashion, to narrate a breakup of equals. My favorite song in the set, and on her current recording, was the third collaboration between Gibbons and Pearson, "Midnight Prayer," which served as her encore. It started out as another country gospel song, accompanied by Mitchell's Hammond organ, and, switching into his piano backup, evolved into something approaching a late 1950s R&B song that Etta James or Johnny Ace would have been very happy with.
In this gig, Gibbons was blessed with a dazzling backing quartet led by Mitchell (who was Whitney Houston's keyboardist for a decade), on both piano and organ. He, Richie Good on bass, Paul Bollenback on guitar, and Mark McLean on drums were more than able to accommodate the many Gibbons style shifts, and each musician was rightly rewarded with a generous solo spot on virtually every number.
Is It Me?
Iridium – April 25
Category: Reviews