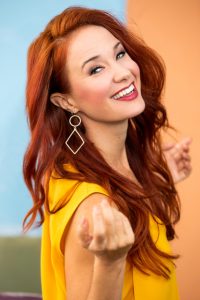 The elegant Feinstein's/54 Below, nestled in the heart of the Broadway theatre district, advertises itself as "Broadway's supper club," presenting shows by Broadway performers designed to appeal to Broadway audiences.  Yet while many of the artists it features bring cabaret acts filled with pop tunes and standards, the room really lived up to its Great White Way moniker with its recent presentation of an affecting solo show by Broadway star Sierra Boggess, the original Ariel in The Little Mermaid (2007), and famous portrayer of Christine in The Phantom of the Opera, both on Broadway and in the 25th anniversary performance at Royal Albert Hall, shown in cinemas worldwide.  Boggess delivered an electrifying evening of powerful songs from Broadway musicals that showed off her soaring soprano, while demonstrating the potent expressivity characteristic of songs written for Broadway musicals.  "Why is it that these songs are so moving?," my friend asked me as she wiped away tears at the end of Boggess's performance.  "That's Broadway, baby," I replied.  
That's also Boggess, I might have added.  While the luscious melodies and penetrating lyrics of the greatest Broadway show tunes make for accessible songs that tap universally into essential human emotions, when performed by a consummate actor-singer like Boggess, they pack decisive emotional wallops.  Possessed of a warm soprano voice—an engulfing, sometimes breathy sound that grows more focused and exciting the higher she goes—Boggess exudes a sunny wholesomeness and, in between authoritative performances of favorite songs from shows representing the spectrum of her career, she enchanted us with tickling stories, revealing a mischievous sense of humor.  
With her wavy auburn tresses, and decked out for autumn in a sleeveless, yellowish-gold dress made of soft, flowing panels of varying lengths, glamorously accessorized with silver jewelry and sparkly gold high heels, Boggess presented a pretty picture, while charming us with her personal tales.  We learned that she's a Denver native and has been spending time there doing "14ers"—treks up mountains that rise 14,000 feet or higher.  In an acutely-paced, comic description of these climbs—where struggling humans suffer judgmental looks from amused mountain goats—she gradually accelerated the speed of her storytelling and, propelled by her terrific piano accompanist/musical director Joseph Thalken, ultimately burst into "The hills are alive…," the opening bars of a rendition of "The Sound of Music" (Richard Rodgers, Oscar Hammerstein) that was as funny as it was heartfelt.  She then segued into a sweeping performance of "I Could Have Danced All Night" (Frederick Loewe, Alan Jay Lerner) and invited us all to sing along.  We did, and the choral sound in the room was rafter-raising.  It seemed we all felt so connected with her, the music, and the moment that we were happy to sing out fortissimo.  At the end, we all (proudly) screeched out the final two high notes, only to have Boggess top us with an extra, even higher, one!  
In addition to exemplary interpretations of Phantom's "Wishing You Were Somehow Here Again" (Andrew Lloyd Webber, Charles Hart), The Music Man's "My White Knight" (Meredith Willson), and "No One is Alone" (Stephen Sondheim) from Into the Woods, Boggess adopted a "little boy" voice and won our hearts with a poignant performance of "If'n I Was God" (Richard M. Sherman, Robert B. Sherman), a socially relevant song from the 1973 movie musical Tom Sawyer.  
But the dramatic highlight of the evening was Boggess's lead-in to and performance of "Smoke Gets in Your Eyes" (Jerome Kern, Otto Harbach) from the 1933 musical Roberta.  She began by telling us about her grandfather, a World War II veteran, and her grandmother, who wrote letters to him while he was away during the war.  Boggess treasures those letters, and delighted in reading us passages from them.  Some were so romantic as to elicit tears.  Yet in another, her grandmother admitted to being in her bedroom without a stitch of clothing on and wrote, "I hope no one reads these letters but you."  With a twinkle in her eye and a sheepish grin, Boggess read this aloud to us with guilty glee, making us all accomplices in her "crime"—a crime clearly committed out of nothing but deep affection—and engagingly setting up the romantic words and music to come.  
In this well-crafted show, the journey Boggess took us on moved through emotional ups and downs, not jarringly, like a roller-coaster, but gracefully, like a trip over gentle hills of shifting sentiments.  
***
Presented at Feinstein's/54 Below, September 8-11, 2021.
Category: News / Reviews / Commentary, Reviews