I approached Don't Tell Mama to see Unsolicited Advice About Life, Love, & Practical Shoes with a sense of anticipation because singer/songwriter Carolyn German had been previously recommended to me by friends who had seen her at open mics around town and suggested I should check her out.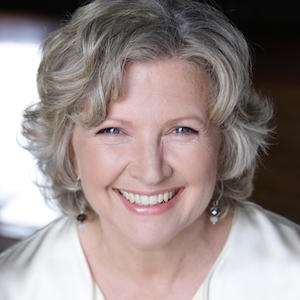 I can understand their enthusiasm since they had heard a couple of her songs. When hearing two songs sung as a preview of a writer's talent, it is easy to overlook specific questionable elements in the shadow of entertaining moments. Unfortunately, the show featured nine self-penned songs and a scant two covers. The originals tended to blur into one another as the melodies lost individuality. Too many of the songs (often "list" songs) had similar narratives as well; song after song (mostly up- and mid-tempo) were "self-help"/"good advice" messages. For many in the audience, that positivity seemed to be enough. Often, when I found myself letting the words carry me where the music did not, I was brought up short by the imprecision and (I'm sorry to say) the laziness of the lyrics.
German's opener, "Someday the World is Gonna End," was one of her best. However, in her desire to be a laugh riot, and the intensity of her desire to appear like she's having fun, she neglected to let us get to know her. This may be a case of acting like everyone knew her already so it wasn't necessary to establish who she was.  She was wrong.  "Parallel Universe" had some charming and funny observations centered on the possibility of living a more successful and happy life in another dimension. The song managed to mention Hedy LaMarr and "Wichita Lineman," and crudely added "getting my shit together." That unfortunate crudity turned even more intrusive in "Sitting My Fat Ass Down." On top of that, the faulty rhymes included  "prince" with "kiss," among others.
The two covers came next. "Girl from Ipanema" had parody lyrics.  The overall idea of the parody was excellent—the lover of the person lost in lust for the "girl" sang the song and the usually lovely, lilting lyrics dripped with bitterness and jealousy. But German but didn't let the words do the work—she acted them to within an inch of their life.  If she had toned down her delivery and just hinted at the negative spin, she might not have needed to alter the lyrics.  Then came "Smile" (Charlie Chaplin, John Turner, Geoffrey Parsons).  In her long preamble to the song, she indicated that Chaplin's lyrics spoke to her. I would have expected a composer/lyricist to attribute the words to all the writers—Chaplin, along with Turner and Parsons. The song had some lovely, understated singing, but it got much too big much too often.
Midway through the show, German revealed that she was also a director and playwright which surprised me given the unpolished, overlong chat throughout, and the pacing of the show that didn't offer much chance for a breather for her, or for the audience.  She brought on Teresa Payne on flute to enhance her big ballad, "I Sold My Soul," but in the admittedly warm music, she neglected to establish in the lyric what the title meant. I think she was going for an expression of being overwhelmed by love, but even in her own words, the phrase "I sold my soul…" does not apply to the story.  It was repeated often in the song, but I got no connection to her expressions of love.  When Payne reappeared in a comic song, the flute muffled the humor.  "Practical Shoes" had a funny idea, but the song went on for much too long a time at the expense of coherence. And there were more distracting rhymes like "maître d'" with "seen," or "moves" with "shoes." 
I wanted to like Carolyn German more than I could.  I kept waiting for one or two boffo, exciting "hit" numbers but, sadly, they never arrived.  I got the feeling that she was visiting from out of town, but she never told us.  Wherever she works on her next show, I would suggest picking fewer originals and reworking them to give them a sheen to dazzle the audience. And pick a few more covers so she can concentrate on her performance without the personal connection of having written them.  Lastly, please consider a rhyming dictionary.
***
Presented at Don't Tell Mama on August 28, 2021.
Category: News / Reviews / Commentary, Reviews