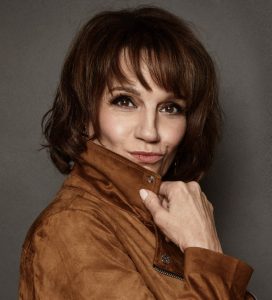 By the time singer/actress Beth Leavel had finished her first number, "It's Not About Me" (Matthew Sklar, Chuck Beguelin from The Prom), she had the audience tied up in a bow and in the palm of her hand; she did not let it go until she exited the stage at the end of her remarkably entertaining return to cabaret at Feinstein's/54 Below in a show of the same name.  The title is somewhat of a misnomer because the music, the laughs, the stories, the heart, and the sheer force of talent are most definitely all about her—and one could not ask for anything more.  The show is a genuine, non-stop, rousing throwback to the golden age of nightclub acts.  Combining the comic mastery of an Anne Meara, with the bombast and bravado of a Zero Mostel,  and the billion-dollar-belt-with-a-heart-of-Dorothy Loudon, she is a marvel!
Accompanied by a stellar trio of theatre veterans led by music director/pianist Phil Reno (who also excels at being a second banana to the star) with Perry Cavary on bass and Michael Kuennan on drums, she fills the evening with great songs (some of which she introduced) while telling us stories of her life in the theatre with career highs and lows. Cole Porter's "I Get a Kick Out of You" starts out slow and thoughtful but builds to a rousing climax. It becomes readily apparent that the "you" of the title is the audience in a post-COVID celebration of returning to the stage. Wedding plans she made before the pandemic may have been delayed, but the object of her affection was in the audience and became the hilarious object of the barbs in "Bill" (Jerome Kern, Oscar Hammerstein II, P. G. Wodehouse from Showboat). Yet, the comic asides in the lyrics were handily disarmed by the obvious romantic underpinning.  
Next came one of the most electrifying moments of the night as Leavel inhabited "Everybody's Girl" (John Kander, Fred Ebb from Steel Pier); the song is not often done, but I never need to hear anyone else sing it.  She owns it.  Reminiscing about a mad dash to replace a lead in a Kurt Weill revue called From Berlin to Broadway (in which Phil Reno played), she recreated her lyric-challenged performance "Pirate Jenny" (Kurt Weill, Bertolt Brecht, Marc Blitzstein) in a laugh riot that rivaled Leslie Uggams' legendary unraveling of "June Is Bustin' Out All Over." Moving on to a more successful endeavor, she treated us to a sizzling recreation of "As We Stumble Along" (Lisa Lambert, Greg Morrison from The Drowsy Chaperone) but not before cheekily displaying the Tony Award she won for her performance that sat centerstage on a stool to her left.  
She then revealed that she and Reno are planning a long-awaited CD and asked that the audience shout out suggestions for its repertoire and that she would immediately try them out on stage.  I never participate in this kind of thing, but I was so caught up in it that I shouted out "Before the Parade Passes By" three or four times—loudly, but unsuccessfully.  There were, however, sometimes funny, sometimes promising, explorations of other suggested possibilities including a country western version of "Something Good" (Richard Rodgers from The Sound of Music), an all stops out attack on Abba's "The Winner Takes It All" (Benny Andersson, Bjorn Ulvaeus), a piercingly inappropriate "Defying Gravity" (Stephen Schwartz from Wicked), and a husky, thoughtful "Maybe This Time" (Kander, Ebb from Cabaret).  
She was touching as she switched gears back to The Prom to talk about how privileged she was to have been in a musical that actually changed lives.  Adding her motherly feelings for her two sons to her pride and humility that so many LGBTQ youth found solace, hope and acceptance in the musical, she presented a medley of Sondheim's "Nothing's Gonna Harm You" (from Sweeney Todd), and "Children Will Listen" (from Into the Woods) leading into Nancy LaMott's cabaret classic, "I Will Be Here for You" (David Friedman) that left not a dry eye in the house. It was deeply moving.
Then came, of all things, an absolutely perfect rendition of "Before the Parade Passes By" (Jerry Herman from Hello, Dolly!), after which the strangers sharing my table expressed how happy they were for me!  Then the singer gave the audience the scoop that she is currently beginning work on a musical adaptation of The Devil Wears Prada (music and lyrics by Elton John, Paul Rudnick) and praised its score.  She then recounted approaching the powers that be and begging to be allowed to debut one of its songs in her show and immediately being told, "Absolutely not!"  She was, in effect, blaming them for the closing number she would do instead.  There was no blame to be found in the audience as it reveled in her tour de force from The Prom, "The Lady Is Improving."
Beth Leavel is an honest to God, dyed in the wool, high voltage Broadway star of the kind we don't get to see much anymore.  She is as at home on the cabaret stage as on the Broadway stage.  It's Not About Me was unforgettable.  
I would like to add a small postscript.  There is a lot of talk about a revival of Mame. The search for a star can begin and end with Beth Leavel.  It would be a performance for the ages.  From my lips to whatever producer god is listening.
***
Presented at Feinstein's/54 Below, September 17 & 18, 2021.
Category: News / Reviews / Commentary, Reviews