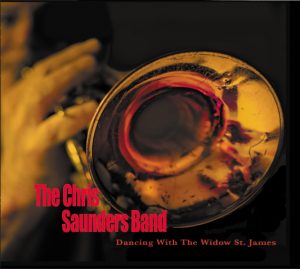 Multi-hyphenates are not uncommon on the cabaret scene.  Yet while singer-songwriters who also play piano or guitar are easily found, a multi-gifted artist like Chris Saunders is unusual.  Hailing from the San Francisco Bay area, he's an exquisite trumpeter who also sings and composes in blues, soul, and Latin jazz styles.  His band's latest CD, Dancing with the Widow St. James, enthralls and only sometimes disappoints.  Its strength is the distinctiveness of its tracks, each one so different from the one before that you're eager to keep listening, curious to discover what Saunders will try next.  
The uneven album includes five original songs (by Saunders and Ken Cook) and six covers of R&B, pop, and jazz standards, all arranged by Saunders, Cook, and Michael Aragon.  One almost wishes Saunders had done a whole album of original material, as the performances of his own compositions are among the CD's best tracks.  
Saunders and Cook are writers of infectious tunes—the unforgettable sort that you can't get out of your ear and will find yourself still humming weeks later.  So be warned, once you hear their sexy title track, "Dancing with the Widow St. James," and the foot-stomping "Butterflies and Chicken Wings," the tantalizing melodies of those songs will be stuck in your mind for quite some time.  The former, a seductive coming-of-age song, is structured like many of the album's arrangements: an opening section sung by Saunders in his rough-voiced, talky style is followed by the bright, clean sounds of his brass instrument, the two opposing timbres juxtaposing expressively.  The latter song, inspired by environmental activist Greta Thunberg, is launched by Saunders's jazzy horn playing and develops into an intriguing combination of hip, cool, and rustic sensibilities.  
"Big Man" is another Saunders/Cook winner, described in press notes as a soul jazz cha-cha that takes a subtle dig at Trump— "that big man sold you a lie," goes its lyric.  With light, skipping percussion sounds and rippling piano passages embellishing Saunders' straightforward vocals and glistening horn solo, the track exudes a slickness that contrasts markedly with the selection before it, the CD's bluesy opener, "River's Invitation" (Percy Mayfield).  The lulling quality of the opening track, with its earthy horn and piano sounds and the backwoods sensibility suggested by Saunders's gruff, old-man singing voice, evokes the lazy feeling of quiet time spent sitting on a riverbank alone in one's thoughts.  And it's this power to transport us to different places that makes the album's musical journey such fun.  
With Saunders on cornet and flugelhorn (fronting a band that includes Cook on piano, Aragon on drums, Rob Fordyce on electric bass, and Latin percussionist Luis Carbo), the CD's diverse selections all communicate a vivid sense of locale, situation, or character, within just their first few bars.  After the much-recorded 1929 ballad "Am I Blue" (Harry Akst/Grant Clarke)—here daringly reconceived as Latin dance music—spins us out onto the ballroom floor, "Lighting and a Feather" (Saunders/Cook) takes us to a burlesque house, before an irresistibly rhythmic rendition of "Life is a Struggle" (Chris Kenner/Frank Douglas) brings us to a happy place where a lively guitar and cheerful horn can drown out sorrow, and "Lullaby of the Leaves" (Bernice Petkere/Joe Young), the album closer, time-travels us back to a Swing Era nightclub.  For that last selection, however—following its invigorating instrumental break—one wanted a more exciting singer to really bring the CD to a resounding finish.  
"Low Tide Rising on a Devil Wind" (Saunders/Cook) might benefit, too, from stronger vocals and a tightening of its arrangement, as its instrumental lines register quite independently and don't add up to a cohesive ensemble sound.  Also compromising the CD's overall appeal are its plodding rendition of the Ray Charles R&B hit, "I Don't Need No Doctor" (Jo Armstead, Nick Ashford, Valerie Simpson), and "I Wonder" (Cecil Grant), throughout which one hears a rattling cymbal that, like static on a radio station, grows so irritating as to render the track unlistenable.  But as I played and re-played this otherwise engaging album, my habit became to simply skip over those three less-successful selections.  
A Vietnam veteran, Saunders has said that his wartime experiences gave him a lot of material for his songs, not to mention lifelong sadness.  How ironic then, that listening to his music provides others with such long-lasting enjoyment.  
Category: News / Reviews / Commentary, Reviews