A romantically mellow, one-mood CD, Nashville-based singer-songwriter Tanya Dennis's White Sails Blue Skies is a recording you shouldn't give up on too soon because, despite their emotional sameness, its tracks grow increasingly more interesting, musically, as the album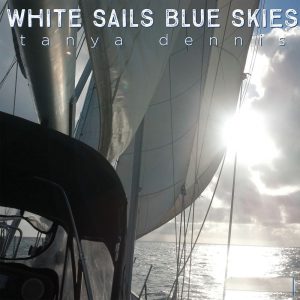 progresses.  Produced and arranged by Dennis, the recording—featuring seven of her own compositions, plus two covers—evolved as a result of a sailing trip she took around the Florida Keys, Bahamas, and Caribbean Sea.  Amazingly, the CD truly captures the visceral sensations of traveling across a tropical sea in a sailboat.  As Dennis's warm, sensual vocals embrace gently flowing melodies, we can feel the heat of sunlight and the caressing, rocking movement of a boat.  Soothing, Caribbean-flavored percussion rhythms animate most of the tracks, providing an undercurrent of rolling motion that mimics rippling waves.  And each time the soundscape is ornamented by the vivid tone colors of satiny guitars, ardent harmonica, and elegantly wispy piano, we imagine shimmering streaks of light reflecting off the water in conversation with a bright blue sky overhead.  
The CD's four opening tracks are pleasant, not terribly memorable, and extremely similar-sounding—with the exception of "Slow Reckless Tango," distinguished by its pronounced dance rhythm and the addition of hand-claps and castanets.  But the fifth track, the title song "White Sails," is deliciously evocative—and it's from here to the end that this smooth jazz album really sails.  
It coasts into a relaxing rendition of the country tune "The World Can Do Without Us" (Ronnie Hughes), makes prominent use of Hendrik Meurkens's radiant playing of the chromatic harmonica in "Indigo" (Kostas), and finishes with affecting arrangements of two heartfelt selections.  The first, "Desolation Sound," is a sad song based on a true story about a lover whose deceit Dennis had discovered while they were sailing together in British Columbia's Desolation Sound.  The tearfulness of its arrangement derives largely from an expressive violin part contributed by Dennis.  (A multi-instrumentalist, Dennis has played back-up violin, rhythm guitar, and mandolin for major jazz, rock, country, pop, and fusion artists.)  The album closer, "All to Myself," exudes calm, comforting feelings as Dennis adopts an open, free, airy singing style that underlines the lyrics' affectionate sentiments.  But, surprise!  Right before the finish line, Dennis suddenly quickens the tempo and bursts into high-spirited scatting, topping off the track with an unexpected coda that concludes her otherwise lulling album with a few seconds of high-octane excitement.  
Though some may find it too sleepy a journey, ultimately Dennis's CD leaves one feeling refreshed, like after—not a nap per se—but a nourishing, restful time-out.       
Category: News / Reviews / Commentary