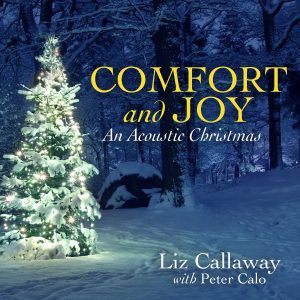 A mellow CD of Christmas songs featuring vocalist Liz Callaway accompanied by the quiet acoustic guitar-playing of Peter Calo, Comfort and Joy: An Acoustic Christmas may be the perfect soundtrack for what this year will surely be a low-voltage, less-festive-than-usual holiday season.  One might think a solo singer supported only by a guitarist wouldn't generate enough oomph or musical interest to sustain an entire 10-track album of familiar holiday songs.  But when the singer is of Callaway's caliber and the guitarist is as sensitive, sly, and versatile as Calo, the result is more than satiating.    
Smartly book-ended by the two selections that most effectively showcase Callaway's vocal gifts, the CD opens with a tender rendering of "Merry Christmas Darling" (Richard Carpenter/Frank Pooler) that immediately reveals the singer's jaw-dropping allure.  Callaway has one of the prettiest voices you'll ever hear, and as Calo generously takes a back seat with his unadorned, yet strong, guitar work, the crystalline purity of Callaway's voice is deliciously displayed.  The marvel of her singing lies in her ability to not just generate such clear tones, but also to sustain them with a remarkable consistency.  As Callaway holds a long note, the clarity of the sound doesn't diminish, its prettiness never falls away, and the aesthetic power of its beauty remains in one's ear long after she stops singing. 
With its abundance of long held notes, the CD's closer, "Christmas Time is Here" (Vince Guaraldi/Lee Mendelson) also makes glorious use of Callaway's talent.  Her voice takes on a dreaminess that hints at the magical qualities often associated with Christmas.  As she moves luxuriously through the melody's slow, elongated sounds, we feel as though she's somehow stretching out the feelings Christmas evokes and we don't want the song to end.  Callaway is a singer one never likes to say good-bye to.  When this track finished, I found myself wanting to go back and play the whole album again.  
Most of the CD's other eight selections also make for enjoyable, low-key listening, but a few are marred, ironically, by the same qualities that make Callaway such an enticing singer.  In the "God Rest Ye Merry Gentlemen/Carol of the Bells" pairing (traditional; Mykola Leontovych/Peter J Wilhousky), while we respect the gentleness of Callaway's approach to these two up-tempo carols, her affinity for long, legato sounds works against the songs' musical requirements.  Prioritizing extended notes over rhythm, Callaway gives a strangely smooth treatment to "Gentlemen" and resists giving even the wordy "Carol" a clipped, staccato interpretation.  Yes, singers are advised to spend as much time as possible on the vowels – as consonants are what cut off sound – but in these songs that cutting quality is exactly what's needed, and without it Callaway sounds as though she's dragging behind the beat, robbing the music of its spirit and energy.   
Similarly, despite the wonderful peacefulness brought forth by her undeniably beautiful-sounding rendition of "O Holy Night"(traditional), Callaway's tendency to elongate words compromises the forward thrust of the music.  Again, it was as if she was holding back the movement of the song, lessening the music's overall impact.  
Musical theatre fans will surely appreciate the CD's inclusion of  Carol Hall's "Hard Candy Christmas" (from the 1978 Broadway musical The Best Little Whorehouse in Texas), and Callaway brilliantly captures the song's plaintive quality.  However, she fuels her interpretation with flowing phrases, rather than by embracing the music's hard-driving rhythm.  And though Callaway's performance doesn't underline the song's foot-stomping, country-western sensibility, Calo subtly sneaks in a few punctuating twangs on his guitar strings, supplying a satisfying dollop of country seasoning.  
Callaway follows the show tune with a delightful rendition of "Walking in the Air" (Howard Blake), the theme from the 1982 animated film The Snowman.  For this irresistible, bouncy, child-like song, Callaway is joined by guest vocalist Jann Klose, who arranged the track and also seems to have influenced Callaway's singing style.  Their voices mesh marvelously, and we hear Callaway adopting a slight staccato quality, with nice, crisp consonants.     
One of Callaway's great strengths as a performer is the intimate, story-telling approach she takes to a lyric, which makes you feel as though she is telling a personal tale, and to you alone.   It's this quality, coupled with the knowledge that the song was written by her sister, Ann Hampton Callaway, that makes for Callaway's touching performance of the simple-tuned "God Bless My Family."  
And it's Callaway's dramatic abilities that also make her performance of the Sara Bareilles pop hit "Love is Christmas" so engaging.  In contrast to Bareilles's huskier, rock-inflected interpretation, Callaway brings her usual pristine diction and a theatrical quality to the song, stressing its narrative aspects and lending a sharp, emotional interest to the lulling ballad.  If only she hadn't followed this track with "Christmas Eve (Could Not Ask for More)," a sentimental expression of a mother's reminiscences, with music by Alex Rybeck and lyrics by Carol Hall.  Much in the same vein musically and sentiment-wise as the song by Callaway's sister, this ballad might have fared better somewhere else on the album, as here it feels too much like another dose of what we just heard and makes no singular impression.  
On the CD's most successful track, "Have Yourself a Merry Little Christmas" (Hugh Martin/Ralph Blake), the Callaway-Calo collaboration sounds magnificent, especially when the guitar, never over-powering, soars into ascending passages on the higher-pitched strings.  Because this holiday favorite has been recorded by so many distinguished and diverse artists, it is a true measure of a singer's merit and distinctiveness if she can proffer a version that stands up to, and stands out among, the countless beloved renditions.  Callaway triumphs on both counts.  Even as she brings a warm breathiness to the song's opening verses, her voice remains so startlingly clear that it shines like freshly-polished glass, and one realizes what a shining star Callaway is.    
Category: News