Singer/composer/arranger Susan Tobocman has released her latest CD Touch & Go.  It has an intriguing selection of songs that are terrifically performed and played.  What is immediately unusual about the project is that the singer created all the arrangements with an assist on two of them by David Tobocman (keeping it in the family).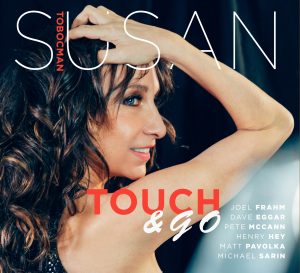 The Latin treatment of the opener (Irving Berlin's "What'll I Do"/co-arranged) is a refreshing change from the usually lethargic ballad tempo favored by other singers.  Tobocman's dark-hued, expressive vocal is immediately captivating.  The Jimmy Webb classic, "Wichita Lineman," becomes a mournful rumination on love and loss from the point of view of the Lineman's partner.  It features especially evocative support from Dave Eggar on cello and co-producer Pete McCann on guitar. A fiery "The Man I Love" (George Gershwin, Ira Gershwin), propelled by Michael Sarin on drums, lets Henry Hey displays his wizardry at the keyboard and the singer matches them every infectiously rhythmic step of the way.
Her first original, "Make Believe," is somewhat starved for melody and saddled with lyrics that tend to be stiff when they should be musical.  Admittedly, Tobocman has set the bar rather high with her intriguing, exciting choice of covers with which her own songs will inevitably be compared.  Making things worse, two of her originals are instrumentals with somewhat derivative chords and melodies.  On a vocal album, one instrumental might be an interesting change of pace, but two seem  be a waste of time that could be better spent listening to her fine vocals.  Her other originals are much more successful. "I Could Get Used To This"   with its bouncy melody and witty lyrics has a cheeky Blossom Dearie quality that is delightful. Joel Frahm's fine sax solo is paired with the pulsing rhythms of Matt Pavolka's bass.  Of all the numbers penned by Tobocman, "The Way To You," is her best—with moving lyrics and a haunting melody.
The Beatles get an unexpected revamping with a darkly emotional "Help!" (John Lennon, Paul McCartney/ co-arranged) that is beautifully sung and acted and reveals a desperation in its narrative that I never realized was there. McCann really shines here. "Where Is Love" is a wistful yet strong take on the Lionel Bart classic from Oliver.  "You Only Live Twice" (John Barry, Leslie Bricusse) is totally "de-bonded" and treated like a mid-tempo jazz standard anchored by Tobocman's strong vocal and is all the better for it.  Frahm's horn work is most impressive on this one as well.
The album closes with an alternate take of "Help!" which more than earns its inclusion by going even deeper into the painful despair hinted at in the previous take, and is perhaps the high point of the recording for the singer.  She makes the song her own and makes a strong argument for it to be considered among the finest of Lennon and McCartney.
Susan Tobocman's album may be titled Touch & Go but once you have been touched by her sparkling talent and her well-chosen repertoire you will want her to stay!
Category: News / Reviews / Commentary