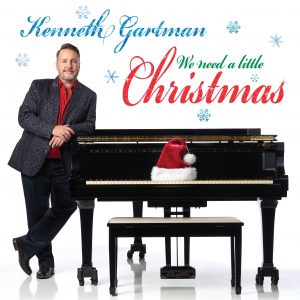 There is an open-hearted, childlike simplicity and beauty to Kenneth Gartman's sound that is quite endearing and a perfect match for We Need a Little Christmas, a holiday release filled with the warmth of an open fire and the good will of friends and family gathered together.  Add to that a thoughtful connection to the story of a lyric and an effortless musicality to his delivery that brings to mind the great Nancy LaMott, and you have an instant Yuletide classic.  And did I mention that he is also his own best accompanist, effortlessly keeping the focus of the music on the story being told as much his vocals are?
The CD opens with an inspired medley of a gentle, touching "We Need a Little Christmas" (Jerry Herman, from Mame) and "What the World Needs Now Is Love" (Burt Bacharach, Hal David), followed by the seasonal admonition of piano bar favorite D. Jay Bradley's "Don't Let Christmas Pass You By," which should, with the passage of time, become a full-fledged standard.  I was going to say "Paging Johnny Mathis!," but the song already has its champion in Gartman.
To make the Nancy LaMott comparison even more apropos, the singer includes six David Friedman compositions, among them the lovely "Just in Time for Christmas" (w/David Zippel), the hilarious "My Simple Christmas Wish," and one that was new to me, "The Truth About Christmas," which won me over from the first line and deserves to be in the company of the other classics.  There are a couple of terrific surprises as well: a rare male take on "I Wanna Be a Rockette" (Alan Menken, Tom Eyen) that works wonderfully, and Susan Werner's haunting "May I Suggest."  Werner is a terrific songwriter whose work is woefully under-represented in the cabaret world, so cheers to Gartman for having the taste and smarts to include it here.  "Chanukah Lights" (Marvin Hamlisch, Craig Carnelia) is another heartfelt example of the way the singer expands beyond the usual repertoire.
As I mentioned, Gartman's piano playing is another treasure to enjoy, supported in fine style by Tom Hubbard on bass, Hiroko Taguchi on violin and viola, with Corinne Broadbent supplying tasteful backup vocals.  I wish I had received this CD earlier in the season because it would have quickly risen to the top of my playlist for the holidays.  In fact, I can easily see myself reaching for Kenneth Gartman's We Need a Little Christmas to bring some light and joy to a gloomy, Christmas-in-July afternoon.
Category: News / Reviews / Commentary