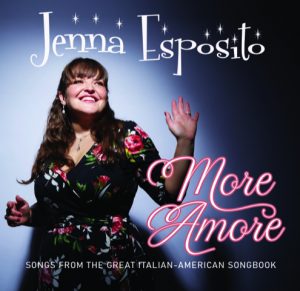 Singer Jenna Esposito's invigorating new album, More Amore: Songs from the Great Italian-American Songbook, is a family affair.  Its rousing arrangements are by the singer's father, Fortune Esposito.  Her sister, Kelly Esposito-Broelmann, sings back-up, while her nephew, Charlie Broelmann, plays drums, and her husband, Jimmy Cannizzaro, serves as a percussionist and associate producer.  Everyone knows what central roles family and music play in Italian-American culture (when I got my first job, choreographing an opera, my mother insisted I cast my little sister as one of the dancers).  But in assembling this lively collection of songs, which all have their origins in Italy or were made famous by Italian-Americans, Esposito goes beyond a general embodiment of these values.  There's a bar code on the back of the CD cover leading to a website where she elucidates specifically how each song connects to her familial experiences or to notable Italian-American performers. 
We learn the real names, and become aware of the Italian heritage, of many pop-music stars as Esposito explains her decisions to include some seemingly non-Italian tunes because of their affiliation with Italian-American singers, such as Bobby Darin (Walden Robert Cassotto), Frankie Valli (Francesco Stephen Castelluccio), Dion (Dion DiMucci), Connie Francis (Concetta Marie Franconero), Lou Christie (Lugee Alfredo Giovanni Sacco), Frankie Avalon (Francis Thomas Avallone), Dean Martin (Dino Paul Crocetti), Frank Sinatra, and Eydie Gormé (Edith Gormezano), whose father, Esposito claims, was born in Sicily.
Because the robustly-orchestrated 21-track CD (co-produced by Esposito and her father) was made during the pandemic, when it was impossible for its many contributing musicians to get together in person, the album incorporates independent tracks recorded by singers and instrumentalists from studios in New York, Philadelphia, and Massachusetts—all seamlessly amalgamated by engineer Chip M. Fabrizi.  And while it's the full-bodied, dance-band sound (thrillingly fueled by a horn section from Philadelphia's City Rhythm Orchestra) that generates much of the album's musical energy, Esposito is in no way overpowered as her big, warm, showy voice provides equal excitement.  It's only on one track, a pairing of two Dion rock hits "Teenager in Love" (Doc Pomus, Mort Shuman) and "The Wanderer" (Ernie Maresca), that I wish Esposito had taken a different vocal approach.  Attempting to imitate a choppy late-'50s/early-'60s rock 'n' roll singing style, she clips her words so tightly that the lyrics become unintelligible and her voice loses resonance. 
Esposito's comely voice sounds most inviting on the CD's jazzier selections"Swingin' on a Rainbow" (Peter De Angelis, Bob Marcucci), "Beyond the Sea" (Albert Lasry, Charles Trenet, Jack Lawrence), and "Ain't That a Kick in the Head" (Jimmy van Heusen, Sammy Cahn).  Her vocals sit comfortably amid the swinging arrangements and conjure a shiny 1950s nightlife sensibility.  
Her interpretations of classic Neapolitan songs, such as "Torna A Surriento" (Ernesto De Curtis, Giovanni Battista De Curtis) and "O Sole Mio" (Eduardo Di Capua, Alfredo Mazzuchi, Giovanni Cappuro), which she pairs with Elvis's version, "It's Now or Never" (lyrics by Aaron Schroeder, Wally Gold), are truly transporting, especially as framed by the personal stories she shares on the website.  Esposito writes of how she and her father (who had brought his guitar along) visited her grandmother in the hospital shortly before she died.  When the grandmother told them the song she had always loved was "Arrivederci Roma" (Renato Ranucci, Alessandro Giovannini, Pietro Garinei; English lyrics, Carl Sigman), they performed it at her bedside.  Indulging in the dips and climbs of its sweeping melody, in the CD's brisk version, adorned by evocative mandolin and accordian parts, Esposito imbues the song with a bright, uplifting spirit.       
Colorfully rendered, the album's Italian-language songs best illustrate the important communal aspect of Esposito's enterprise, as it's an animated instrumental break that makes the dance-y "Quando, Quando, Quando" (Elio Cesari, Alberto Testa) really propel one to get up and move.  And Esposito's singing of "Addio Mi' Amore" (Ray Allen, Wandra Merrell) is heightened emotionally (okay, in a somewhat melodramatic, yet tremendously fun, way) by a zealous little choir of back-up singers.  A flautist herself, Esposito embellishes her seductive rendition of "Breve Amore" (Gian Piero Piccioni, Alberto Sordi) by playing two separate flute tracks, both composed by her father.   
Serving up well over an hour of fully-charged music, Esposito's satiating album is nothing if not abundant—like a good Italian meal.  
Category: News / Reviews / Commentary, Reviews