Ann Kittredge was in her element at Birdland Theater with her latest cabaret offering, "Movie Nite." In a show packed with well-chosen songs from classic (and sometimes more contemporary) Hollywood, Kittredge and her team's creative instincts were on-target: she sounded as if her voice has come home to her ideal material, her vintage sequined dress sparkled in the saturated lighting, and music director and pianist Alex Rybeck created spacious and sophisticated arrangements. The more than nineteen songs that were skillfully featured managed to keep the show moving while giving time to let the material land. Everything was pure, unhurried, class.
Opening with a nice and easy version of the ultimate movie nostalgia number, "As Time Goes By" (Herman Hupfeld), Kittredge's vocals lived for much of the evening in a legit or sometimes mixed sound. She was on top of her game vocally: warmed-up and strong right out of the gate. "10,432 Sheep" (Jule Styne, Sammy Cahn) from 1950's West Point Story had a gently humorous style and was a good fit for Kittredge—and made insomnia sound more entertaining than it is. "Nobody Does It Better" (Marvin Hamlisch, Carol Bayer Sager) was her nod to the James Bond franchise, and Kittredge did a nice vocal pivot to more of a belt in reference Carly Simon's version. As part of a suite of war songs, the anti-war "Lost Horizon" (Burt Bacharach, Hal David) from the 1973 remake of Lost Horizon, featured an evocative arrangement with Rybeck's piano and Sean Harkness's guitar weaving in and out with arpeggiated chords.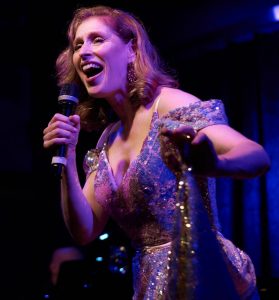 A danceable Irving Berlin medley had smooth-as-silk transitions between Fred Astaire songs which modulated up to a few moments of well-earned climactic vocals for Kittredge in "Let's Face the Music and Dance." Working hard not to think of Madeline Kahn's comic bit in Young Frankenstein, I loved "Ah Sweet Mystery of Life" (Victor Herbert) from the film Naughty Marietta—with Kittredge's voice at its sweetest, and Harkness featured on virtuosic acoustic guitar. "At the Beginning" from 1997's Anastasia (a callback to Kittredge's previous Ahrens & Flaherty show) seemed somewhat out of step with the evening—coming from a more recent Disney movie and bringing in a contemporary musical theatre sound. Kittredge did a lovely four-song torch series that she made her own; I especially liked the drive of "The Man That Got Away" (Harold Arlen, Ira Gershwin). "The Way We Were" (Marvin Hamlisch) had just enough crisp consonants to recall Barbra Streisand, but Kittredge stood her ground with her own sound and her own performance qualities. Kittredge's a cappella, "When You Wish Upon a Star" (Leigh Harline, Ned Washington), floated off into the night.
***
Presented at Birdland Theatre on October 10. 2021.
Category: News / Reviews / Commentary, Reviews