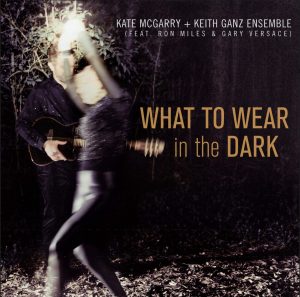 In their new CD, What to Wear in the Dark, the Kate McGarry and Keith Ganz Ensemble have fashioned a musically intriguing and emotionally satisfying response, not only to the pandemic but to the last decade or two of public and private wounds and monstrous elections. Kate McGarry has long been one of the brightest lights in the New York music scene with frequent gigs with her husband Keith Ganz at 55 Grove and other jazz clubs. Those gigs, of course, have been on hold for almost two years so they turned their time and energy to this terrific recording.  There's a refreshing simplicity to their sound that sometimes masks just how intelligent and sophisticated their accomplishment is.  Singularly inventive instrumentation and arrangements abound here, with the singer's hand in a number of them.
"Dancing in the Dark" (Arthur Schwartz, Howard Dietz) is the perfect opener.  The usual swooning romance is replaced by a tentative, questioning wariness reflected in the title of the CD.  The song is driven by Ron Miles on cornet and by Gary Versace's virtuoso assist on accordion as it blossoms into a defiant embrace of the situation.  In Steely Dan's "Barrytown" (Donald Fagen, Walter Becker) that initial tentativeness is expanded to include personal relationships in the mysterious tale revealed in the lyrics. The rich sound provided by Ganz on guitar, Versace on organ, Sean Smith on bass, and Clarence Penn on drums, places this version on a level with the original.  If you thought that Joni Mitchell's classic "Both Sides Now" had been sung and recorded so often that there was nothing left to mine in its haunting melody and poetic lyrics, the version here will shatter that notion.  The instrumental elements are scattered bits of genius, swirling around McGarry's insistent, questioning delivery, but the disparate facets come together like the dots in a Seurat painting and create a work of art.
A very hip "rant" about the state of the music industry in 2021 (underscored with a '60s "beatnik" feel recalling Gil-Scott Heron) leads into a surprising, substantial rethink of "The 59th Street Bridge Song (Feelin' Groovy)" (Paul Simon) that retains the whimsy of the original but adds to it an existential heft that makes the song McGarry's own.  Miles and Versace are particularly noteworthy in placing the song in its new environs. The most important phrase in the song, in the free and strong interpretation is, appropriately, "Life, I love you!" The Eagles' "Desperado" (Don Henley, Glenn Frey) has been recorded by many jazz singers, but McGarry's inspired vocals re-set the narrative and make the singer/narrator as important a character in the story as the desperado himself. Ganz's guitar is the perfect companion.
Buoyed by a wonderfully harmonic "choir" (with Erin Bentlage, Becca Stevens, and Michelle Willis joining McGarry), Cat Stevens's "On the Road to Find Out" (Yusuf Islam) has a gorgeous, Singers Unlimited-like patina that helps to create a soothing, stirring passage from prayer to anthem. It is the perfect prelude to Leonard Cohen's "Anthem"—an irresistible hybrid of jazz, folk, and pop, as the singer's acting skills share equally with her exquisite musical phrasing.  I have never appreciated the line, "There is a crack in everything/That's how the light gets in…" as much as in her personal delivery.  It's a hopeful antidote for the angst, fear, and loss she has chronicled so movingly earlier in the recording.  It's a quietly insistent call to get back into the world and change it. Next, to celebrate that light getting in, comes "Here Comes the Sun" (John Lennon, Paul McCartney) that begins as a warm hug and grows into a blues-y celebration. Ganz's guitar and Versace's keyboard are invaluable to both moods.  
The album closes with a lovingly inclusive, deeply felt benediction, "It Happens All the Time in Heaven" (Kate McGarry, Daniel Ladinsky from a poem by Hafiz) that ends with the invocation "My dear, how can I be more loving to you? How can I be more kind?"  It is a healing embrace at the end of the exquisite journey we have taken with the Kate McGarry and Keith Ganz Ensemble.  Kate McGarry has never sounded better and, at least until the next album, this may well be her masterpiece.  
Category: News / Reviews / Commentary, Reviews