It all depends on one's philosophy of music: Why do you think music exists, and what purpose does it serve?  Is it something you seek out for its power to lift your spirits?  Or do you value music for its ability to reflect and affirm your emotions, even if you're feeling blue, perhaps about the compromised state of the world this holiday season? 
This will determine whether you want to revel in the cheer bursting out of Christmas at Birdland, an effervescent CD from 2019 that's being celebrated in a pay-per-view online concert through Radio Free Birdland on December 18.  Or whether you'd rather listen to William TN Hall's debut album, Beacon: Holiday Improvisations, a reflection of how dark-tinged everything, even Christmas music, feels this year.  Or maybe you're up for something in between, such as Edmund Bagnell's Christmas at Home, a mixture of upbeat and romantic holiday tunes that Bagnell recorded while at home during the pandemic, poignantly supplementing his own singing and violin playing with instrumentation by friends recording remotely from Israel, Canada, London, Ecuador, and San Francisco.  I vote for all three, as each of these holiday-music collections edifies in its own way.
With its short, glistening arrangements of fun, seasonal songs, the Birdland CD is a quick listen that temporarily washes away the darkness of 2020 by serving up old chestnuts, including "The Christmas Song," "It's the Holiday Season," "Silent Night" and "The Christmas Waltz," performed just like we're used to hearing them.  Featuring brassy, super-swinging orchestrations and happy singing by first-class vocalists Billy Stritch, Jim Caruso, and Klea Blackhurst, the slickly-produced, commercial sound of the CD is comfortingly familiar and triggers holiday-joy sense memories that make us forget, for the moment, that we're living in difficult times.
Along with the holiday favorites, the sparkling CD proffers several rare ditties that lend humor to the festivities, as well as supply the requisite tributes to beloved places to spend the holidays.  Blackhurst's energetic voice, which can sometimes grate when it leaves the lower registers, finds the perfect outlet in a gleeful Cy Coleman novelty song "He's Stuck in the Chimney Again," which Blackhurst renders with the appropriate adorableness.
Stritch gives us a jazzy interpretation of "Manhattan in December," a 2003 valentine-to-New-York song written by Ann Hampton Callaway and Lindy Robbins.  And the three singers blend exquisitely in a keen pairing of Irving Berlin's "Snow" and the appealing "It Happened in Sun Valley," with music by the under-appreciated composer Harry Warren and lyrics by Mack Gordon.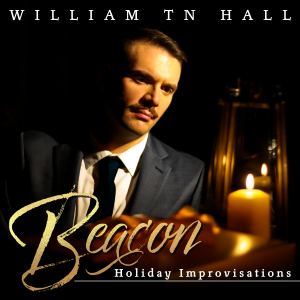 But if you're looking for holiday music to mirror your mood this year, the profoundly expressive piano improvisations comprising the first section of Hall's two-part Beacon album (only available digitally) should do the trick.  Hall is a brilliant pianist and on 11 individual tracks — each averaging about 5 minutes in length — he takes us on fully-developed musical journeys with his emotionally-charged improvisations on traditional Christmas carols.  Most are mournful, contemplative, weighty, and slow, yet rich in harmonic texture, nuanced dynamics, and captivating rhythmic structures.  What becomes immediately evident is how wide-ranging and versatile the piano can be.  Hall mines the capacities of the solo instrument so deeply that we start to feel as if a piano is all we need; other instruments are unnecessary.  And what an illuminating metaphor this becomes for the social isolation many of us have been experiencing.  The wealth Hall draws from the piano suggests the richness individuals often discover within their own thoughts, feelings, and imaginations when forced to be alone, devoid of other people, and no longer distracted by the external stimuli of the normal everyday world.
Hall intrigues us with his unusually syncopated take on the flowing "The First Noel," and his flavoring of "Oh N.Y.C Christmas Tree" with gloomy dissonances turns the haughty tune into gripping drama.  But it's with "Jingle Glass Bells" that Hall most sublimely surprises us.  Out of the incessant back and forth motion of a repeated two-note motif, he creates a tension that feels downright painful, while sounding supremely beautiful.    
In the second part of his album, Hall moves away from improvisation and performs some of his original compositions, most notably "My First Christmas With You," a real tear-jerker of a song (with lyrics by Patrick Gallagher).  An adroit singer, Hall uses his slender, reedy voice effectively and with the calibrated emotionality of a good actor.  Closing his album with a return to the traditional, Hall gives a nod to his mixed cultural and religious background.  He's half-Jewish and half-Christian, and has spent his life moving between New York and London.  But don't expect a conventional, driving, folksy, dance-tempo treatment of "Oh Chanukah." Hall plays it as if stuck in chains.  While the volume increases through a beautifully drawn out crescendo, the tempo plods along until, at the very end of the 5-minute track, Hall charges into a supersonic 20-second finale that almost feels like a tease.  He wins us over completely, however, with "Noel the Herald Angel Mashed It Up," laid-back, finger-snapping jazz played in a delicious cocktail-lounge style.  He finishes with an instrumental and a sung version of "Auld Lang Syne," his British-accented voice charmingly chewing the lyrics, as if savoring the taste of every vowel and consonant.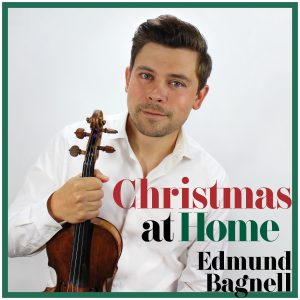 Like Hall, Bagnell is a gifted singer-instrumentalist.  He moves us both vocally and as a classically-trained violinist.  And while his Christmas at Home album sports some technological flaws — the sound sometimes distorts, and there are problems with volume levels and balance between the singing and the accompaniment – I don't mean this as a criticism.  Rather, the "mistakes" ring out as reminders of how devotedly Bagnell and his instrumentalist friends — contributing from all over the globe — are working to make music together under challenging circumstances.  The blemishes spotting their otherwise gorgeous efforts are nothing but inspirational.   
Bagnell opens his album with an inviting rendition of "It's Beginning to Look a Lot Like Christmas."  It introduces us to his silky voice and robust violin playing, and (like his later singing of "The Christmas Song") is marred only by his mis-pronunciation of the word Christmas: he sings it as Christ-miss.  Then, in an exhilarating arrangement of "Feliz Navidad," he is joined by guitar and trumpet.  For this digital-only album, Bagnell has prepared no liner notes.  So while it's impossible to know who is playing what and from where, the anonymity actually enhances the communal message of the musical enterprise.   
The album's other highlights include Bagnell's sexy singing of "Merry Christmas Darling," a wonderfully old-fashioned arrangement of the kitschy "Mele Kalikimaka," and a superior violin performance of the most glorious of Christmas songs, "Oh Holy Night."  
Kudos to Bagnell, Hall, and all the Birdland musicians for giving us the music we need to navigate this 2020 holiday season.             
Category: News / Reviews / Commentary