Back in 2016 at the Cafe Carlyle, Judy Collins closed her wonderful show by sitting at the piano, alone on stage, and mesmerized us with Leonard Cohen's "Suzanne."  As we left the room and wandered out into the night we received the devastating news that Cohen had passed away that very evening.  Knowing that Collins had conjured "Suzanne" on the evening of his death put an eerie cloak over what had been a glorious evening of song.  In the years that ensued, there have been countless tributes to the iconic musical figure both on stage and on recording.  Of them all, I cannot think of a more effective, moving, entertaining one than Gay Marshall's Back On Boogie Street, which debuted at Pangea and is now the source of a new and invaluable recording.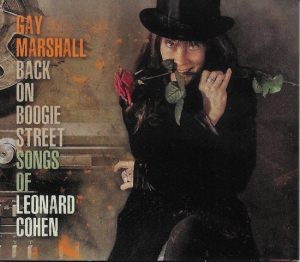 Marshall revealed in the show that in researching his life she had discovered that among his myriad careers, Cohen had spent time as a stand-up comic.  While it may at first have seemed a mere curiosity, that fact served as inspiration to treat the songs not as venerable museum pieces or stuffy, spiritual treatises, but as living, breathing (and surprisingly funny) conversations and monologues.  Many of Marshall's choices live in ways they rarely have before.  While this was more  pervasive on stage, enough remains on the recording to make it unique among his interpretations and allows the singer to claim this material in a particularly personal way.
Her distinctive take on "Boogie Street" (music by Sharon Robinson) hints at just how special the experience will be, aided in no small part by Rachelle Garniez on accordion, lending a timeless, mournful veneer to the song, as she does through the recording. The bluesy confession of unabashed love, "I'm Your Man," adds a comic's abrasive attack to the romantic desperation of the lyrics.  Marshalls's acting prowess are on full display in the suicidal ruminations of "Dress Rehearsal Rag" which is smartly paired with "I Came So Far for Beauty" (music by John Lissauer).
The singer's simple, conversational inclusion of Cohen's poem "The Great Divide" (along with the shimmering beauty of Mairi Dorman-Phaneuf on cello and Bryan Hernandez-Luch on violin) sets her version apart from previous ones and leavens the often portentous religious symbolism and narrative.
She has a ball with "That Don't Make It Junk," and thanks to her irreverent, pitch-perfect delivery, so do we.  The stinging, clipped phrasing of "Everybody Knows" followed by the overwhelming yearning of the spoken portions of "The Future," is a great one-two punch in the middle of the recording, with each song benefiting on subsequent listenings from the canny juxtaposition.  When she bursts out of the contemplative monologue into a burst of rock and roll energy, it is truly exciting.  Another brilliant medley moves inevitably from the moving invocation of "The Land of Plenty" to the stirring rallying cry of "Anthem" which could not be more timely.
Add to the musicians' work I have already mentioned, the yeomanlike contributions of Don Falzone on bass, Gary Sieger on guitar, Gabriel Globus Hoenich (whose drumming and percussion were especially insinuating and infectious), and the remarkable Ross Patterson on piano who provided the fantastic arrangements.  Gay Marshall gets Leonard Cohen in ways most singers don't.  She invests each song not only with its own life but with her own life.  You will not listen to Cohen in the same way after listening to Back On Boogie Street. What more could one ask of a tribute?
Category: News / Reviews / Commentary