Repertoire for the Once and Future American Songbook
Article # 16 in this ongoing series.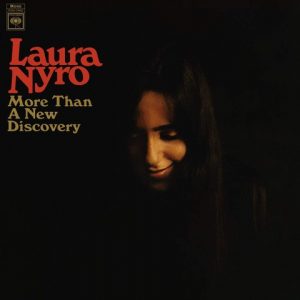 There are auspicious recording debuts, and then there is More Than a New Discovery, an album by singer/songwriter Laura Nyro (1947-'97), recorded in 1966 and released on the Verve Folkways label the following year. The album contains compositions that would become hits for musical stars and starry groups, including "Wedding Bell Blues" (Billboard #1) and "Blowing Away" (The Fifth Dimension), "Stoney End" (Barbra Streisand), and "And When I Die" (originally released in 1966 by Peter, Paul and Mary, but—later—a #2 Billboard hit for Blood, Sweat and Tears). The album's success also helped lead to a recording contract between Nyro and Columbia Records that would last a quarter century.
If the title More Than a New Discovery doesn't sound familiar, don't be puzzled. The album underwent some name changes after its first release. In late 1967, it reappeared as simply Laura Nyro, released by Verve Forecast. Then, in 1973—after Nyro had become part of the Columbia Records roster—it was repackaged by that label as The First Songs.
Many of the New Discovery titles are up-tempo numbers with those rollicking vamps and jagged, unexpected rhythms that became a hallmark of Bronx-born Nyro's artistry. Not as well-known are some of Nyro's slower numbers, including the lovelorn ballad "He's a Runner." It's a relatively simple, straightforward song about a lover who wanders and, presumably, strays.  Listen to it here.
A few performers have covered this musical lament over the decades, but has it ever quite had its due? This number, along with other ballads from the first Nyro album, might well provide cabaret singers today with a solid alternative to more familiar songs of romantic woe by the Gershwins, Harold Arlen, and other American Songbook writers.
Caveat for a Woman in Love
Until I read the late Michelle Kort's 2003 biography Soul Picnic: The Music and Passion of Laura Nyro, I hadn't realized how early in the Nyro saga "He's a Runner" materialized. At the time Nyro wrote it, she was still living in the Bronx, on the verge of changing her surname from Nigro (pronounced "nigh-grow") to "Nyro" (rhymes with "hero"). "He's a Runner" was, according to Kort, one of three songs from the singer's first-ever studio-demo recording session, which apparently happened sometime after her 1965 graduation from Harlem's High School of Music and Art. (The other two songs died on the vine.)
Assisting Nyro with this demo package was her even younger friend, Alan Merrill. He played harmonica while she accompanied herself on piano. Merrill's mother was jazz singer Helen Merrill, who was close friends with Nyro's mother, Gilda. Alan Merrill would go on to write the Joan Jett and the Blackhearts favorite "I Love Rock and Roll." He passed away last year, from COVID-19. (Helen Merrill survives at age 90. Her most recent album was released in 2003.)
In terms of lyrics, "He's a Runner" begins as a warning from the first-person character to an unidentified woman—informing her that the man she loves is a rover ("Woman ain't been born that can make him stay…."). But we soon learn that the singer is apparently relating her own experience with this disappointing mate. In the bridge section—which has a more agitated rhythm than the other sections—the singer shifts focus and addresses the man who has left her and "run off with tomorrow." In this climactic moment of the piece, she declares: "Now I'm in chains 'til I die."
The song has a simple AABA format, with some variations in the final A statement. The melody is strong and exceptionally sophisticated for a composer of Nyro's tender age. Singer Mark Winkler, who would record the number for his 2013 The Laura Nyro Project album, hears something folky in the melody.
"In some ways, "He's a Runner" is a song Odetta could have done," he says. "Definitely a song Nina Simone could have done. [Laura] loved Nina Simone." Then again, no one would pigeonhole Nyro strictly as a folk singer. Listeners have identified all sorts of other influences in her songs: jazz, do-wop, R&B, soul, show tunes, the Beatles, and classic Motown.
According to Winkler, Nyro also admired the music of composer Burt Bacharach, who found success (along with lyricist Hal David) with songs full of tricky, unpredictable rhythms. (Two Bacharach/David songs, "Walk On By" and "Be Aware," appear on Nyro's posthumously released 2001 album, Angel in the Dark.)
Winkler's comment captured my attention, because I find in "He's a Runner" a self-assured command of melody, reminiscent of one of Bacharach's greatest achievements: the magnificent "Alfie," which, coincidentally, appeared in 1966, the same year Nyro recorded More Than a New Discovery.
In the Studio with Laura and Herb
I had the honor, while researching "He's a Runner," of interviewing Herb Bernstein, who arranged and conducted the songs for the More Than a New Discovery album. Like Winkler, he sees a musical bond between Nyro and Bacharach:
"Burt—I take my hat off to him, because he played a lot with rhythms too. A lot of times, it's like an 8-bar phrase. He'd cut it off at 7 and go right back to the verse…. I find a couple of [Nyro's] songs Bacharach-y. That's a compliment to her, because Burt was great."
Over the decades, Bernstein has worked on projects for such performers as Dusty Springfield, The Chad Mitchell Trio, and the Four Seasons. Among his hit tracks are "See You in September" for The Happenings and "Leaving on a Jet Plane" for John Denver. Much of his career was in front of him in 1966, and he was just beginning a decades-long (and still-thriving) association with singer Julie Budd, then on the cusp of her teenage years.
Producer Milt Okun hired Bernstein to work on the Nyro album, which was recorded on a limited budget, largely at Bell Sound on West 54th Street in Manhattan. Bernstein liked Nyro and respected her artistry, especially her gift for crafting melody and writing intriguing lyrics. However, the project was not entirely smooth sailing. For one thing, he, Nyro, and the small band of musicians on the project used a three-track recording system, which meant the musical possibilities were restricted. It was better than the technology of earlier years, but still relatively primitive. "You really had to get everything on one take. You couldn't overdub. Now, with Pro Tools, there are unlimited tracks."
Biographer Kort notes that Nyro "initially saw herself more as a songwriter than a musician." But once she entered the recording studio as a vocalist, she was adamant about doing things on her terms, however unorthodox (and downright baffling to some ears) the pace and sound of her material may have been. Bernstein, though, felt a responsibility to make a record that would sell. What ensued was a classic showdown between art and commerce.
"She didn't care what the record people thought," he recalls "She wanted to do her music her way. That's fine. Except, if you don't sell any records, the record company won't keep you on. Even with 'Wedding Bell Blues,' she had a couple of stops in it. I said, 'Laura, we can't stop. Once we're into it, let's keep going.'"
One particularly sticky sticking point was her desire to accompany herself on piano. Bernstein, however, decided Stan Free should be at the keyboard. "I didn't think she was trained enough to follow an arrangement," Bernstein says. He suspected that, in some cases, Nyro was playing in the key in which she'd written a song—a key that was relatively easy to play in, but one that didn't serve her vocal performance well. Bernstein tells me that at one point he suggested that she might benefit from advanced formal musical training. He says she seemed to seriously consider the idea.
Eventually, Nyro and Bernstein reached a compromise. They would take a more commercial tack on some numbers, including "Stoney End" and "Wedding Bell Blues," but would allow Nyro's idiosyncratic artistry to have fuller play on other songs. Notably, these included such ballads as "Lazy Susan," "I Never Meant to Hurt You," and "He's a Runner." Kort declared in her book that such numbers "carry the weight of jazz standards."
Bernstein handpicked the musicians for the Bell Sound sessions, including two virtuoso harmonicists: the jazz-oriented Toots Thielmann and the bluesier Buddy Lucas. According to writer Joe Marchese, it's unclear which of the two played on the "He's a Runner" track. (Marchese is editor for the The Second Disc website. He researched the making of More Than a New Discovery when he produced and wrote liner notes for Real Gone Music and Second Disc Records' 2017 release of a newly mastered "mono albums collection" of Nyro recordings. A vinyl release of New Discovery followed in 2020.)
Adding to the eerie quality of the Bernstein arrangement is a memorable contribution by drummer Bill LaVorgna, who creates occasional eruptions of bongos, which to my ears have the unsettling sound of a rattlesnake's rattle. Another effective touch is the repeated tolling of a bell, which seems to be a death knell for the song's romantic relationship. Bernstein recalls that the bell sound at Bell Sound was Nyro's idea.
The arranger began work on a second album with the singer-songwriter. But once Nyro went to Columbia Records, Bernstein faded from the picture. There were hard feelings at the time, but he is proud of the one album he made with her. He also takes satisfaction in the fact that More Than a New Discovery / Laura Nyro / The First Songs is the only recording of Nyro's to be inducted into the Grammy Hall of Fame.
Marchese believes that "He's a Runner" is an integral part of the success of the "tapestry" of that first album: "Nyro incorporates the spirit and feel of the blues into a pop idiom, and in doing so transcends both genres. She sings with deep soul about this roguish man—one of many that figure in her discography—and with equal parts anguish and resignation. The rising desperation in her voice, matching the song's musical shifts, reveals as much about the narrator as the runner himself—a feat of bravura theatricality."
Early Covers
Nyro's rendition of "He's a Runner" may be definitive, but other singers' recordings have taken the song on some differently shaded paths.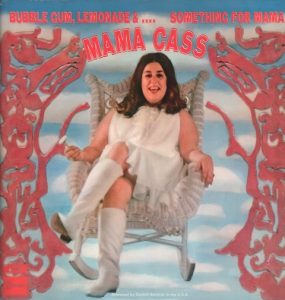 Cass Elliot of the Mamas and the Papas included the song on her daffily titled 1969 solo album Bubblegum, Lemonade… and Something for Mama. Her rendition is perhaps my favorite of all the song's covers. She sounds philosophical if a little blue about the demise of the impossible relationship described in the song, but there is a stubborn throb of hopefulness too. As usual, Elliot's voice is warm and assuring. Listen here.
A few months after Elliot's version came a Blood, Sweat and Tears cover, with David Clayton-Thomas singing lead. The group's drummer, Bobby Columby, told Kort that he wanted their "He's a Runner" arrangement to have the sound of the Bill Evans. "The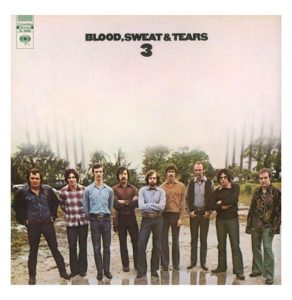 song has beautiful chords," he said. "And I thought it would be interesting for a man to sing it—he's warning a woman that the guy she's with ain't no good." This gender switch led to revision of some pronouns in the song's bridge, which is followed by an up-tempo instrumental interlude that seems much like the sort of abrupt change of pace Nyro would incorporate on some of her more ambitious, extravaganza-like numbers. Hear the jazzy sound of BS&T here.
In 1971, Barbra Streisand recorded Stoney End, the album that famously took her career on a pop-rock-folk detour. This Columbia album featured three Nyro songs, including, of course, the title track. Streisand also recorded "He's a Runner" for this disc, though her cover has never been released. I'd thought it might turn up on the upcoming album of songs from the Streisand vault, Release Me 2 (out August 6), but—again— it apparently hasn't made the cut. Maybe someday we'll hear it.
Back in their heyday, The Fifth Dimension recorded numerous songs by Nyro. "He's a Runner" is one of the lesser-known tracks of the batch. Florence LaRue, the only original member of the group who remains in the fold, sang the lead on the cut, which was featured on the 1971 album, Love's Lines, Angles and Rhymes. In a phone call from the West Coast, she told me about her involvement with the number, which you can listen to here.
"I hadn't [taken the lead on] a song on the album," she says, "so my producer asked me to do it. Actually, it was way out of my range at that time. They always treat female singers as sopranos. I was an alto then, and now I even sing tenor in our choir…. Let's put it this way: I have three octaves—one good one. He had me singing very high…. Now I would never sing that song that high."
She admits that she wasn't particularly "into" the number (which the Fifth Dimension would never perform in concerts). In fact, in those early years, she didn't take her musical work nearly as seriously as she does now. "Now when I sing a song, it has to be a song I believe in. And I'm a storyteller…very connected with my audience and with the song. Back then, I was really just 'singing a song.'"
Before she became part of the group, LaRue was more interested in pursuing film work than in making music. To become better known, she entered beauty contests, including the Miss Bronze California pageant. For the talent composition, she relied on her singing skills, which helped her gain the crown. Years afterward, she was approached by a man who told her he'd been one of the judges in the competition. "He said, 'When you came out in that white suit and that big white hat and sang "April in Paris" in French, Eartha Kitt looked at the rest of us judges and said, "Now there's your winner."'"
Eventually, singing—especially singing live—took a central place in LaRue's life. She began taking vocal lessons, something she continues to do even nowadays. (She also recently published a book, called Grace in Your Second Act: A Guide to Aging Gracefully.)
Her advice to someone interested in singing "He's a Runner"?
"Tell the story. I listened to Laura Nyro's version [recently]. And I really liked it. She knew what the song was about…. I like Laura Nyro's version better than mine."
Paying Tribute
With the passing of the decades, the number of new covers of "He's a Runner" dwindled. For the 1997 tribute album Time and Love: The Music of Laura Nyro, however, singer Jonatha Brooke performed a fresh rendition of the ballad.
Brooke had not originally been a Nyro devotee. "I had heard a few of her songs when I was in college, because I had friends—especially when I was in summer stock theatre—who were, like, completely addicted. So [Nyro's music] would often play on the turntable…in the playhouse living room where we were all camping out."
After she was approached by producer Peter Gallway to participate in the album, which would have an all-female roster of singers, Brooke did a deep dive into the Nyro catalog. Many of the better-known titles had been nabbed by other participants, including such performers as Phoebe Snow and Rosanne Cash.
Brooke was taken with "He's a Runner," which she identified as a torch song. "I wanted to make it a kind of quiet plea." She kept the song in a very still place until the bridge. "I think I just wanted to contain it [in] my smaller, more intimate world."
"I remember, all right: I'm gonna figure out a weird tuning," she continues. "I'm gonna pull out my electric guitar and get that sort of…big-reverb thing. And then do a really close-mic, almost-whispered, barely there vocal. I thought, What the hell? Let's try something really different." Listen to the results here.
The arrangement, which she worked out with her then-husband Allain Mallet, featured upright bass, electric organ, and a brushed-drum sound. I ask her whether that percussive effect was meant to mimic a phonograph needle quietly whirring at the end of an LP. She says she'd never considered the notion.
Brooke and the other singers on the album worked independently of one another, so they had little idea of what the entire collection would turn out to be. I mention to Brooke that Michelle Kort wrote in her biography that Nyro—on the day before she died of ovarian cancer, in April of 1997—had listened to the Time and Love tribute album. Brooke has not known this before, and she is moved by the anecdote.
"She went through some great and crazy shit," Brooke reflects.
Her advice on the song is to "choose your key carefully" and "make it completely your own."
Unlike Brooke, jazz singer and songwriter Winkler has been obsessed with Nyro's music since adolescence: "Her songs were operatic in their emotions. It was the perfect soundtrack for a…17-year-old gay boy." He'd long envisioned creating an album of her music before finally recording The Laura Nyro Project. Like Brooke, he knew it was "a fool's errand" to copy her style. "I did songs that I could sing," he explains. "And I did songs that always had a sort of jazz default."
But something "spooky" happened when he was recording "He's a Runner." He suddenly realized he was singing to his late mother about his late father:
"He was bi-polar, and one of his things was that he would [have an episode] and he would leave. He would just take off. And that was our pattern throughout my childhood. He would leave for a month or so and then come back. [He and my mother] would make up. And they didn't have him [correctly] diagnosed…. Manic depression, they called it then. It was such a jolt that I had to leave for a minute. I had to walk out of the studio."  Listen here.
Just Her Imagination?
Winkler points to a couple of other treatments of the song that he believes warrant a look—by British singers Lianne Carrol and Claire Martin. The Martin version has a decided country vibe, suggesting it might be revisited by singers with a Nashvillian sensibility. Another recorded cover is by Grace Cosgrove. In a 2012 bistroawards.com review, I singled out as a highlight the version she sang at a Metropolitan Room show at the time of the album's release.
Mimi Cohen, a "downtown cabaret diva," has performed an original Nyro show called To Carry On… at various venues over the last decade or so. She did not include "He's a Runner" in her show, but she has long been entranced by Nyro's music. She says that, when she first heard More Than a New Discovery as a girl, she believed Nyro was "a mature young woman who felt her experiences deeply."  
"Now, as an adult," she adds, "I see that these songs were written by a teenager with a deep imagination. None of the 'experiences' she writes about are real…. I think 'He's a Runner' may be based on Laura's feelings of isolation (for any number of reasons, like basic teenage angst, possibly) turned into a fantasy relationship with a boyfriend she's losing…."
But Cohen remains bowled over by Nyro's innate talent, whimsically comparing her to the Botticelli painting of the Birth of Venus: "She emerged from the womb a mature musician; no learning curve."
I'll give the last word to Brooke, who envies the "brazenness and freedom" with which Nyro made music early in her career.
"Would anyone [now] be able to make a record like she would make? You're sort of boxed up and parceled out, and you have to be one thing. You're not allowed to be four things at a time. She was four things at a time, and that was what was so amazing about her."
***
Category: News / Reviews / Commentary