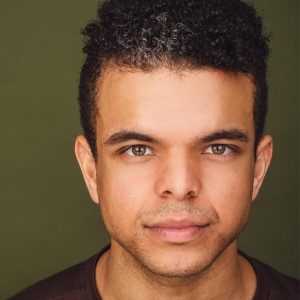 July turns out to be the perfect month for Feinstein's/54 Below to book Blaine Alden Krauss in From the Soul. The fireworks started even before he hit the stage, and they did not stop until he had the crowd literally dancing in the aisles during his encore.  I didn't notice anyone actually up on a table, but I would not have been surprised at all if I had.  Krauss was, in a word, spectacular, with an expansive range that moved effortlessly from rich, creamy lows, to expressive highs, to an electrifying falsetto all of which he used judiciously in service to the stories and emotions he wanted to convey. His instrument deserves to be mentioned in the same breath as Philip Bailey, Sarah Vaughan, Prince and other iconic vocalists.  He was accompanied by a great group of musicians from which he rose to the stratosphere.  The brilliant arrangements of Dylan Glatthorn (which never ceased to impress and astound) were brought to pulsing life by music director/pianist Darnell White, Danny Mallou on drums, Magda Kress on bass, Kenneth Simpson on guitar, and classic background vocals by Shaunice Alexander and Carmi Harris. 
Stevie Wonder's "Higher Ground" saw Krauss enter through the house playing a mean tambourine amid the wildly applauding audience.  Followed immediately by "The Day Before Yesterday" (Charlie Smalls from The Wiz), the message was powerfully presented that life is returning and we should embrace it armed with the lessons the trials and the revelations we have experienced during the hellish year of the pandemic. Having staked his claim to both R&B and Broadway, he presented the other theme of the evening – bringing his diverse passions together in one coherent statement of who he is and why he sings.  
Then came the first of many revelatory, transformative arrangements and performances with a glorious interpretation of Stephen Sondheim's "The Glamorous Life" (from A Little Night Music) that was so personal that the song, for all intents and purposes, now belongs to Krauss. I wanted him to take advantage of literally stopping the show to sing it again, right away, but there were far too many wonders still to dazzle to allow that to happen, as fervent as my wish might have been. A wordless musical quote from Beyoncé blossoms into the controlled eruption of "I Got Love" (Gary Geld, Peter Udell from Purlie). His take on "Waving Through a Window" (Benj Pasek, Justin Paul) rescued the song from what, for me, seemed a permanent place in the land of tedious, derivative contemporary Broadway.  But every song, great or not, benefited from Krauss having sung it. Even Marvin Gaye's classic "What's Going On" breathed new life with the intelligence and emotion that the singer brought to each number.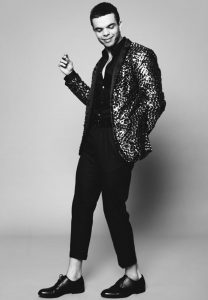 Some singers have guest vocalists in their shows; Krauss had guest pianists!  The great John Boswell took over the piano for Sam Cooke's "A Change Is Gonna Come" which became an honest-to-god R&B aria sung with such passion and invested with such honest emotion that it moved me to tears. White returned to the piano for Prince's "How Come U Don't Call Me Anymore" which sent seismic reverberations through the room as Krauss bent, twisted, stretched, caressed and inflamed his masterful falsetto and outshone even the song's creator.  At this point the show had become one tour de force after another with no two alike. Echoes of Judy Garland's legendary arrangement of "Come Rain or Come Shine" filled the unforgettable reworking of her "The Man That Got Away" (Harold Arlen, Ira Gershwin from A Star Is Born).  Then came an almost anthemic interpretation of "Bein' Green" (Joe Raposo) for a new age of diversity. That theme of personal freedom and equality led to a powerful take on "Where the Streets Have No Name" (Bono and U2).  The joyous closer, "Blame It on the Boogie" (Mick Jackson, Dave Jackson, Elmar Krohn) served as an infectious reminder that in addition to all the brilliance and drama on display, the show also had more than its fair share of fun.
A special encore brought to the stage songwriter Jeremy Schonfeld to accompany the singer on "House of Love," for which he wrote music and lyrics, and which Krauss has just released as a new single. He said he hoped that by the end of the song the audience would be "up off their asses." His hope was fulfilled, and then some. He began with a low-key verse before bursting into feverish rhythms with the addition of the actual track from the recording.
Blaine Alden Krauss is the embodiment of the power, the beauty, and the potential of cabaret.  I have no doubt we will eventually see him in concert in classic venues like Radio City Music Hall, Madison Square Garden ,and starring in Broadway shows,  but for now I cannot say enough about his performance in From the Soul II.  If this show is not perfect, it is as close to perfection as I have seen in a very, very long time.
***
Presented at Feinstein's/54 Below on July 8 & 15.
Category: News / Reviews / Commentary, Reviews