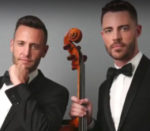 Both classically trained, but also separately exhibiting long-held pop and "legit" tendencies, singer Branden James and cellist James Clark have combined their considerable talents and have been touring internationally as a team. They recently introduced their new show, The Broadway Covers Project, at Feinstein's/54 Below, which venue James (i.e., Branden) aptly announced as "the Carnegie Hall of cabaret." As an operatic tenor, he made the finals in the eighth season of America's Got Talent and proceeded to sing at the real Carnegie Hall, the Metropolitan Opera, and Radio City Musical Hall. A cellist more influenced by Julian Lloyd Webber than by his composer brother Andrew, Clark has played cello backing for pop and Main Stem mainstays, including Olivia Newton-John and Idina Menzel. In this show, however, he was hardly a supporting player, but, rather, a true co-creator and co-star—and author of all of the program's nifty arrangements.
In fact, this show's opening number was an extended instrumental-only medley from Phantom of the Opera (Andrew Lloyd Webber), which could have been Clark's warm and newly imagined cello solo, but for a subtle piano counterpoint by the estimable Elizabeth Young. (While Branden & James were billed as a performing duo, for this engagement, at least, they were almost two thirds of a trio.) Young's complicit piano was heard on all but one of their joint numbers—and deliberately missing from Clark's dazzling cello solo on "I Feel Pretty" (Leonard Bernstein). James, who, like Clark, is also an accomplished pianist, played piano on only one number: when he sang "She Used to Be Mine" (Sarah Bareilles), which he hauntingly repurposed as a requiem for a deceased older sister.
James's other standout numbers, though familiar, seemed newly minted, thanks to his soaring, solid tenor voice and his palpably personalized interpretation of the lyrics. These songs included "As If We Never Said Goodbye" (Lloyd Webber, Don Black, Christopher Hampton), "Unchained Melody" (Alex North, Hy Zaret), and "The Winner Takes It All" (Benny Andersson, Björn Ulvaeus). Unaccountably and with no explanation, he sang part of each of these songs in, respectively, German, Spanish, and Italian. He further displayed his linguistic prowess by singing a pairing of two songs from Les Misérables—"I Dreamed a Dream" and "Bring Him Home" (Alain Boublil, Claude-Michel Schönberg, Jean-Marc Natel)—in the original French, which required no explanation or justification. Even his best English-only song, "What Kind of Fool Am I?" (Anthony Newley, Leslie Bricusse), though paced and presented pretty much as it usually is, seemed fresh and personal to him.
The dozen songs that comprised this show all made sense in context (apart from the foreign-language byways) and were considerably abetted by dual narration throughout, with James and Clark almost finishing each other's sentences and contributing just enough autobiographical information to hold the set list together regardless of the songs' origins. As James noted, "with so many jukebox musicals these days, we can sing anything and call it Broadway." While their seemingly surprise second encore selection, "Hallelujah" (Leonard Cohen), wouldn't qualify as Broadway, it is vaguely classical. But I can see their song list changing the next time out, held together by their outstanding musicianship and sheer force of personality. (They are scheduled to return to Feinstein's/54 Below with an encore presentation of this show on March 15, 2019.)
The Broadway Covers Project
Feinstein's/54 Below – October 18
Category: Reviews