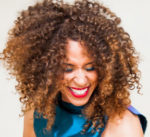 What if, at the crossroads of your life—where you have to make decisions that will save you or damn you forever—you were not alone? What if a high priestess met you there, tall and sparkling, wise and smiling, reaching out her hand to guide your poor, fumbling human heart and teach you that you were equal to the task? Well thank you, Jomama Jones, because that is what you do for your audiences in Black Light
With producing support from Diana DiMenna and Joe's Pub, Black Light has transferred from Joe's Pub to Greenwich House Theater. It's a little unfair to call the show a cabaret, because it is a fully realized piece of theatre designed to look like a cabaret, with an immersive scenic design by Gabriel Evasohn and magical lighting by Ania Parks. Stage platforms of various sizes are discretely tucked throughout the house, allowing the performers to move freely through the mix of traditional theatre seating and cabaret tables. Soul-goddess Jomama has been created and channeled by award-winning performer and head of Fordham University's Playwriting program, Daniel Alexander Jones. She's backed by the exceptional smooth harmonies of Vuyo Sotashe and Trevor Bachman; the standout band consists of musical director Tariq Al-Sabir on piano and vocals, Sean Dixon on drums, Michelle Marie Osbourne on Bass, and Josh Quat on guitar and vocals. Oana Botez's costume design keeps Jomama in a constantly changing kaleidoscope of color and light.
Original songs are by Jomama Jones, Bobby Halvorson, Laura Jean Anderson, Dylan Meek, and Josh Quat, with additional music by Samora Pinderhughes and Tariq Al-Sabir. Musically, the show lives somewhere between disco and an ongoing homage to Prince, with arrangements reminiscent of Stevie Wonder and with rock and fusion jazz in the mix. Those tight harmonies and jazz chords keep a little tension and edge in the very catchy and melodic pop, with lyrics that tackle supernovas, surrender, magic, human needs, and illusions.
Jomama's stories are the very stuff of life. Memories from her childhood are funny and scary. Huge sociopolitical themes are handled with care and inspire us to take care—without ever lecturing us. Our attention is never taken for granted and is earned moment by moment through a series of masterful choices by director Tea Alagic. The performers often break the fourth wall, in a way that is fully integrated and never invasive or disruptive to the audience's experience.
Black Light's ongoing theme of the crossroads comes from the blues; it's a betwixt-and-between situation, which, like all liminal places, is dangerous. It's somewhere where distraction or ambition can tempt you to trade in your soul. Black Light finds the most beautiful possible way of asking you not to.
Greenwich House Theater
through November 11
Category: Reviews