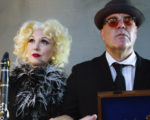 The Jazz Bastards are a hot mess. Or so they'd like you to think. If they're anyone's illegitimate children, it's not just jazz's—Les Paul is one possible father figure, as are any of the deadpan comedians from Buster Keaton on down to John Belushi, and perhaps Elvis Costello and Tom Waits are great-uncles. Their two lead singers—Jenny Lee Mitchell, who's also the clarinetist, and seasoned professional clown Glen Heroy, who plays a mean set of spoons—are missing in action at the beginning of the evening; they enter dazed and confused mid-set. Aldo Perez on guitar and vocals does most of the evening with an unlit cigarette in his mouth. Keyboard player and singer Matt Kanelos wears wrap-around shades and plays the role of the group's idiot savant who periodically needs an intervention so he can still function. Drummer Nick Parker does the whole night in a neck brace and arm sling, as if he'd crawled in there after some misguided incident that was probably his fault.
It takes a few minutes to hook into the layers of satire they're dishing out here because the delivery is so dry, but once you do, it's a good ride. Perez is the main host, and his alternately confrontational, random, and existential non-sequiturs are often punctuated by a rim-shot on the drums from Parker. At one point Perez says that there's no narrative, there's only a sequence, which, as well as being entertainingly postmodern, is a pretty good guide to their show. A rambunctious set unfolds in no particular order, and in the midst of the neo-vaudeville kitsch you realize these people can really play.
Mitchell, in-character throughout as a blonde gangster's moll, scats Charlie Parker's "Ornithology" as the instrumental break on "How High the Moon" (Morgan Lewis, Nancy Hamilton), and on clarinet she often doubles guitar or keyboards on fast bebop lines. Producing vintage analogue sounds on keyboard, Kanelos, who is one of the group's two arrangers, is a truly lovely singer; his version of "Skylark" (Hoagy Carmichael, Johnny Mercer) is so poignant that I'm still thinking about it days later. Parker is a skilled drummer who keeps everyone on track throughout. Perez, the group's second arranger and a great guitar player, balances early jazz influences like Django Reinhardt with hard bop, samba, and bossa nova; he is also the composer of the original instrumentals in the set. Their originals are mixed with such standards as "Pennies from Heaven" (Arthur Johnston, Johnny Burke), "I Get a Kick Out of You" (Cole Porter), and "That Old Black Magic" (Harold Arlen, Johnny Mercer)—but with the occasional tap dance, fights between the lead singers, and gratuitous pan-pipe solo, there's nothing standard about them.
Pangea – July 13, August 31, September 28, October 26, November 30, December 28
Category: Reviews