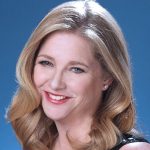 Wendy Scherl is such an immediately inviting and obviously talented singer, that one wanted to surrender completely to the charms of her new show, Town and Country, which recently had an encore performance at the Laurie Beechman Theatre. There were a number of wonderfully winning moments throughout the show, starting with her opener, a nicely understated but still exciting take on Andrew Lippa's "Raise the Roof," a number usually screeched to that titular location, but here toned down just enough for every joke and laugh to land perfectly. This was followed by an exquisite, dreamily romantic "I'm in the Mood for Love" (Jimmy McHugh, Dorothy Fields) that just might have been the best version of that chestnut I have ever heard.
With Rodgers and Hart's "The Lady Is a Tramp," one of the show's weaknesses began to reveal itself: at times during the evening, especially on the better-known songs, the story-telling lacked specificity. While the phrasing was never less than thoughtful and on the money, a personal connection to the story was missing. The razor-sharp lyrical dexterity of Hart should be a perfect match for Scherl's talent, but she chose instead to remain on the standard's surface—a disappointment no matter how shiny that surface might have been. Lee Hazlewood's "These Boots Are Made for Walkin'" provided a perfunctory opener for a grouping of country songs that delivered on the promise of the show's title but did little to show off the show's star.
The special material was consistently hilarious, with the singer wringing hearty laughs from Rusty Magee's "New York Romance" and Dan Hicks's "I Don't Want Love"—though in a few of the other comedic songs, a sameness of delivery and arrangement undercut our enjoyment. Including a song by the great Carroll Coates is always a good idea in my estimation, and his "You'll See" (from her CD of the same name) was beautifully done. "Whoever You Are, I Love You" (Burt Bacharach, Hal David) was another inspired choice, given real emotional heft in her strong performance. Scherl's patter and personal reminiscences throughout were just right.
Her fine trio (Steve Doyle on bass, Dan Gross on drums, and music director Christopher Denny on piano) contributed excellent backing throughout, except for the moments referred to earlier where there could have been more of an effort to make the arrangements more personal and individual. Director Barry Kleinbort kept things moving well, but, again, I wish he had worked with the singer on the storytelling in those same instances.
The pleasures to be had on a visit to Town and Country far outweighed any of my reservations and left me eagerly awaiting a visit to whatever destination Wendy Scherl chooses next.
Town and Country
Laurie Beechman Theatre – January 16
Category: Reviews