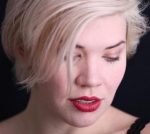 Amy Jo Jackson's show The Brass Menagerie brings Tennessee Williams to the cabaret stage at the Duplex with astonishing results. While the playwright may not at first glance seem ideal fodder for such a venue, the show pulses with such intelligence, wit, passion, comedy, heart, and musical acumen that any reservations dissolve in seconds. Jackson's brilliant idea is to present the women of Williams's plays in musical settings featuring the works of Styne, Sondheim, Lloyd Webber, Merrill and others, frequently with inventively modified lyrics. Using some cabaret alchemy to which only she is privy, Jackson manages to use familiar Broadway and pop material to illuminate the characters while at the same time giving us a new insight into the songs when delivered by such iconic figures.
Structured as a "lecture" on Williams, she presents her thesis that all of the principal characters in his plays are based on Tennessee, his sister and/or his mother. Armed with a few props, using an algorithm of her own devising and illustrated with pie charts, she takes us through all the major plays: Cat on a Hot Tin Roof, Sweet Bird of Youth, Suddenly, Last Summer, A Streetcar Named Desire and others; the charts depict the extent to which each of the Williams family members is reflected in each play. This climaxes with a lengthy dissection of The Glass Menagerie that pays off splendidly in both dramatic and musical terms. An added through-line presents itself as it becomes apparent that the family members themselves are starting to compete for bigger pieces of the pie (charts).
In a setting like this, one might expect satire to be the order of the day, but it is not. Rather, Jackson lovingly exaggerates the melodrama inherent in the plays and allows us to see even the most familiar of scenes in a heightened way. And then, when least expected, she can forgo the cabaret underpinnings entirely and give the audience one of the writer's electrifying monologues straight, with an intense, fully satisfying performance worthy of a Broadway production.
The temptation to "spoil" when reviewing a show like this is almost impossible to fight; the desire to share funny lines and situations can be overwhelming. I have battled heroically to avoid that in this review. Let me give just one "easter egg" (to use a geeky DVD term for special treats hidden in the body of a work) as an introduction to the contributions made by Jackson's music director, Brian Nash. As the Suddenly, Last Summer portion begins, in the background we hear soft strains of "Summer Lovin'" from Grease. It lasts mere seconds, but it is a solid example of the amount of thought and preparation that went into the show. And hats off to whichever of them came to the brilliant realization that "Maggie the cat" scans with "Jellicle cat" and used that discovery to great effect early in the show. Nash's superb playing throughout is an integral part of the resulting success.
If you want to have a completely unique and unforgettable cabaret experience, depend on the kindness of this stranger's advice and see The Brass Menagerie wherever and whenever it appears next. It is an undeniable triumph for Amy Jo Jackson.
The Brass Menagerie
The Duplex – January 9,16,17
Category: Reviews