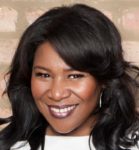 Chicago jazz singer Tammy McCann recently completed a month of Thursdays at Pangea, performing a different show each week. She is working with a formidable instrument: she has a rich lower register and a powerful upper voice that speak to her early classical training. A former "Raelette" backing vocalist for Ray Charles, MCann has sung at such venues as Birdland and the Blue Note Jazz Club, and is a multi-year Chicago Tribune Best Jazz Vocalist honoree. She was well-supported by an energetic and attentive band: Misha Piatigorsky, piano (who had stepped in at the last moment to substitute for regular pianist Mike King); Mimi Jones, bass; and Camille Jones, drums.
I caught the final show in the run. An initial hesitation on the first notes leading into the brisk tempo of "Caravan" (Duke Ellington, Juan Tizol, Irving Mills) were quickly smoothed out; she then delivered an easygoing "On Green Dolphin Street" (Bronisław Kaper, Ned Washington). It was on an almost a cappella rendition of "Black Is the Color of My True Love's Hair" that McCann started settling in for the night and owning her sound. This folk song had a famous rendition by Nina Simone in 1959 and has been sung by Lauryn Hill and many others since; in McCann's hands the song was truthful and deeply-felt.
Rodgers and Hart's "I Didn't Know What Time It Was" had a nice, relaxed swing to pick things up again. "[Boy] from Ipanema" (Antonio Carlos Jobim, Norman Gimbel) had a walking-blues feel rather than the traditional bossa. (There were a couple of lyric missteps—which is almost inevitable if you've learned both the "Boy" and the "Girl" versions of the song with their unpredictable pronouns.) Billy Strayhorn's "Something to Live For" was a real stand-out: Mimi Jones laying out a groove on bass at the beginning, great piano solo from Piatigorsky, McCann demonstrating a masterful handling of her considerable power as a singer. The vocal/piano call-and-response bouncing between octaves at the end was good fun, and it was the kind of improvisation that really belonged to the song.
When you hear an introduction about loving your man no matter what pain he's dishing out, you know you're on your way to some Billie Holiday. The always heartrending "Don't Explain" (Holiday, Arthur Herzog, Jr.) that followed featured Keith Loftis sitting in on tenor sax. McCann's original "You Ain't Gonna Love Me" talks about when to stop working on a dead-end relationship; it worked very well in the 5/8 time signature—like a waltz with a hiccup, beautifully sounding like attempting to leave and then looking back. "Blue Woman" (Carmen Lundy) is all about loving yourself first, and McCann was grounded and committed to the story and did some scatting and doubling the bass at the end.
Then came the surprise of the evening. Quietly chilling out on the banquette behind the piano was the legendary pianist Kenny Barron—NEA Jazz Master, Dizzy Gillespie alum, nine Grammy nominations—which may explain why Piatigorsky had been playing all evening at peak intensity—it's like trying to do a plié with Baryshnikov watching. Piatigorsky invited Barron to take over at the piano, and Barron joined McCann for "The Nearness of You" (Hoagy Carmichael, Ned Washington). Hearing the piano introduction, we all thought…ahhhhhh. And then we thought: ahhhhhh again. Barron's playing was spacious and generous, and McCann picked up that cue and gave her best performance of the night, with on-point rhythmic choices, confident and subtle vocal textures, and best of all, an intimate telling of both musical and personal nearness. Beautifully understated commentary from Loftis on sax.
Finishing with "I've Got the World on a String" (Harold Arlen, Ted Koehler) was a Sinatra-esque choice that had the musicians ending the set with a confident strut, led by Camille Jones on drums. "At Last" (Mack Gordon, Harry Warren) sounded like a seasoned encore, with a bit of a '50s rock-and-roll feel to distinguish it from Etta James's iconic version.
McCann built the evening on the theme of love—specifically, the happy triumph of graduating from the trials of dating to find stable, grown-up love. The music would have stood alone without introductions and stories, and I wondered what stopped her from approaching this more purely as a jazz performance, without a cabaret-style storyline in the patter. At certain moments, McCann's impish sense of humor shone through; it was clear that she has a fun quirky side that wasn't entirely represented in her script. She offered to sell her album on 8-track instead of a CD, then said she could throw in "an old microwave if you need one"; she also wryly praised the virtues of multiple pairs of Spanx—that's the gal we want to hear more of if she's going to work with patter. That and, perhaps, the specific story of her finding a safe harbor in the partner she chose, rather than a glossed-over connection between jazz and romance. We didn't need the "jazz-songs-are-about-love" tutorial, because we can already hear the love in each note.
Pangea  –  July 6, 13, 20, 27
Category: Reviews