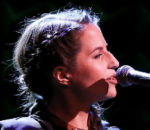 At a time when most pop composers seem to have forgotten what melody is, let alone how to write a coherent, inventive lyric, it is cause for both hope and celebration that singer-songwriter Shaina Taub is carrying on the great tradition of Laura Nyro, Joni Mitchell, Carole King, Rickie Lee Jones, and other iconic women of song, and adding to it her own bracingly contemporary and theatre-savvy voice. She is currently in the midst of a yearlong residency at Joe's Pub that allows her to showcase, once a month, "hot off the presses" new material and an overview of some of her past work. As if that didn't keep her busy enough, she has also composed the score for a musical version of As You Like It that will be presented in September at the Delacorte Theater under the auspices of the Public Works program of the Public Theater.
For her Joe's Pub appearances, she is accompanied by a masterful trio of musicians: David Farrell Melton on keyboard, Mike Brun on bass and guitar, and Hiroyuki Matsuura on drums. They are so in tune with Taub's music and vision that the four of them form a singular sound that is thrilling to witness. The singer herself makes contributions on piano and accordion as well as with her remarkable vocal instrument. Her voice can range effortlessly from soothing gentleness to steely strength, but she always uses it in service to the story she is telling.
Her monthly appearances afford her the luxury of making pointedly current observations on the political and social scene. Inspired by "co-writer" Mitch McConnell, she transforms his viral phrase "nevertheless she persisted" into both a celebration of and a battle cry for modern feminism. The worrisome childishness of many in our government is taken to task in "Where Are the Grown Ups?" She sheds some powerful light on the immigration "problem" by expanding on words from Emma Lazarus's poem "Huddled Masses" (the words at the base of the Statue of Liberty) into a contemplation of the plight of imagined immigrants Jesus, Anne Frank, and a current detainee. Bob Dylan would be proud.
"Eyes of Another," a duet from Taub's 2016 adaptation of Shakespeare's Twelfth Night, is presented as a duet with Ali Stroker; it made me wish I had seen that production. Another guest artist, Broadway's Brittain Ashford, stops the show with a particularly exciting number titled "O Luck Outrageous."
Taub's broad stylistic variety is matched by her choices in subject matter. "Holy Old City" is an evocative, emotional account of a visit to Israel. "Room" is a deeply personal yet universal rumination on lost love: "there is a house in my head under permanent construction… (and I am) always saving room for you." She has chosen her own uniquely broad canvas upon which to paint her musical pictures, but they never seem arbitrary or put there solely for effect.
It is rare to be able to follow the progression of an artist so closely over time. This monthly series all but demands multiple visits if only for the selfish pleasure of hearing great new music. It may too early to use the word "genius" (a word I rarely use on any occasion) but I must confess it is a word that is already buzzing around in my head when I think about Shaina Taub.
Joe's Pub – Monthly from January 2017; next dates: August 4, September 22, October 16, November 17, December 19
Category: Reviews