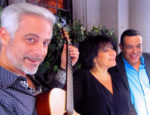 Group cabaret shows can be wonderful, but they can also be tricky. You want to provide variety both in musical content and in terms of who sings what. You want a balance of solos, duets, and ensemble numbers. And you need to make certain that the voices and personalities truly blend well. Being a talented singer or instrumentalist is no guarantee that you'll make a great musical collaborator, even if you'll be harmonizing with equally gifted artists.
Clearly Now, at Don't Tell Mama, features vocalists Lina Koutrakos and Marcus Simeone, along with guitarist (and sometimes vocalist) Sean Harkness. It succeeds because the harmonic blend is lovely, the material is well-chosen, and all parties onstage are clearly having a fine time together. Sometimes the show has the feeling of a jam session, with everything unfolding in impromptu fashion, but the performers are clearly steering the proceedings. At one point during the performance I attended, Harkness asked the audience whether they wanted something laid-back or lively. There were votes for both moods, so he wound up playing a number that was somewhere between the two extremes: David Paich's "Rosanna." Perhaps he'd intended to perform that song all along.
Koutrakos's vocals are the most forceful of the evening. Her selections tend toward the bluesy, but she provides contrast even within that genre. Her own composition "Mess out of Love" strikes an amused "what have I gotten myself into?" note. A rueful smile dances on her face as she performs it. But with T-Bone Walker's "Call It Stormy Monday (But Tuesday Is Just as Bad)"—a duet with Simeone—she takes a more conventionally downhearted approach. At the performance I saw, she wailed at one point, and Simeone deftly picked up the phrase, catapulting it high into the ether. Koutrakos's most memorable solo number is an intense version of "I Still Haven't Found What I'm Looking For" (U2/Bono), which has the flavor of a slow-tempo gospel song.
Sometimes Simeone's solos seem to serve as musical response to Koutrakos's. For instance, his driving rendition of Otis Redding's "Nobody's Fault But Mine" acts as a reply to "Mess out of Love," which concludes with the self-directed verdict "Guilty!" (I guess, when it comes to failed affairs of the heart, there's always enough self-lashing regret to go around.) Simeone's version of the anguished "I'll Never Love Again" (Lady Gaga, Natalie Hemby, Hillary Lindsey, Aaron Raitiere) highlights his skills with a heart-sore ballad. But it was a mistake to position this song directly after Koutrakos's "I Still Haven't Found What I'm Looking For"; something less downbeat would have been a good palate cleanser between the two heavy laments.
Harkness's guitar solos add welcome variety to the program. Two of them in the December version of the show made allusion to the holiday season. The first of these was Rodgers and Hammerstein's "My Favorite Things"—which, over the years, has taken on an identity as a Christmas song, apparently because of its references to brown paper packages, warm woolen mittens, and silver-white winters. Harkness described it as an "all-purpose" and "non-denominational" holiday song. He pulled and stretched its melody line like taffy: slowing it and then racing forward, quieting some phrases and crescendoing others. Arguably even more successful was his contemplative, simply rendered "Angels We Have Heard on High" (traditional).
The group numbers, with their rich harmonies, are the high spots of the evening. The performers set the show's tone of intimacy with their quiet opening trio, Lennon and McCartney's "With a Little Help from My Friends." They bring that mood to its apotheosis with their closer, Johnny Nash's "I Can See Clearly Now" (which, of course, inspired the show's title). If you ever get to heaven, you could do worse than to have the swoony bridge of Nash's song—as performed by Koutrakos, Simeone, and Harkness—playing over the celestial loudspeaker as you step through the pearly gates.
Clearly Now
Don't Tell Mama  –  November 20, 21, December 17, 18, February 23
Category: Reviews